Feedback is Fuel
Become better at giving and receiving feedback in the workplace
Career Development
category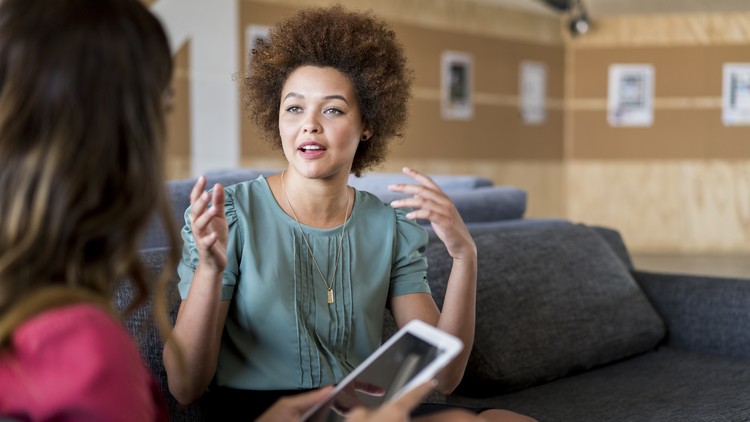 What you will learn
Establish a framework for giving all kinds of feedback (SBI Model)
Identify WHERE, WHEN and HOW to give feedback
Develop a growth mindset associated with giving and receiving feedback
Reduce fear and anxiety associated with giving and receiving feedback
Description
Have you ever been part of a feedback conversation that didn't go very well? One that didn't seem to have a purpose or plan? One that seemed grounded in critique instead of growth?
Yeah? Me too. The ability to give and receive feedback in an impactful, respectful, and truly helpful way is so important to being successful in our jobs, yet many people struggle with this fundamental skill.  Many people find it so difficult to give feedback that they avoid it entirely, and they are terrified of receiving feedback.  When feedback is avoided, however, bad behaviors are never corrected, workplace resentments grow, and people are left to wonder whether they're doing a great job or a terrible job.
In this course, the Udemy L&D team shares some top tips on how to improve your experience with feedback, both giving it and receiving it!
In "Feedback is Fuel" you will:
Establish a framework for giving all kinds of feedback (SBI Model)

Identify WHERE, WHEN and HOW to give feedback

Develop a growth mindset associated with giving and receiving feedback


Reduce the fear and anxiety associated with giving and receiving feedback

In this course you will not only learn a framework for giving impactful affirmative and constructive feedback that people at all levels can use, you will practice having feedback conversations with real workplace scenarios and learn practical tips on how to receive feedback.  I'm thrilled to invite you to be a part of this engaging online training!
Content
Welcome to the course
Introduction
Activity Part 1: Your favorite feedback moment
Activity Part 2: Your favorite feedback moment
Activity recap
Giving Feedback: Feedback is Fuel
We've all been there...
Feedback is Fuel
Giving Feedback: Helpful frameworks
SBI - Situation, Behavior, Impact
Affirming & constructive feedback
Feedback is Fuel steps
Giving Feedback: Your turn!
Assignment recap
Giving Feedback: Best practices
Survey: How do you like to receive feedback?
Where, when and how to give feedback
Feedback best practices
Giving Feedback: Difficult situations
If someone is unreceptive to feedback
Giving affirmative feedback
Giving feedback up
When to involve the manager or HR
Receiving Feedback: Growth Mindset
Fixed vs. growth mindset
Quiz: Do you have a fixed or growth mindset?
Developing a growth mindset
Receiving Feedback: Best practices
Activity: Look at different scenarios
Tips for receiving feedback
Control how to receive feedback
Receiving Feedback: Your turn!
Activity: Receive some feedback!
Congrats, you made it to the end!
Thank you & next steps
I want your feedback!
Bonus: Take this course further - Blended initiatives
How to use this course in blended settings
Material for Feedback is Fuel LIVE session
Reviews
This is a good course, and I like that it shows direct feedback alternatives. But I learned a different method which starts with asking the person how they think they are doing...then going into the framework.
Everything was spot on for a lot of the examples, funnily enough even an example name used but I would like to dive more specifically on how to give feedback to leadership, as it can be intimidating.
Really good course on giving and receiving feedback. The SBI model and process provides great structure for giving effective feedback and also for understanding / receiving feedback in a productive way. It will help me conduct more effective performance reviews and one on one discussions.
I appreciate the length of the course; the instructor made it easy to follow along. I would have liked more examples of responses to the scenarios to make sure I was on the right track.
I needed some tips to get better at receiving feedback. I watched this course, and participated in the assignments and quizzes, and now I feel more prepared to give this valuable feedback to my employees and coworkers.
Yes, it was, two years back had sessions to give feedback to a group of employees, and this has just confirmed the importance of empathizing with people.
Was curating coursework for organization and this is a classic fundamentals course every leader needs to have and needs to review on a continual basis. The other "actual work" is the rooftop. This is the foundation. The faster the pace of change, the more relevant excellence in the basics becomes. Bravo!
Christian
January 27, 2023
I've seen the light!! Having started from scratch and being one who didn't like feedback and took it personal I am now a completely changed person. I want to learn and grow when it comes to giving and receiving feedback. And this course made me start of really well. Now there is no looking back - instead focus and move forward.
ho trovato questo corso adatto a me, utile a migliorami e a imparare come comportarmi in modo costruttivo di fronte ad un feedback ricevuto.
It would be great to get more guidelines on how to implement a healthy feedback environment for my team.
This was a great course. One of the more useful in the series. I believe I am good at this topic but there were many golden nuggets here. It will help me improve.
I enjoyed the content and learnt new approaches such as SBI which will help build an improved structure to my giving feedback
I useful session. Especially appreciate the fact that it offers the idea of turning the session into a blended session with resources for the purpose.
Yes, it has gave me a new perspective on giving and receiving feedback, that I will be using in my work and day to day life going forward.
ES SUMAMENTE IMPORTANTE DAR Y RECIBIR FEEDBACK, ES NECESARIO IMPLEMENTAR LAS MEJORES OPCIONES PARA FACILITAR EL FEEDBACK Y QUE LA PERSONA LO ASIMILE.
Charts
Price
Rating
Enrollment distribution
9/1/2017
course created date
11/1/2019
course indexed date