Fedora Linux from Scratch
Learn how to quickly and easily master the Linux Command Line using Fedora.
Operating Systems
category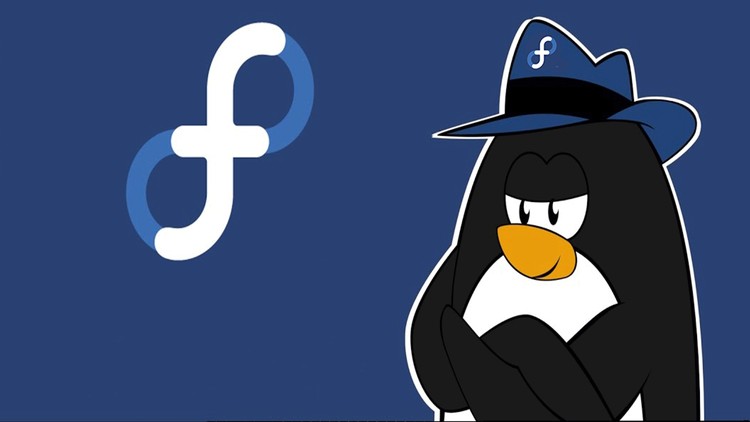 What you will learn
Learn the most used Linux Basic Commands.
Useful Networking Commands & Tools.
Understand File Permissions.
Partitioning & Encryption.
Automate Tasks with Crontab.
Shell Scripting & Compress Files.
Setting up a Basic Web Server & Ftp Server.
Install WordPress on your Web Server.
Description
This course will teach you how to quickly and easily master the Linux Command Line using Fedora.
The entire course is built on practical approach, so you will learn only useful knowledge with lots of practical examples in a very short amount of time. Concepts taught are applicable to all Linux distributions.
After finishing this course you will be able to easily navigate your way around a Linux system and feel confident at the command line.
Content
Basic
Course Introduction
Introduction to Linux
Setting Up Fedora in Virtualbox
Basic Linux Commands Part 1
Basic Linux Commands Part 2
How to add new user in Linux
Using the DNF Package Manager
Useful Networking Commands
Useful Networking Tools
How to Change File Permissions in Linux
How to easily Encrypt/Decrypt a File with Gpg
Advanced
Middle Level Linux Commands
Compress and Extract Files in Linux
Partitioning with Gparted
Understand Linux Shell Scripting
How to use Systemctl to Manage Services
Automating Tasks with Crontab
Set Up Your Own Web Server
How to Install WordPress on your Web Server
How to Set up an FTP Server
Reviews
This is concise yet really effective to get started with CLI. A great course for beginners like me. Learnt a lot. THANK YOU Nicolae for creating this.
This course could be updated to the latest Fedora Server and could troubleshoot possible issues at the latest section when installing Web Server.
A very good overview introduction to the Fedora distro, give me a good look and feel about the GUI and command line used.
I learned efficiently. Explanation of some commands can be better(explicit), but they are pretty good as they are, simple and practice-oriented. Thanks for the brief and practical course. RECOMMENDED 9/10
Not bad. Tutors know enough about the course to make it interesting. It is slightly fast, but it's not bad at all.
He goes very quickly on the subjects and does not go deep on explaining the comands and so on but what he does he does it very well and straight forward. It is amazing see how much he explains on those little minutes! Much of the basics it is known if you have time on linux, but on services, web server, wordpress and ftp I did not have a clue, so it was very satisfying. Thanks!
This course applies to my job role, and is helping familiarise me with terms I will end up using day-to-day. It would help if there was explanantion on what each component of commands typed was doing, as this is glossed over and doesn't help to understand WHY we're typing each command.
descriptions are too fast. course is like a remainder for people who used and forgot linux command line
The course was nice but it was too short and not everything about Fedora Linux was in there. But i liked it!
Coupons
| Submit by | Date | Coupon Code | Discount | Emitted/Used | Status |
| --- | --- | --- | --- | --- | --- |
| - | 11/13/2019 | FEDORA | 100% OFF | | expired |
| Lee Jia Cheng | 4/8/2020 | FEDORA88 | 100% OFF | 40000/6444 | expired |
| - | 9/17/2020 | FEDORALNX | 100% OFF | 40000/7264 | expired |
| - | 4/27/2022 | FEDORALINUX | 100% OFF | 1000/979 | expired |
| - | 5/24/2022 | FEDORALINUXLEARN | 100% OFF | 1000/952 | expired |
| - | 6/9/2022 | FEDORALINUX88 | 100% OFF | 1000/875 | expired |
| Ignacio Castro | 6/23/2022 | FEDORALINUX1 | 100% OFF | 1000/684 | expired |
12/26/2018
course created date
6/18/2019
course indexed date