How To Use Facebook Messenger Bots For Lead Generation
Start generating leads with your Facebook audience using Facebook Messenger Bots
Social Media Marketing
category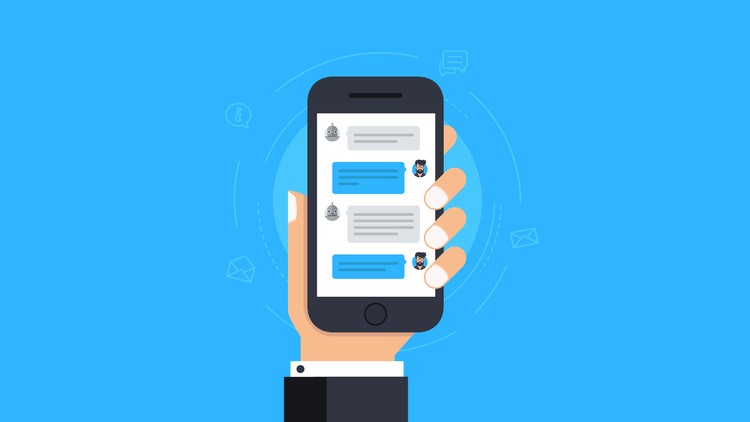 What you will learn
Understand how Facebook messenger bots work
How to add messenger live chat to your website with a Wordpress plugin
See examples of other marketers using Facebook messenger bots
Description
In this course I'm going to walk you through how you can utilize the Facebook messenger to start generating more leads and sales for your business.
Facebook has recently made a lot of changes to the messenger tool and now allows software developers to use the Facebook API to create Facebook messenger bots.
These bots can be utilized with your Facebook pages to automatically interact with your fans and customers.
For example, if you create a post offering to give away a free eBook and someone sends you a message or comments on your post the bot can automatically follow up with a message and a link to download the eBook.
Once a user has messaged you they have essentially turned into a lead. You can now send broadcasts to all of the people whom have messaged you before. This more or less turns Facebook messenger into a very powerful marketing tool you can use to engage with your audience and fans.
Some additional features of these software tools might include:
Setup sequences of messages

Responses based on specific words "yes" or "no"

Embedded live chat on your website

Auto-schedule broadcast messages

Audience insights and open rates

Include call to actions with images, text, buttons or links.
Setting up a Facebook messenger bot is an absolute awesome way to start building your following in 2017.
Content
Introduction To The Course
Introduction
Want to See My Live Bot? Need Help?
Using The WhatsHelp Facebook Bot
Connecting Facebook To WhatsHelp
People and Broadcasts
Real Quick..
How To Use Bots With Facebook Ads
Facebook Comment Bot
Widgets and Standard Bot
Analytics and Agents
Other Facebook Messenger Bots & Case Studies
Case Study #1
Case Study #2
FeelSocial
FeelSocial Review
ManyChat
Free Bonus
Bonus: How I'm Landing $1000 Clients Every Month
Reviews
Corsetiere
November 30, 2020
Excellent information very easy to learn and implement concepts. Instructor speaks American English and explains each step clearly. Thanks so much. Highly recommended course
Useless training, this should have been a free product as it is only like a "teaser" not very satisfied
Amithkumar
August 26, 2017
I was thinking this course will walk us through how facebook bot is being built. This course content is used as an marketing tool for a social marketing sites. disappointing
I haven't get exactly what i was thinking and there's no need for this course because 90% of things are those i already know.
It's good but needs more examples of how others can use as it was basically a walkthrough of the different options available for messenger bot. I would of like more variation of businesses using it. Its ok for a free course.
Instructor is easy to understand and takes you step by step on how to set up marketing funnels with messenger using different tools. Great Job!
Very good information about automating FB messaging. Whether one time pay or monthly charges, the importance of ROI needs to be stressed. Although the feature sets of the messaging services were robust, that doesn't mean you'll use them. Be sure to have a plan before you buy.
3/23/2017
course created date
11/20/2019
course indexed date