Excel Accounting 2–Worksheet, Opening Balances, & Subledger
Learn how to set up an accounting system in Excel and add beginning balances from a Certified Public Accountant (CPA)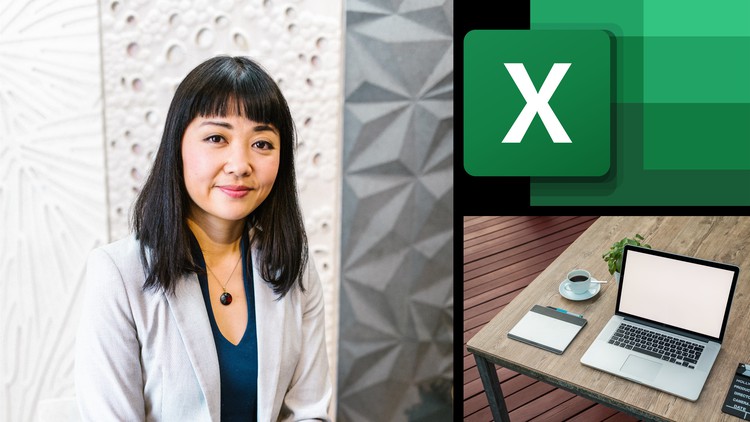 What you will learn
How to create an accounting system in Excel
How to enter beginning account balances into a new accounting system
How to navigate Microsoft Excel
How to enter beginning balances for inventory and create an accompanying subsidiary ledger
How to enter beginning balances for accounts receivable and create an accompanying subsidiary ledger
How to enter beginning balances for accounts payable and create an accompanying subsidiary ledger
Description
In this course we will create an accounting system starting from a blank Excel worksheet and add begging balances to our accounts.
Learners will learn how to navigate Microsoft Excel as well as how to create a well-designed accounting worksheet, complete with a general journal, trial balance, general ledger, and subsidiary ledgers for accounts receivable, accounts payable, & inventory.
Excel is a very good tool to learn accounting because it is much more transparent than a database program, like accounting software, QuickBooks being a common example of accounting software.
For most new steps in the process, you will have access to a downloadable Excel Workbook, containing at least two tabs, one with the answer, the new steps being completed, the other starting out where the prior presentation left off.
Once our accounting system using an Excel worksheet is set up, we will add journal entries to enter beginning balances to our accounts, imagining we are moving from a prior accounting system to our new Excel worksheet system.
When adding the beginning inventory balance to the chart of accounts, we will also add an inventory subsidiary ledger, reporting inventory by item and unit, as well as by cost.
As we add the beginning accounts receivable balance to the chart of accounts, we will also add the accounts receivable subsidiary ledger, showing the money owed to the company by customer.
And when we add the accounts payable balance to the chart of accounts, we will add the accounts payable subsidiary ledger, reporting the money owed by the company to vendors.
Content
Create Worksheet for New Company Accounting Transactions
6010 Set Up Excel Worksheet
6012 Set Up Excel Worksheet #2
6014 Set Up Excel Worksheet #3
6016 Set Up Excel Worksheet #4
Adding Inventory Items & Related Inventory Account Balances
6300 Inventory & Inventory Subsidiary Ledger
Add Customers, Add Vendors, & Accounts Receivable & Accounts Payable Balances
6340 Accounts Receivable & Subsidiary Ledger
6360 Accounts Payable & Subsidiary Ledger
6362 Financial Statements
Add Opening Account Balances
6380 Add New Accounts & Opening Balances
6383 Adjust Beginning Balances in Worksheet for Current Period Data Input
Reviews
Ganapathi
January 27, 2023
Nice course , may be add some shortcut keys which is useful for accounting is neccessary , thanks udemy and the author
This course is simply speechless! It covers a wide range of topics in very detailed explanations, and by just watching one time per video, I can understand the concepts and apply them to practical problems! I highly recommend this video to anyone who wants to be an expert.
Coupons
| Submit by | Date | Coupon Code | Discount | Emitted/Used | Status |
| --- | --- | --- | --- | --- | --- |
| - | 1/3/2022 | 31F3FCF34C364CE67BCF | 100% OFF | 1000/902 | expired |
| - | 1/21/2022 | 971A6D14B4620BF2D76F | 100% OFF | 1000/978 | expired |
| - | 2/7/2022 | F569A1AAB28C37700554 | 100% OFF | 1000/939 | expired |
| - | 2/15/2022 | BC23CFEAC4093D1A4A3F | 100% OFF | 1000/693 | expired |
| Angelcrc Seven | 2/26/2022 | A1C5C071F7C7A1EC8547 | 100% OFF | 1000/991 | expired |
| - | 3/5/2022 | 395B596CA99D61C3C210 | 100% OFF | 1000/942 | expired |
| Mauricio | 3/22/2022 | DC153A78E838017D0D25 | 100% OFF | 1000/998 | expired |
| - | 4/2/2022 | 5D033897E3C6FBF7BB90 | 100% OFF | 1000/657 | expired |
| - | 4/10/2022 | 1D5395B956EB544AF226 | 100% OFF | 1000/914 | expired |
| Angelcrc Seven | 4/19/2022 | D90EE6E55461EC504C3F | 100% OFF | 1000/542 | expired |
| Angelcrc Seven | 5/14/2022 | 0454C24E5667269EA6BE | 100% OFF | 1000/870 | expired |
| - | 5/20/2022 | 0899899943D0D83D72C7 | 100% OFF | 1000/955 | expired |
| - | 6/7/2022 | 27D8EBACEA1DB9522CEF | 100% OFF | 1000/961 | expired |
| - | 6/14/2022 | 8D8E34607666C6AC926B | 100% OFF | 1000/835 | expired |
| - | 6/21/2022 | CDC66A50705688EAE20F | 100% OFF | 1000/914 | expired |
| - | 7/7/2022 | 98A4BE29A25725AE2DEE | 100% OFF | 1000/509 | expired |
| - | 8/10/2022 | 1BC9EEBB8EFDC2898123 | 100% OFF | 1000/888 | expired |
| - | 8/17/2022 | 944255C44EBECE164543 | 100% OFF | 1000/999 | expired |
| - | 9/8/2022 | 66B9CBE14A3A350FF69F | 100% OFF | 1000/723 | expired |
| - | 9/21/2022 | 5FF5D610524C5750C490 | 100% OFF | 1000/587 | expired |
| - | 10/4/2022 | 4DB46A2D5639C35E05CF | 100% OFF | 1000/664 | expired |
| - | 10/11/2022 | 0C7C0A3C63ADD7B5E366 | 100% OFF | 1000/256 | expired |
| - | 10/17/2022 | 60DCB28CBA40720DD765 | 100% OFF | 1000/383 | expired |
| - | 11/17/2022 | CA92213B3FCC6DE5F447 | 100% OFF | 1000/84 | expired |
| - | 12/4/2022 | 436E549BDBBA845EECB0 | 100% OFF | 1000/381 | expired |
| - | 1/17/2023 | D55C5A7CF2D164F804C2 | 100% OFF | 1000/842 | expired |
| - | 2/23/2023 | 9D99EF1E44A54F920E13 | 100% OFF | 1000/995 | expired |
| - | 4/9/2023 | BF01CB09189B100A9355 | 100% OFF | 1000/986 | expired |
| - | 7/18/2023 | 99B9834B7898A142DDE6 | 100% OFF | 1000/826 | expired |
| - | 9/26/2023 | F1BD127421DEF0C5EED9 | 100% OFF | 1000/352 | expired |
Charts
Price
Rating
Enrollment distribution
12/12/2021
course created date
1/3/2022
course indexed date