Evolve Intimacy & Improve Relationships with Love Languages
Learn the essential vocabulary to becoming a more supportive partner.
Parenting & Relationship
category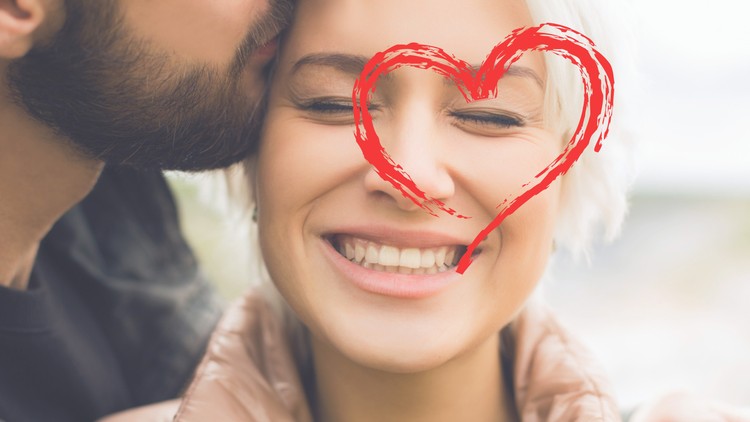 What you will learn
Discover the way you feel most loved and appreciated in relationship
Learn all 5 Love Languages essential to authentic relating
Integrate your Astrology signs with the 5 Love Languages
Learn very specific practices and exercises for each love language in order to enhance intimacy
Understand the Neurobiology of falling in love vs. sustaining committed love
Learn to ask for what you need to achieve a balanced and blissful relationship
Description
In this course, you will discover the elegant and simple tool for more conscious relating and the key vocabulary to becoming a more supportive partner: Love Languages.  There are 5 primary Love Languages spoken between couples
These Love Languages represent the core patterns we have in speaking or giving love to another, in addition to the dominant ways that we receive love. Withdraw, irritation, and separation occur in relationships most often because we feel like we have not been heard or understand by a partner. Even with the best intentions, if our love languages do not translate between us and our partner, we can feel disconnected. In order to honor our partner, we must learn to become fluent in their love language, while also learning how to communicate the desires and needs of our own primary and secondary love languages. These love languages apply in all relationships in our lives, including intimate couples, with children and families, friends, and colleagues. Thus, this teaching is universally applicable for improving all relationships and enhancing all communications. The course includes over 30 exercises to integrate each love language into your life to become the most well-rounded and relationally fluent partner possible.
This course also teaches the importance of the Neurochemistry of falling in love, and how it is essential to learn another's love language to sustain love on a nuerological level. As a professional astrologer as well as relationship coach, I have also woven these 5 Love Languages into the archetypes of the zodiac to bring further insight. We also explore how love languages may shift over different phases of life and with different partners. Each section provides many exercises for integrating and empowering the Love Languages right now in your life.
Content
Introduction: Discover and Integrate your Love Languages
Introduction and Why We Relationships Need to honor the Love Languages
Dr. Gary Chapman
The Love Tank
Falling in Love vs. Sustaining Love
BONUS: The Neurochemistry of Falling in Love and Sustaining Love
BONUS: Astrology Cycles of Love and Relationship - Venus and Mars
The 5 Love Languages and Exercises to Express them
Love Languages: Speaking vs. Listening
Words of Affirmation
Words of Affirmation Exercises
Words of Affirmation Quiz
Touch
Touch Exercises
Touch Quiz
Gifts
Gifts Exercises
Gifts Quiz
Acts of Service
Acts of Service Exercises
Acts of Service Quiz
Quality Time
Exercises: Quality Conversations
Exercises: Quality Conversations 2
Quality Time: Quality Activities Exercises
Quality Time Quiz
Love Languages and Phases of Life
BONUS Exploration of Love Languages Using Astrology, Ancestry, and Quizzes
Digital Age Love Languages Part 1
Digital Age Love Languages Part 2
The Love Languages You Inherit
Astrology Archetypes and Love Languages
Astrology Signs and Love Languages
Love Languages QUIZes for Singles and Couples
Summary, Course Conclusion, and PDF of all Slides***
Reviews
Jennifer
September 28, 2020
This gave me a good foundation on what they love languages are and how I can begin to cultivate the ones that I can use with a partner. I did write to the instructor to suggest that two videos were uploaded incorrectly and need to be fixed but I have yet to hear back. Even without the 2 videos, I feel that I got sufficient value. Thanks!
brilliant, the best course I've taken. The host is interesting, fluent, engaging and clearly very knowledgeable. Course structure is perfect and content well curated and presented. Not often you want to keep going with a course simply because its so engaging! Loved every bit. Thank you.
It helped me to understand what my partner likes and how to go about making him happy in our relationship. The instructor has a very nice disposition and he explains everything very well. I would take another one of his classes for sure! I am looking forward to making my marriage stronger and deeper!
I would have enjoyed print outs! But other than that - I am enjoying very much! and learning! -- nevermind... changed my stars to 5... found the print outs!!! THANK YOU. THIS WAS AWESOME. Can you do more?
This is a very well organized, clear, simple, and easy to understand presentation. The content is insightful and useful because VerDarLuz explains the different processes occurring during the phases of Falling Love, Rising in Love, and Sustaining Love. The presentation simplifies a very complex topic quite objectively, offering valuable take-away.
Charts
Price
Rating
Enrollment distribution
2/3/2017
course created date
10/27/2022
course indexed date