Eliminate Your Insomnia Now Build Strong Sleep Habits
No More Insomnia! You Deserve a Good Night's Sleep - Banish Insomnia and Welcome Good Sleep Into Your Bedroom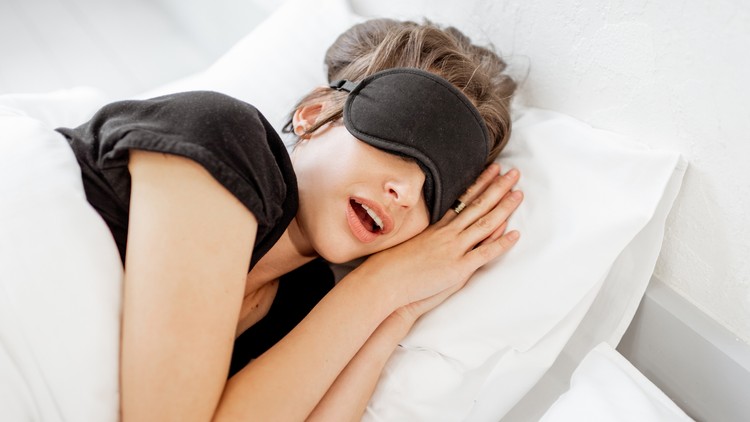 What you will learn
Reduce Insomnia
Improve Sleep
Learn Healthy Bedtime Rituals
Use Sleep Hacks
Description
Eliminate Your Insomnia Now Build Strong Sleep Habits
No More Insomnia! You Deserve a Good Night's Sleep - Banish Insomnia and Welcome Good Sleep Into Your Bedroom
Insomnia is a common affliction, but often it can be eliminated or reduced through the practice of better daily habits. Insomnia is often a function of poor sleep hygiene. The good news is that you can drastically reduce your insomnia or in some cases eliminate insomnia by improving daily habits regarding your exercise, diet, cell phone use, and bedtime routines.
Too often, drugs are the first resort for people suffering from insomnia. If you've been down that route before, you know that this is often a solution worse than the problem. Anyone seeking to eliminate or reduce insomnia should first focus on changing behaviors that reduce sleep. Specifically, improving diet and exercise can make a huge improvement. Next, developing proper bedtime rituals, including eliminating all access to screens at least one hour before bedtime. Then, your bedroom must be configured in a way to facilitate uninterrupted sleep. And finally, you need to use every trick and tool available to eliminate distractions from a sound night's sleep.
Personal development expert TJ Walker will guide you through a specific process to help you eliminate the vast majority of the causes of common insomnia. After taking this course, you will no longer wonder whether you are harming your sleep through your specific habits.
So if you're ready to get a good night's sleep, go ahead and sign up for this course today. What do you have to lose except for the bags under your eyes?
Here is what Udemy students say about this course:
"Great collection of conventional wisdom and includes new ideas that I hadn't heard of before. Looking forward to implementing some new habits now :) Thanks a lot for creating this course, TJ!" Sebastian Steffens
"This course helped me to overcome insomnia." Fatima Zahra Oubella
This Insomnia course is ideal for anyone searching for more info on the following: insomnia - sleep - eliminate your insomnia now build strong sleep habits - the simple and easy way to cure insomnia - the simple and easy way to cure insomnia: sleep better! - eliminate your insomnia - sleep better. Plus, this course will be a great addition to anyone trying to build out their knowledge in the following areas: sleep - insomnia - sleep habits - good sleep.
Content
Insomnia Does Not Have to Be Your Destiny
Put Your Insomnia In the Past - Build Strong Sleeping Habits Promo Video
Quick Win! The Missing Step In Your Nighttime routine
The Habits of a Good Sleeper
Please Consult Your Doctor If You Have Any Serious Medical Conditions
If You Must Use an Alarm Clock
Your Future As a Good Sleeper Is Almost Here
We Are Getting Close to the End
Give Feedback on How to Improve This Insomnia Course
Congratulations! You Are Ready for Insomnia-Free Sleep
Bonus Videos
Summary of Key Concepts You Need to Know to Combat Insomnia
Reviews
From one hand this course is not providing many new things, mostly those are commonly known facts or things we naturally feel are true, besides it is repetitive - you will hear some of the things multiple times. But this is the way we learn, isn't it? On the other hand it provides a few nice tips, explains reasons behind some good/bad influence habits and gives some real life examples. I think that following the tips from this course and changing some of the habits may really improve your sleep. I will certainly try to improve mine :)
Its a long "disclaimer" about the cource conent, a lot off talking (correctly) but not really any - do-able tips yet ..
I've only just finished the course so i do need to put these habits into practice. What i like about the course: - right out the gate the instructor mentions that this isn't a guaranteed solution, rather a collection of habits to follow to increase your odds of having a good night's sleep - the instructor is realistic in his approach, understanding that putting away the phone will be a challenge - many issues are addressed such as the use of too much caffeine, alcohol, or even water too close to bed time
Great teacher, but the course doesn't offer much new information about fighting insomnia, just the common things we are used to hear, told by a person who knows how to speak and motivate people watching. It feels more like a habits building course for me.
The course is very detailed and interesting. The voice of speaker is very charming. It helped me to create a sleeping habit. Thank you so much, you are amazing.
شكرا لك لقد كانت دورة ممتازة ويوجد فيها معلومات قيمة Thank you, it was an excellent course and contains valuable information
Good overview with lots of tips on how to fall asleep faster and have a better sleep. Even though a good portion of the information was not new to me, or might be common knowledge, it's still a great course! I would maybe add some more background info about the scienece of sleep (like REM phase, circadian rhythm and the like) even though you're not a biologist or doctor.
Sebastian
November 25, 2020
Great collection of conventional wisdom and includes new ideas that I hadn't heard of before. Looking forward to implementing some new habits now :) Thanks a lot for creating this course, TJ!
Rosangeles
August 21, 2020
He didn't just tell his students what to do, he also taught his ways of implementing the activities to improve your sleep habits, which is something that most of the lessons in other places won't do. Not only commanding, also acting.
Balachandhar
July 11, 2020
After few chapters the course sounds to be repetitive - But overall its a good course. Thumps up to the voice and narration by the Instructor - TJ.
people take these courses to know some they don't know . you better understand that before you do another course
Coupons
| Submit by | Date | Coupon Code | Discount | Emitted/Used | Status |
| --- | --- | --- | --- | --- | --- |
| Lee Jia Cheng | 6/17/2020 | 85DE4D393727621502A6 | 100% OFF | 40000/4616 | expired |
| Angelcrc Seven | 7/4/2020 | 254475C23E3048127190 | 100% OFF | 40000/4224 | expired |
| Angelcrc Seven | 9/18/2020 | 2E5A587727DFAAD90E92 | 100% OFF | 40000/2281 | expired |
| - | 10/12/2020 | E955244B92142716D680 | 100% OFF | 40000/1522 | expired |
| - | 11/9/2020 | F05FEDDC8CFC3DFEA7C6 | 100% OFF | 40000/1844 | expired |
| - | 7/15/2021 | 16739993B55563AF1105 | 100% OFF | 40000/1971 | expired |
| - | 8/21/2021 | DD132C1EA603B29EF094 | 100% OFF | 40000/1634 | expired |
| Angelcrc Seven | 12/26/2021 | 9D8AEC8340D09BFC2A45 | 100% OFF | 1000/937 | expired |
| Angelcrc Seven | 1/3/2022 | 3323D20D323FB5E25501 | 100% OFF | 1000/994 | expired |
| Angelcrc Seven | 3/2/2022 | 332CF8C9DDD8DAF8B4EC | 100% OFF | 1000/998 | expired |
| Angelcrc Seven | 5/1/2022 | 072362E5958DF6C6AC98 | 100% OFF | 1000/848 | expired |
| - | 8/18/2022 | 85151281FA0F596EA64A | 100% OFF | 1000/802 | expired |
| - | 9/26/2022 | 75EB0800C1C606684D7A | 100% OFF | 1000/998 | expired |
| - | 10/1/2022 | 0D15C5E4F12BA8CA9E65 | 100% OFF | 1000/705 | expired |
| - | 10/6/2022 | FD8514F70800973F0127 | 100% OFF | 1000/638 | expired |
| - | 10/31/2022 | 842152DBCBD6FD2EF15C | 100% OFF | 1000/467 | expired |
| - | 11/7/2022 | 0C15F13E87FE5FA89F00 | 100% OFF | 1000/432 | expired |
| - | 11/13/2022 | 1E75CCF2FC6170E87691 | 100% OFF | 1000/442 | expired |
| - | 12/4/2022 | 1A6EA9EF6A59D5C927C0 | 100% OFF | 1000/677 | expired |
| - | 12/17/2022 | THANK121 | 100% OFF | 1000/988 | expired |
| - | 1/4/2023 | 7E9E39BB5942C78F697C | 100% OFF | 1000/449 | expired |
| - | 1/13/2023 | D3DE9DF465031A9FF3EB | 100% OFF | 1000/281 | expired |
| - | 1/14/2023 | THANKS014 | 100% OFF | 1000/960 | expired |
| - | 5/31/2023 | 62D036CE53C3802D84A4 | 100% OFF | 1000/443 | expired |
| - | 6/9/2023 | 7BC184CA059C6F8FF2B2 | 100% OFF | 1000/203 | expired |
| - | 6/24/2023 | 57BC29D40E5135A8222C | 100% OFF | 1000/214 | expired |
| - | 7/11/2023 | 97043985AB9BA249FDE8 | 100% OFF | 1000/196 | expired |
| - | 7/29/2023 | 1150082A0C4F363B5BFB | 100% OFF | 1000/490 | expired |
| - | 8/6/2023 | 9238E5BEB4978E90B9B2 | 100% OFF | 1000/495 | expired |
| - | 8/26/2023 | B8534031687B01CAE5A2 | 100% OFF | 1000/278 | expired |
| - | 9/10/2023 | 80BF19B197716F5000CF | 100% OFF | 1000/182 | expired |
| - | 10/11/2023 | 7AFFEB00A742DD86C6C9 | 100% OFF | 1000/345 | expired |
| - | 10/28/2023 | 193283E05F894FA10284 | 100% OFF | 1000/220 | expired |
| - | 11/6/2023 | A3B1D97BD519CD54FF1E | 100% OFF | 1000/122 | expired |
| - | 11/15/2023 | DEE2AE7BFBCF6189E2C2 | 100% OFF | 1000/139 | expired |
Charts
Price
Rating
Enrollment distribution
6/8/2020
course created date
6/17/2020
course indexed date
Lee Jia Cheng
course submited by