Fear of Public Speaking: Never Fear Public Speaking Again
Public Speaking Fear. You will deliver presentations/speeches with confidence and ease. Never be nervous again.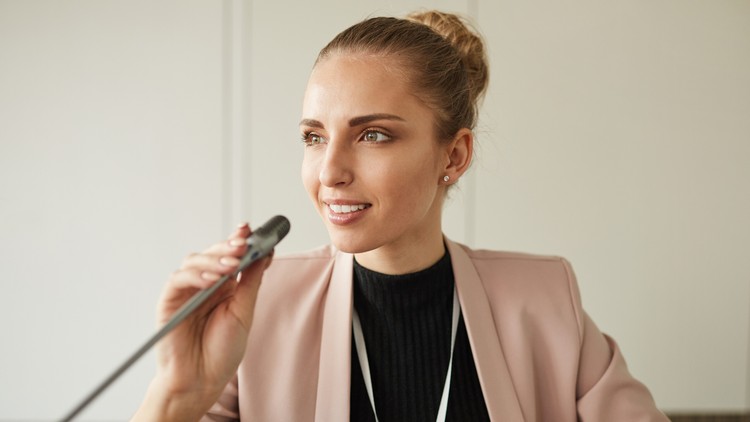 What you will learn
Eliminate public speaking fear
Reduce nervousness
Minimize anxiety
Become a confident and and competent public speaker
Description
Public Speaking Fear can melt away. Imagine being so comfortable and relaxed when standing up and speaking in front of people that it feels like a conversation with one good friend. You can learn how to be totally relaxed and confident when speaking in front of people. You will never have to waste energy getting nervous or fearful again.
You don't have to let a fear of public speaking harm your career or personal life. It's OK to have anxiety about speaking, but it's also easy to eliminate your presentation worries forever. TJ Walker has coached 10,000 students (in-person) for the last 30 years and he has helped people overcome terrible stage fright. Anyone can learn how to be a posed and confident speaker, once they know basic preparation techniques. Speaking in front of people is a learned skill, just like writing. You can be a confident and effective public speaker.
What will students achieve or be able to do after taking this Public Speaking Fear course?
* Eliminate public speaking fear
* Reduce nervousness
* Minimize anxiety
* Become a confident and competent public speaker
What do Udemy students say about this Fear of Public Speaking Course?
"5 Stars! Excellent point of recording on a Phone and practice." Venkata Panyam
"5 Stars! He gives interesting tips to overcome the fear of public speaking." Giancarlo Palacios
"5 Stars! This is the 3rd course I have taken by TJ Walker and I continue to learn new things. It is very apparent to me that he loves what he does by how well he delivers each lecture and how quickly he replies to any message or post. Thank you for another helpful course. Now time to practice practice practice!" Naomi Wycherley
"5 Stars! I was skeptical at first, but as I started watching TJ's lectures, I became convinced, that he was an expert I should listen to! He makes it look fun!" Wendy
"5 Stars! This is a great course. So much information in each short lecture. I will have to watch them again." Ian Sheppey
There is a 100% Money-Back Guarantee for this Public Speaking Fear course. And the instructor also provides an enhanced guarantee.
Content
How to Conquer the Causes of Public Speaking Fear
Eliminating Speaking Anxiety
Please Introduce Yourself
Avoid Fake Solutions That Don't Work
Curing Public Speaking Fear
The Process of Eliminating Fear
The Fear of Boring
Rehearse Your Presentation On Video
Cheat the System
Assignment: Testing Your Communication To Make Sure It Works.
Exciting New Update to this Course
Practice Makes...Comfortable
The Confident Speaker's Attitude
Long-term Speaking Goals and Conclusion
Time to Give TJ a Piece of Your Mind
Housekeeping Matters
Before We Start, Here is the #1 Tip to Improving Your Communication Skills
Who is TJ Walker?
Your Questions Will Be Answered Here, In Video
7 Steps For Getting the Most Out of this Course
$10,000 Guarantee This Course Will Make You a Better Communicator
Bonus Update - You Should Get on the TikTok App Now
If You Like to Learn by Reading
Bonus Reading
Public Speaking Success
Secret to Foolproof Presentations
1001 Ways to Wow
Here Is How You Can Get your Certificate of Completion for this Course
Final Bonus Lecture: Huge Discounts on Other TJ Communications Courses
Reviews
it was great to complete such this course with a great instructor but there is a problem with me, it's when i have a presentation on puplic i see many eyes in front of me so i don,t know where i should look at. thank you Mr. TJ
I wasn't expecting much, yet it was worth watching... And, as you mentioned, don't only leave ratings; describe what else we could do to better this course. I believe you should teach more aspects that most people do not understand, such as where to stand, how to stand, the zigzag technique (to make eye contact with the audience), hand motions, the spacing between legs, and so on. Thank you, by the way, for this wonderful training!
Narasimham
December 5, 2022
I am very happy taking this course, very interesting explanation, very good vedio quality.Thank you sir.
Good course to learn how to remove fear of public speaking or while giving presentation. Definitely recommended to go through the course.
I will learn lot's of new thing from this course and try to practice from now try to build my communiction skill I thing that the way that tell in this coures really help me to better my communication skill.
I learned a few amazing things from this course. For example, start talking to one or two people, it doesn't have to be a crowd. Write and edit your speech and so on. Thanks.
So far , I am not sure if this course will meet my expectations. But will see I have not finished the course yet , but for the amount I spent on the course I did not receive any technique or strategy how I can use or follow to stop public speaking fear. I need to complete the course for final rating. Regards
Very short videos, not really giving a lot of information for people who take panic attacks before presenting. Saying "just prepare" doesn't really help when you have anxiety and panic as when it hits you right before you have to speak it doesn't really matter how much you've prepared.
Jeddahlyn
December 8, 2021
A wonderful course for me both personally and professionally. I will take away lots of things that I can quickly and easily apply.
Thank you TJ sir! The content was amazing. I would hope to be more confident while speaking in public again.
This is so practical. I was left amazed in the first lecture itself when I got to know the real reason behind the fear of public speaking. Have watched numerous contents relating to this topic in the past, but none of them were able to pin point this practical reason and deliver with such accuracy. Further The tips mentioned are very practical. Absolutely NO BULLSHIT. No Fancy tips straight from any book. To the Point and Very practical content. Ready to be used in the real world. Believe me I've watched unbelievably huge amounts of contents on this. But None of them were THIS practical and hit my mind so hard. Thanks TJ, this was of immense help. Every bit of this course is of great help and HIGHLY PRACTICAL. ♥ ♥ ♥
Hii TJ... thank you for making this presentation, very helpful to overcome my public speaking.. Thank you again
Tremendous Advice! I love how sir explains different circumstances and consequently applying them to public speaking, Genius!!
Every video was very engaging, packed with very helpful information in a short space of time. Perfectly suited for my needs. Thanks!
The process, from start to finish, in giving a speech has been quite beneficial for me. The pointers of rehearsing, recording and giving examples will be useful to me in my career. Thank you
Coupons
| Submit by | Date | Coupon Code | Discount | Emitted/Used | Status |
| --- | --- | --- | --- | --- | --- |
| Angelcrc Seven | 5/30/2020 | F60595E3A9A890160266 | 100% OFF | 40000/13402 | expired |
| - | 1/7/2021 | 01B1A75F1585B79F4768 | 100% OFF | 40000/5029 | expired |
| - | 2/5/2021 | CDDC87D5706E5A3E52A3 | 100% OFF | 40000/4238 | expired |
| - | 5/19/2021 | 1682030F38BDAE14E1A3 | 100% OFF | 40000/5746 | expired |
| - | 6/21/2021 | 93CEA6BAC1C6E4D78101 | 100% OFF | 40000/5437 | expired |
| - | 10/18/2021 | EDB83A17A7F762AE8B69 | 100% OFF | 40000/2660 | expired |
| - | 8/29/2022 | F84B8518F6DC46DAF435 | 100% OFF | 1000/987 | expired |
| - | 8/30/2022 | 0AB9AB5E596FE92DE478 | 100% OFF | 1000/924 | expired |
| - | 9/5/2022 | 8FD17144603F070BB27F | 100% OFF | 1000/442 | expired |
| - | 9/14/2022 | ECC8E29687A4AD8EC729 | 100% OFF | 1000/890 | expired |
| - | 9/19/2022 | 7E69DC5B868BF6D7BB96 | 100% OFF | 1000/738 | expired |
| - | 10/24/2022 | A035693A6454A790FC4E | 100% OFF | 1000/988 | expired |
| - | 11/1/2022 | 48FD8144D7AF26BA80D4 | 100% OFF | 1000/838 | expired |
| - | 11/9/2022 | F2DA67F9E589E656D8AD | 100% OFF | 1000/700 | expired |
| - | 11/15/2022 | 67C1F9468E92DEE0EA7D | 100% OFF | 1000/630 | expired |
| - | 11/28/2022 | 54B32201E08D9DCAEE36 | 100% OFF | 1000/961 | expired |
| - | 12/6/2022 | 582CCFE4B3463560ADC1 | 100% OFF | 1000/987 | expired |
| - | 12/15/2022 | C65FBC20AE22235E5D79 | 100% OFF | 1000/501 | expired |
| - | 12/29/2022 | 50EB46D3EAA420C65B9B | 100% OFF | 1000/749 | expired |
| - | 1/22/2023 | 350D43383447854E6568 | 100% OFF | 1000/787 | expired |
| - | 1/29/2023 | FDD126DF79611FB8BE97 | 100% OFF | 1000/723 | expired |
| - | 2/4/2023 | THANKS004 | 100% OFF | 1000/897 | expired |
Charts
Price
Rating
Enrollment distribution
8/15/2014
course created date
5/30/2020
course indexed date
Angelcrc Seven
course submited by