Master English Sentence Structure | Better Grammar, Writing
Improve your English and master the English sentence types. Learn to master English grammar and speaking the easy way!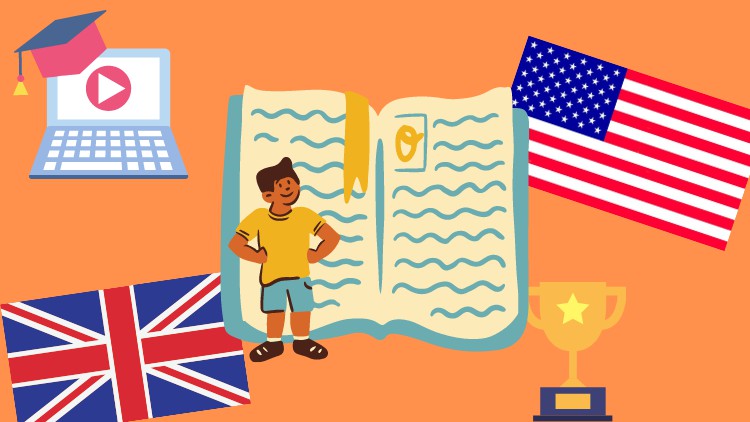 What you will learn
Be ready to take on advanced English grammar topics
Master the basics of English Grammar
Learn the English Sentence Structure
Make Understanding English Easier
Description
This course is for English learners who want a better understanding of English. Understanding English parts of speech and sentence structure are key to improving your speaking, writing and listening. Most students skip English parts of speech and sentence structure and this causes many problems later in their learning. Think about it. If an athlete were to skip the basics of their sport, would they be able to master it? The answer is no, and it's the same for language. Building a solid foundation is just as important as learning the higher-level 'fancy' grammar. And the truth is, if you spend a little extra time learning this now, you will save yourself a whole lot of time down the road.
Build a strong English foundation and the rest will be easy. In this course you learn:
The parts of an English sentence

Nouns

Verbs

A Closer Look at Sentence Objects

The Other Words - Adjectives, Adverbs and More

Prepositions

Conjunctions

The Four Sentence Types

The Four Sentence Structures.
Each lesson provides an explanation followed by examples and practice questions.
In only a few days you will build a complete understanding of English sentences and improve the structure of your own. You will easily be able to build upon your English grammar and master advance concepts thanks to a strong grammar foundation. Make life easier and take this course now!
Content
What is this course for?
Making Grammar your Friend
Building a foundation for English Grammar
The Parts of a Sentence
Nouns
Verbs
Adjectives, Adverbs, Determiners and More - The OTHER words
Prepositions
Using Parallel Structure
Future courses and discounts for current students
BONUS LECTURE - Discounts for current students and future
Reviews
Scott Mendoza's exemplary teaching style is truly impressive. His adept approach to selecting key grammar concepts provides a comprehensive and easily digestible overview, fostering continuous improvement in learning. The seamless progression he employs further enhances the educational experience. I am genuinely fond of his teaching methods, as they not only elucidate complex topics but also inspire a deep appreciation for the subject matter.
I like the structure and the way we can pause and practice, you are an amazing instructor. I can't wait to continue the second part of the course.
it was very simple, the examples were clear and smart. the language has been used to explain the content easy to understand. i would like to thank you for your time and effort . all the best,
Venía a este curso con muchas ganas porque una de las partes que más me interesaban de repasar inglés es la gramática y, estando en la segunda lección, me estoy planteando dejarlo. Al principio pensaba que igual estaba siendo muy tiquismiquis con las definiciones de sujeto y predicado, que dejan bastante que desear, pero decir que "happy" es un sustantivo común me parece cagarla a lo grande. No sé. Seguiré por ver si mejora la cosa, a ver qué pasa.
best course on english so far, simple and educative. examples are very teachable and understanding. thanks for a job well done
I think the title and the content of the lesson do not match. The title of the course should not be master, maybe intermediate. Apart from that, it is a very good course for those who just start and want to progress quickly, I recommend it to these people.
I love it! It is easy to understand and the instructor provides clear pronunciation. Thank you so much!
Üstünkörü konuları geçmiş, genel olarak konuları hatırlamak için iyiydi. Çok detaylı olmadığı için puan kırdım yoksa detayları anlatıyor.
The instructor was knowledgeable, but they could have explained the concepts in more detail. Also, as a copy editor, I noticed several mistakes that can cause more confusion for first-time English learners.
An impressive time effective course that clarifies how to use concepts like parts of speech, punctuations, and different sentence structures as building blocks for writing outstanding English.
Yes, I thought it was very clearly presented. I opened this course as a refresher to strengthen my writing and grammar skills. Thank you Frank
Awesome! Well structured course! It's good to learn different parts of speech with various examples. Looking forward to learn more courses from the instructor in future. Thanks!
The course was definitely helpful, but I was surprised by the errors in the course. There were grammatical and punctuation mistakes. It was just rather ironic that a course on English included these errors. The slides need to be carefully proofread.
This course has significantly helped my confidence in writing, speaking, and constructing sentences in English.
In this course, I learned the differences between the Subject and Predicate. I also learned about the meaning of a Noun.
Charts
Price
Rating
Enrollment distribution
11/1/2015
course created date
8/18/2019
course indexed date