How To Draw Animals for Beginners - Volume 3
Learn to draw a Jack Russell, Kitten, Rabbit and Cockerel with this Pastel Pencil for Beginners Course.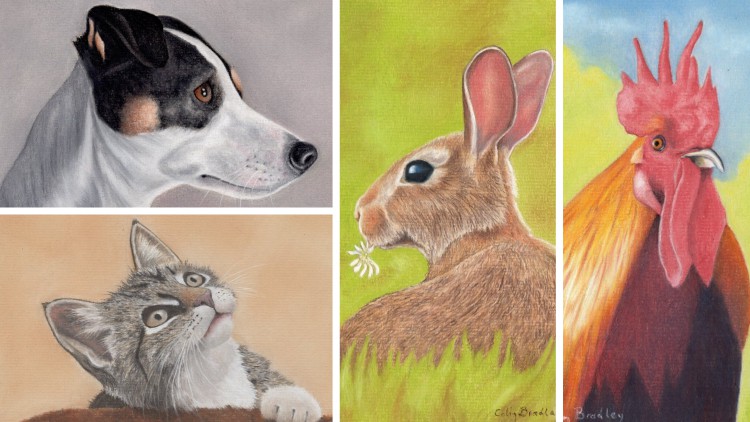 What you will learn
How to Draw 4 Animals using Pastel Pencils
The fundamentals with using Pastel Pencils
The light to dark rule when layering Pastel Pencils
How to apply the techniques learnt to colour their animals
Description
Have you ever wished you could paint animals?
Would you love to be able to draw AMAZING pets and animals you never thought possible?
With this course, you will learn the techniques and skills to be able to do just this.
Pastel Pencils
In my 30+ Years of Experience I have found that Pastel Pencils is the by far the easiest art medium to pick up and learn.
When you have finished this course not only will you walk away with 4 AMAZING animal paintings but you will also be able to apply what you have learnt to draw your own pictures.
Materials
Each subject requires just a few colours and there are just 17 pencils in total that you need to draw all 4. You do not have to use the exact same brand as me either :-)
The colours are as follows:
Faber-Castell PITT Pastel Pencils
273 warm grey IV

181 payne's grey

199 black

131 coral

187 burnt ochre

283 burnt sienna

101 white

192 indian red

182 burnt ochre

175 dark sepia

170 may green

186 terracotta

191 pompeian red

176 van dyck brown

143 cobalt blue

109 dark chrome yellow

106 light chrome yellow
Pastel Paper
The paper I use is a fabriano ingres pastel paper in sand colour (160gsm thickness). This is a great paper for starting out as you can erase mistakes easily! If you do not have this paper then you can use another paper that you prefer.
Outline Drawing
I provide you with an outline drawing for each portrait so that you do not have to draw the subject free hand. Trace this through to your paper using preferably a graphite transfer sheet like tracedown or print it straight out using your home printer.
Step by Step Instructions
I walk you through step by step with video instruction how to draw each stage. You'll learn techniques behind drawing beautiful animal portraits and create pictures you can be proud of.
Start Learning Today
With just a small amount of pencils you will see the AMAZING effects you can get.
Let your journey into drawing and painting animals start here.
Content
Basics
Welcome
Pastel Pencils
Pastel Paper
Blending
Fixative
Using our Courses
3/3/2022
course created date
4/23/2022
course indexed date