DNS Deep Dive
The most comprehensive course on the DNS protocol
Network & Security
category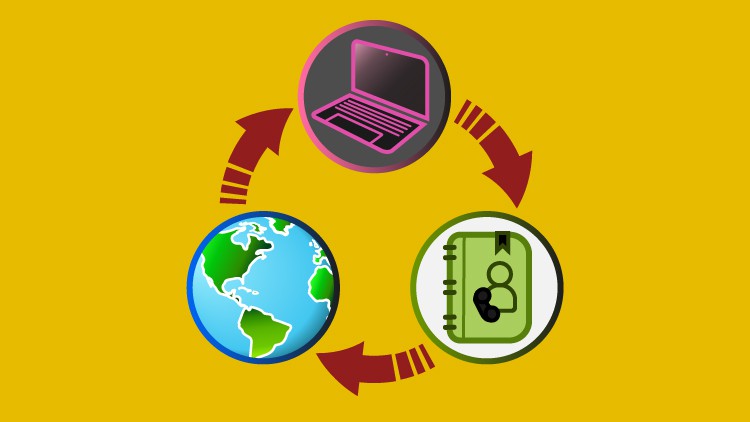 What you will learn
Configure authoritative name servers, cache only servers and resolvers
Troubleshoot DNS issues
Choose, register and manage your own domain names
Secure your DNS infrastructure
Analyse the DNS protocol
Construct your own DNS packets from scratch
Become familiar with the bind9 DNS service
Capture DNS traffic
Description
Who is this course for
This course is mainly for network engineers, IT technicians, system administrators, cyber security professionals, computer science students and anybody who is interested in starting a career in the IT industry.
What you will learn
Configure authoritative name servers, cache only servers and resolvers

Troubleshoot DNS issues

Choose, register and manage your own domain names

Secure your DNS infrastructure

Analyse the DNS protocol

Construct your own DNS packets from scratch with Scapy
Prerequisites
Basic IT Skills

A fundamental understanding of the TCP/IP suite

A good knowledge of the Linux operating system

A computer system with ideally 16GB of RAM and 200GB of disk space
FAQs
Do I need any previous experience?
Any previous experience in networking, system administration and computer systems will definitely be helpful though not necessary.
Do I get any support with this course?
Yes, any question you have will be answered by email within 24 hours.
I am an experienced network engineer with previous experience in DNS. How do I benefit from this course?
The knowledge contained in this course will definitely enhance your existing understanding of the DNS protocol. What's more, the custom scripts, cheat sheets and configuration guides included in the course will help you in your day-to-day work.
Will I get any resources with this course?
Yes, you will get an assortment of resources in the form of scripts, configuration guides, cheatsheets and infographics.
Will I get a certificate of completion at the end?
Yes, you will indeed!
Content
Introduction
What is DNS?
The main functions of DNS
Introduction
Name Space
Domain Name Format
The DNS Tree
Root Servers
TLD Servers
Authoritative Name Servers
Name Space
Name Resolution
Local Name Resolution
DNS Resolvers
Iterative Name Resolution
Recursive Name Resolution
Caching
DNS Name Resolution Workflow
Reverse Name Resolution
Name Resolution
Name Registration
Domain Name Registration Hierarchy
Domain Name Registration Process
Choosing a TLD
Choosing a Second-Level Domain
Choosing a Registrar
EPP Status Codes
Name Registration
DNS Data Storage
Zones & Resource Records
SOA Record
NS Record
A & AAAA Records
PTR Record
CNAME Record
TXT Record
DNS Data Storage
DNS Configuration
Architecture
Configuring the Client
Configuring the Cache-Only DNS Server
Configuring the Authoritative DNS Server
Configuring DNS High Availability
DNS Protocol Analysis
DNS Messages
RCODES
The DNS Header
Capturing & Analysing DNS Traffic
Constructing DNS Packets
DNS Protocol Analysis
DNS Troubleshooting
Troubleshooting Methodology
Troubleshooting DNS Configuration Issues
Troubleshooting DNS Latency Issues
DNS Troubleshooting
DNS Security
DNS Cache Poisoning Attack
NXDOMAIN Attack
DNS Query Flood Attack
Phantom Domain Attack
DNS Security
Reviews
Very informative course, before I enrolled I already had good knowledge about DNS but I was still able to learn new useful topics in detail that I didnt read about anywhere else.
Very clear explanations, instructor was easy to understand, and course as structured well from newbie all the way to expert level. Instructor does not really go deeply into each topic, but provide a good overview which covers all the important points. You will still need to do your own research which is expected, but this course provides a good foundation.
This is such a good course for those want to get their basics done on DNS and progress their way upward. Simple explanation and evenly paced narration makes it easier to understand the topic well before moving on to the next title . Highly recommend it!
Good course where most concepts are covered but it seems that the course is rushed through at times and not completely explained in detailed especially for a beginner.
The course is well designed so far and is giving me a good understanding of the subject, I definitely recommend.
I purchased this course as I wanted to learn more about DNS. I have not finished the course yet but I wanted to put a review as I am thoroughly enjoying the course. Nicholas has taken great effort to help the student understand the concept of DNS very well. I will put another review once I finish the course.
9/16/2021
course created date
5/22/2022
course indexed date