Digital Marketing Essentials Masterclass
Learn the basics of Social Media Marketing, SEO, SEM, Facebook Marketing & more.
Digital Marketing
category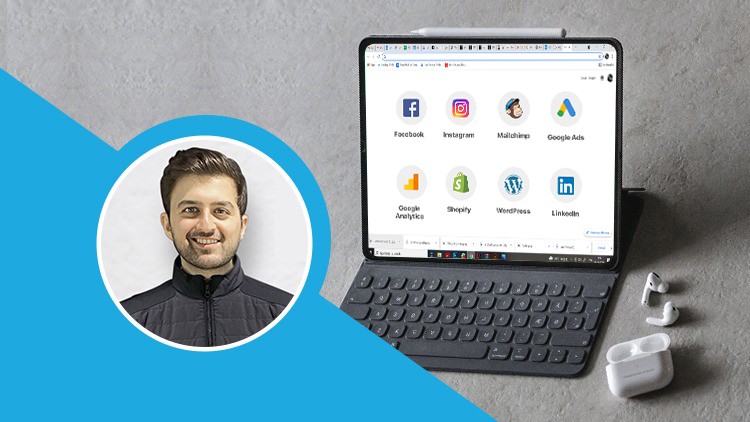 What you will learn
What is Digital Marketing and why it's important for 2021
Various components of Digital Marketing and their scope
Fundamentals of SEM or Paid Advertising on Google
Fundamentals of Search Engine Optimization (SEO)
Promoting websites by increasing their visibility in search engine results pages,
What keywords are, why they play a major role in PPC advertising, and how to use them,
Tools for keyword research and planning,
SEO essentials along with tools to find what your target audience is looking for online
Basics of Social Media Marketing through Facebook and Instagram Ads
Step by step approach to running Facebook or Instagram Ads
The purpose and significance of Remarketing
Other components of Digital Marketing like Email, SMS, Influencer and ORM Marketing
Description
If you are curious about Digital Marketing but don't know where to start, you have come to the right place!
The COVID-19 pandemic has made us realize the importance of being online.
Irrespective of the products or services you sell, being available both offline and online is absolutely essential.
In fact, e-commerce's share of global retail trade grew from 14% in 2019 to about 17% in 2020.
But having an online e-commerce store is not enough. Your brand needs to have a strong online presence. This is why Digital Marketing has become one of the most in-demand skills in today's world.
Digital Marketing is an extensive field that encompasses everything from WordPress website development, Search Engine Optimization, and Email Marketing to Social Media Marketing, Paid Facebook Marketing, and more. Using these components of digital marketing will help you reach a global audience in a measurable and cost-effective way.
This Complete Digital Marketing Course Masterclass will introduce you to the concepts and components of Digital Marketing. This Digital Marketing course is so simple and easy to understand that you don't need to have any prior knowledge of marketing to effortlessly implement Digital Marketing.
Our instructor Karan Shah (Founder and CEO of IIDE) will decode the fundamentals of Digital Marketing through real-life examples in this Masterclass.
So whether you are a student, working professional, business owner, or just a curious soul, this Masterclass is going to be your first step into the world of Digital Marketing.
In this power-packed 45 minute masterclass that doubles as a complete digital marketing course, you will learn:
The basics of Digital Marketing, its significance, and role in the current digital landscape;

The fundamentals of SEM or paid advertising on Google;

How running ads on google search results page can help you drive considerable traffic to your website;

The foundations of SEO or Search Engine Optimization on Google — along with tools find what consumers are looking for online;

Social Media Marketing essentials through Facebook and Instagram Ads;

Learn how to run Facebook Ads in a step-by-step approach;

Learn how to target the right audience or customers who will be most likely to purchase your product/service;

Other components of Digital Marketing like:

Email Marketing;

SMS marketing;

Online Reputation Management and

Influencer Marketing

The importance and role of remarketing and how it helps drive your sales.
At the completion of the masterclass you will also get:
Fast and Friendly Support in the comments section

Certification of Completion from the Indian Institute of Digital Education.
So don't forget to take down notes while attending this Masterclass because you will gain many insights.
Congratulations on taking your first step into the world of digital marketing!
Content
Digital Marketing 101
Introduction to Digital Marketing
Search Engine Marketing
Search Engine Optimization
Social Media Marketing
Digital Marketing Components
Reviews
It covers google, Instagram and Facebook and how to advertise on those platforms. These days TikTok and YouTube are two of the biggest platforms and no mention is made of them. If you are a complete beginner and have never used google or FB & Insta then this course is for you.
Is this a marketing strategy to make people aware of the company so they can do the other courses? I see many comments of not being able to download the certificate, I have the same problem. Very misleading and unfortunately this is only figured out at the end of the course.
I must say the SEO and the Social Media Marketing part now make a lot of sense to me. Very informative!
Very informative!!! Thank you! It's a short course but he went into detail with what is essential! :)
Very informative to a beginner and encourages them to learn more. Neither got a link to fill a form nor a certificate. You may want to look into it.
i did not get any certificate as mentioned after qualifying the test, it says Error 404 "You followed the right clues but you reached the wrong page. Follow the next clue to find your Digital Marketing course:"
The course was good, but I'm unable to download my certificate. Why do I have to go on IIDE for my certificate? Anyway, I completed the quiz on their site but it keeps crashing.
The course was informative but not able to get the completion certificate. Its redirecting to page not found after answering all the questions.
Content of the course is good, but information about certificate is a lie. There is no certificate. After I finished test I was redirected to page with 404 error on it and that's it. I've read other reviews and I see that many people have the same situation. To be completely honest, I don't understand why do people have to lie so blatantly, there are many free courses on Udemy without any certificate of completion and lectors don't promise any certificates in the video, they just talk about course topic. In the future I definitely won't buy anything from this Indian Institute.
I really appreciate the use of terminology in relation to digital marketing, this prompts me to research and get a better understanding of the contents in the course. Its a very good way of refreshing ones memory.
teacher is explaining things in a reaaly good manner which allows me to get further info from this course, enjoying, grateful to you!
I'm really learning a lot. This course is easy to follow the instructor is well knowledge in Digital Marketing I can't wait to apply what I've learned. Thank you!
I came here to understand digital marketing in a nutshell and this course serves the purpose. A crisp course and Karan Shah gave simple and easy to understand examples. He does a great job in turn, marketing and introducing his website, company and courses as well. Time well spent!
Il corso mè piaciuto molto, interessante e completo nelle spiegazioni. La fruizione è stata anche essa molto buona sia da dispositivo mobile che da computer. Complimenti all'istruttore
It could have been better if there were some tutorials for free. Then i could guess if i'm understanding or not and if these paid courses are suitable for me. Hope to watch some free tutorials from Udemy. Thank You .
Charts
Price
Rating
Enrollment distribution
7/1/2021
course created date
7/21/2021
course indexed date
Angelcrc Seven
course submited by