Learn Inkscape : Design Logos and Game Arts
Learn To Design Logos And Game Art Using Inkscape Become A Designer. FREE Inkscape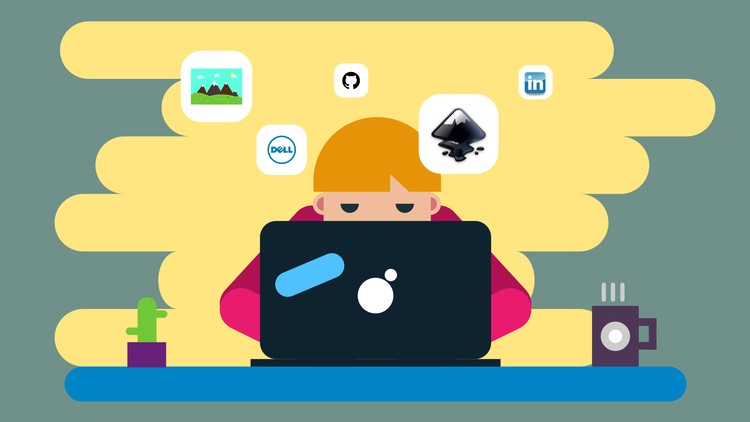 What you will learn
Create Any Logo
Create Game Background and Isometric art
Create A Logo From A Reference Quickly
Satisfy Clients With Quality Arts
Description
Learn the basic concepts, tools, and functions that you will need to build fully functional Logos and Game Art with the popular Inkscape vector art tool.
Anyone who would like to learn the Inkscape vector graphic editor,  whether for profit or fun, would be a perfect candidate for this course.
Build a strong foundation in Designing Art with this tutorial for beginners.
Here, you will learn the fundamentals of Inkscape by following along  and completing tasks throughout this course.  We will create amazing logos and game art.
Inkscape is free, easy to learn, has excellent documentation, and is the base for creating professional Logos and Game Art without much effort.
Content and Overview 
We will first learn the basic tools , and understand how inkscape works.
Starting with downloading and installing Inkscape, this course will take you through various Inkscape features and how to use them. By creating Logos and Game Art, you'll establish a strong understanding of Logo Design and Game Art creation process
Students completing the course will have the knowledge to design beautiful logos and Game Art in minutes.
At the end of the course you will receive 150+ Game art including Game Background , Isometric Characters , Game GUI and much more.
Content
Introduction to Inkscape
Introduction to Inkscape
Introduction to Inkscape Menus and Tools
Introduction to Menus
Getting Familiar with Inkscape Part 1
Getting Familiar with Inkscape Part 2
Quiz 1
Creating Dell Logo
Create Dell Logo
Creating GitHub Logo
Create GitHub Logo
Creating Instagram Logo
Create Instagram Logo
Creating LinkedIn Logo
Create LinkedIn Logo
Creating WhatsApp Logo
Create WhatsApp Logo
Creating Game Background
Create Game Background
Creating Isometric Art
Create Isometric art
Bonus Lecture
Get Free Art for your future projects
Reviews
Demetrios
November 7, 2022
This course is good for a beginner looking to learn some main functions of Inkscape. It also shows how to apply all these functions to create logos.
I thoroughly enjoyed this Course. Very simple and easy to understand plus follow along to create logo's which I found very helpful for someone like me!
A nice course with a lot of information. A little better sound or subtitles would make the course for more stars.
As a beginner, highly recommend this course to people looking to get started. Provides good knowledge of the basic tools used to design art in InkScape.
The concepts taken to teach is good but still u have to give a bold voice and give some life to the video
The lectures are good. It is a good way to learn but the lecturer needs to use better equipment. That isn't really much of a problem though since you can still see his screen and except once or twice the audio is alright too. That being said, in the bonus package at the very end he has linked an art package but that link doesn't work.
Goede uitleg, juiste spraaktempo maar cursus gever wist niet van een pipet af om kleuren te kunnen kiezen
Should be renamed Everything Inkscape. Seriously what I was looking for: every single tool and its uses as well as examples. Big thanks to the creator.
It was good practice, but the instructor sounds very bored, even frustrated at times, and doesn't go into much detail about WHY we're doing these particular projects, doesn't really go into detail about the tools and their uses, just gives us a step-by-step guide on how to do specific projects, which is fine practice, but it completely misses the fundamentals about learning a program and building a strong workflow with it.
El curso da una buena introducción al programa Inkscape, mostrando desde sus herramientas más básicas hasta una aplicación de los mismo en ejemplos igual de sencillos y fáciles de aplicar.
Inkscape is a very powerful piece of software and has lots of menus and tools which can be daunting for beginners but so far the tutor is showing some basic tools and putting them to good use to create shapes etc which can be used in designing things in an easy-to-understand way.
Good course. It shows simple things, but after this hour I beilive that I can do more and have luck on my way.
I usually take things into my own hands when it comes to learning how to use something. This gives me the tools to do that, and it's likely I'll take the ride on my own from here on.
The sound is very soft for the first few videos. Later the videos improves a lot, both in sound and presentation. I learn a lot about Inkscape.
Prabhakar
January 21, 2019
There is a lot of stuff presented. New techniques and tips introduced. I would prefer the presentation to be a little louder
Charts
Price
Rating
Enrollment distribution
3/4/2017
course created date
9/8/2019
course indexed date