The Complete Dart Learning Guide [2022 Edition]
A Complete Guide to the Dart Programming Language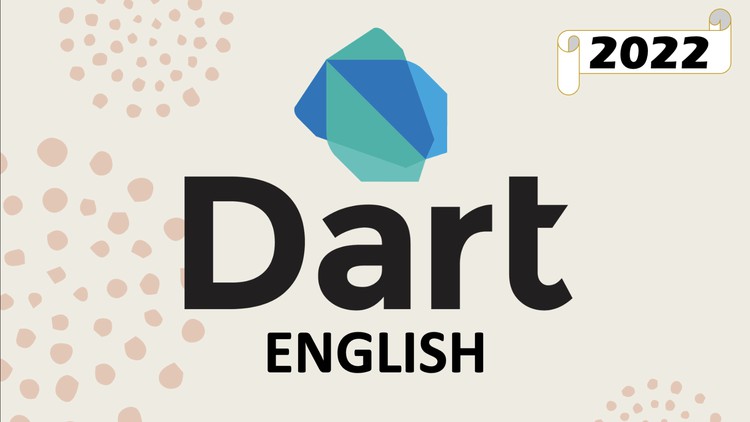 What you will learn
Programming Fundamental
Learn Dart from the ground up, step-by-step
Everything you need in Dart to get started with Flutter
Learn all the basics without stopping after them: Dive deeply into Dart and become an advanced developer
Description
There are way too many programming languages and infinite use-cases for each one of them, every day developers are coming up with something new and we need to keep up with the flow.
Both of these technologies are relatively new when you compare them to the most popular languages and frameworks, they have been looking over for some years now but I would consider this combo to be ahead of its time like if you sold an electric car in 1995.
Let me tell you why:
What is Dart?
Let's kick this off by explaining some qualities of Dart.
First, it is developed by Google and it launched in 2011. Google uses Dart to develop many of its main applications including Ads which as you can imagine must require quite a solid build.
Dart is very flexible in the way it is compiled and executed, it is in fact the only programming language capable of compiling JIT (Just In Time — used during development) and AOT (Ahead Of Time — used when the app is released), it can also be compiled to Javascript in order to be run by browsers or straight to native code. This means its execution is fast.
Thanks to its versatility Dart can be used for client or server-side development. The syntax looks like 'C' meaning it is statically typed so this provides more certainty on the types of values you are passing on, but it is also meant to be used in OOP, if you have a background in C you'll pick it up quick. Dart also shares some similarities with Javascript like the use of arrows and asynchronous functions.
Let's not forget about 'hot reload'.
You can test your code like if it was HTML and you were refreshing the page to see the changes. Yes, it is that easy.
Dart has been slept on by the dev community for too long but I think its time is coming with the mobile-first principle that is gaining such massive momentum. It runs fast on all platforms and is easy to pick up and learn by programmers.
Content
Introduction
Alert
Mac Installation
Windows Installation
Intellij idea
VS Code
Dart Basics
Output
Variables
Type Casting
Operation
Assignment Operation
If Statements
Conditional Operator
Switch Statements
Loops
Nested Loops
Control Statements
Degree App
Number Methods
String Methods
Input
Exception
Iterable
Lists
2D Lists
Sets
Maps
Functions
Functions Types
Default, Optional Parameter
Passing Array through Function
Recursion
Object Oriented Programming [OOP]
Class, Object
Reviews
To the point explanation, it goes in my liked and future reference. Highly Recommended. Gave 4.5 stars 0.5 remainings could be achieved if he could finally mention real-world industry standards for coding enterprise-level of dart applications.
I waste my valuable time. He is not a good Instructor. Her Definition is not clear. You got shucked and confused. Her accent is totally awful. Even he is not able to define oops concept. Waste of time.
You doing a great job i got this free of cost and you explain each and every topics very clearly no matter if you are belongs to it or not everyone can understand each topics very well one again thanks ?
some subtitles would be great! ..the accent isn't always good, and auto subtitles is not helping most of the time :(
This lecture is suitable for beginners who will learn darts because of the very detailed explanation,
He seems to be very thorough, and I like the pacing so far. Update, still liking it so far. It does seem like one of the better online courses I've tried out so far.
Coupons
| Submit by | Date | Coupon Code | Discount | Emitted/Used | Status |
| --- | --- | --- | --- | --- | --- |
| - | 9/9/2021 | DART-C1 | 100% OFF | 40000/12015 | expired |
| Angelcrc Seven | 9/13/2021 | DART-C2 | 100% OFF | 40000/1623 | expired |
| - | 9/24/2021 | 4F6871495D551434DC83 | 100% OFF | 40000/3200 | expired |
| - | 11/10/2021 | FD56EF5B113E2085B806 | 94% OFF | | expired |
| - | 12/28/2021 | 9FAA136DE26AE96BDF78 | 100% OFF | 1000/972 | expired |
| Ignacio Castro | 1/1/2022 | 5A524A36F2A11CB57C2E | 95% OFF | | expired |
| Ignacio Castro | 1/7/2022 | 872F265862BDBC2F05A1 | 95% OFF | | expired |
| - | 2/10/2022 | 978BBF3307F899BE3AA3 | 100% OFF | 1000/916 | expired |
| - | 2/20/2022 | 696DD49FBA36D5BA1610 | 100% OFF | 1000/988 | expired |
| - | 3/27/2022 | 395AB2CAE7C4FCB722BB | 100% OFF | 1000/466 | expired |
| - | 4/8/2022 | 6FF35E01A4C22E8ED965 | 100% OFF | 1000/869 | expired |
| - | 5/2/2022 | EID-2022 | 100% OFF | 1000/938 | expired |
| - | 5/17/2022 | M01-2022 | 100% OFF | 1000/891 | expired |
| - | 5/26/2022 | M02-2022 | 100% OFF | 1000/944 | expired |
| - | 6/2/2022 | JU01-2022 | 100% OFF | 1000/952 | expired |
| - | 6/24/2022 | JU03-2022 | 100% OFF | 1000/983 | expired |
| - | 7/6/2022 | JU1-2022 | 100% OFF | 1000/922 | expired |
| - | 7/10/2022 | JU2-2022 | 100% OFF | 1000/821 | expired |
| - | 8/2/2022 | AU1-2022 | 100% OFF | 1000/436 | expired |
| - | 8/15/2022 | AU2-2022 | 100% OFF | 1000/967 | expired |
| - | 8/27/2022 | AU3-2022 | 88% OFF | | expired |
| - | 9/3/2022 | SE1-2022 | 100% OFF | 1000/989 | expired |
| - | 9/21/2022 | SE2-2022 | 100% OFF | 1000/979 | expired |
| - | 9/25/2022 | SE3-2022 | 100% OFF | 1000/858 | expired |
| - | 10/3/2022 | OC1-2022 | 100% OFF | 1000/956 | expired |
| - | 10/13/2022 | OC2-2022 | 100% OFF | 1000/730 | expired |
| - | 10/24/2022 | OC3-2022 | 100% OFF | 1000/767 | expired |
| - | 11/3/2022 | NO1-2022 | 100% OFF | 1000/802 | expired |
| - | 11/25/2022 | NO3-2022 | 100% OFF | 1000/863 | expired |
Charts
Price
Rating
Enrollment distribution
9/6/2021
course created date
9/8/2021
course indexed date