CSS Complete Course For Beginners
Learn CSS With CSS Theory And Practical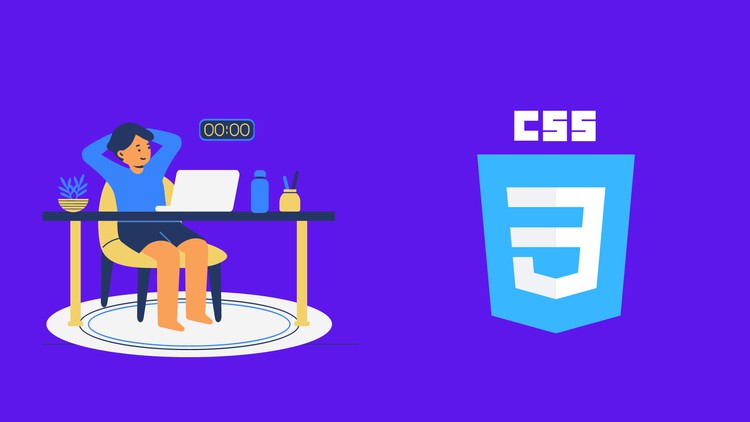 What you will learn
Introduction to CSS concepts
Theory And Practical demonstrations of CSS concepts
Write CSS Scripts And Understanding Concepts
Practically Getting Started With CSS Styles, CSS 2D Transform, CSS 3D Transform
Introduction To CSS Background And CSS Animation
Introduction To CSS Inclusion In HTML
Description
Learn CSS Complete Course
CSS Course with basics and advanced concepts of CSS
Ever wonder how the latest website designs are made? Cascading Style Sheets (CSS) are the main coding files used to layout a website and its design. CSS 3 is the latest in styling standards, and it brings several new properties and declarations you can use to make your website design more easily created. CSS is currently the only standard in website design that plugs directly into your HTML, even the latest HTML 5 standards. With CSS 3 and HTML 5, you can create the latest interactive pages for your website viewers.

This course shows you how to create CSS classes from a beginner's level. It starts off with basic HTML declarations, properties, values, and how to include a CSS style sheet with your HTML code. For those of you who are new to CSS and HTML, we show you step-by-step how to create a CSS file and include it in your HTML code, even if you use a cloud server for your hosting.

We show you how to position your elements, layout your elements relative to your documents, and style your HTML using predefined CSS values. We introduce you to the common CSS styling that you'll need when you start off designing your pages. If you want to get to know CSS and website design, this course is meant for you, and it can be used by anyone who hasn't even seen one line of CSS code yet. We focus on the latest CSS 3 and HTML 5 standards, so you get the latest when coding your website pages instead of focusing on older code.

There are no prerequisites. Anyone Can join this course. It is recommended though that individual have some basic computer programming knowledge.




Course Topics




Introduction to CSS

Inclusion Of CSS In HTML

CSS Syntax

CSS Styling Text

CSS Page Backgrounds

CSS 2D Transform

CSS 3D Transform

CSS Animation


Thank you see you inside the course
Content
CSS Complete Course
Introduction To CSS
CSS Inclusion In HTML
CSS Basic Syntax
CSS Links
CSS Text
CSS Colors 1
CSS Colors 2
CSS Background
CSS Images
CSS Layers
CSS Fonts
CSS Lists
CSS Borders
CSS Padding
CSS Positioning
CSS Dimensions
CSS Rounded Corners
CSS Cursors
CSS Visibility
CSS Selectors
CSS Scrollbars
CSS Gradient
CSS 2D Transform
CSS 3D Transform
CSS Animation
Reviews
he does nothing but teach the very very basic things that can be self taught or atleast covered in a 30 min course cuz what he does is just teach 30-40 lines of code in 2 hrs..........waste of time
Amazing lecture. A beginner would want to dive more into CSS after watching this because he made it practically easy. Danke!
nice!! explained everything in details and beginners can easily understand but all topics are not covered
this course is really amazing and it provides all the details that a beginner need to know for starting his career as a web designer
This is just the css beginners course and position have some more values like sticky and static and some more topics which are not in depth which must be present for beginners as its a beginners course. The Instructor is really polite and i dont know whether i get the certificate or not but this is really nice for even revision who knows these thins before.
Every beginner should need to watch this tutorial because the way he explains is so easy and understandable to every Web Developer.
This is an amazing course on CSS. Sir has completed everything about CSS. If you want to learn CSS separately then this course is for you.
It's an amazing course I have ever seen. Every topic is covered as sufficient as can be digested. And to learn further more obviously need to follow a general book. Overall it's really very nice course..
o videos so se preucupam a mostrar oque os camandos fazem, eu sou estudande de Informatica e preciso de videos que demostrem como criar templetes, nao mostrar que os comandos existem
Awesome... ❤ I already had some experience with CSS, but the way You explained just cleared many doubts in my mind. ❤
Absolutely great for beginners. Just a little feedback that a few chapters can use some rearrangement. CSS Classes should be somewhere in the initial chapters because a few examples did use it before the chapter actually came up. I think it may confuse beginners.
actually, its detailed and easy to follow for understanding but some slides/video (i.e. 7, 9 and 14) are not playing
way of teaching is good . But their is no challenge or project from the tutor for practice .Easily cover the all topic of CSS basically in simple way .
Coupons
| Submit by | Date | Coupon Code | Discount | Emitted/Used | Status |
| --- | --- | --- | --- | --- | --- |
| - | 9/7/2021 | DICUDEMY.COM | 100% OFF | 40000/9217 | expired |
| mohamedxxx | 10/5/2021 | 310BEF93319C925277EC | 100% OFF | 40000/4483 | expired |
| - | 10/20/2021 | 964865493E7987B58B7A | 100% OFF | 40000/2110 | expired |
| - | 11/4/2021 | C9416092A852C9CE1154 | 100% OFF | 1000/95 | expired |
| Minhajur Rahman | 11/9/2021 | 3160ACDE6F899DB80E28 | 100% OFF | 1000/897 | expired |
| - | 11/12/2021 | 2CDDF694604A99BB7824 | 100% OFF | 1000/860 | expired |
| - | 12/15/2021 | A58ED68347BA98B12F7E | 100% OFF | 1000/595 | expired |
| - | 12/24/2021 | 262992BFE1D34EED6C19 | 100% OFF | 1000/955 | expired |
| - | 12/28/2021 | 62340429916923B345BB | 100% OFF | 1000/944 | expired |
| - | 1/10/2022 | FA5CC34D684347649D9C | 100% OFF | 1000/689 | expired |
| - | 1/13/2022 | 099ACFE2E7EF73E7809B | 100% OFF | 1000/994 | expired |
| Angelcrc Seven | 1/27/2022 | 2B69BAA0078527DB8148 | 100% OFF | 1000/976 | expired |
| ANUBHAVJAIN | 2/15/2022 | C8AC7A66E410C69FDC1D | 100% OFF | 1000/998 | expired |
| Ignacio Castro | 2/23/2022 | 0A7193D8EB4AB67ABC7D | 100% OFF | 1000/817 | expired |
| Ignacio Castro | 3/9/2022 | 05A3DA82FCE7B17A5B23 | 100% OFF | 1000/963 | expired |
| - | 3/11/2022 | D79600811E9FBD88A365 | 100% OFF | 1000/772 | expired |
| Ignacio Castro | 3/17/2022 | 683396652D9F00884EF4 | 100% OFF | 1000/919 | expired |
| - | 4/10/2022 | 61BB10557A1940506D64 | 100% OFF | 1000/804 | expired |
| - | 4/14/2022 | B7DC360D9357CEE11E4C | 100% OFF | 1000/992 | expired |
| - | 4/25/2022 | 4B68844E8F7A11D503AB | 100% OFF | 1000/916 | expired |
| - | 5/14/2022 | F3891DF5D1532E80F270 | 100% OFF | 1000/937 | expired |
| ANUBHAVJAIN | 5/21/2022 | 322E66178012FA414A87 | 100% OFF | 1000/969 | expired |
| Ignacio Castro | 5/28/2022 | 126365CD277C13C1F26C | 100% OFF | 1000/989 | expired |
| - | 6/9/2022 | 47BAC7B8D786438F31E5 | 100% OFF | 1000/686 | expired |
| - | 6/20/2022 | 191BB4A0008C5FDE233D | 100% OFF | 1000/967 | expired |
| - | 6/24/2022 | 37F3BD31EA7FA0A58E00 | 100% OFF | 1000/862 | expired |
| - | 7/18/2022 | EF7E67C6F9BB6F336A80 | 100% OFF | 1000/945 | expired |
| - | 7/20/2022 | A5A6E23CF855CC0A1DDB | 100% OFF | 1000/421 | expired |
| - | 7/24/2022 | F6DAADECA78751148DAC | 100% OFF | 1000/894 | expired |
| - | 8/1/2022 | 77A29C65D09F933EE47F | 100% OFF | 1000/849 | expired |
| - | 8/13/2022 | E1E2493A482041734BDC | 100% OFF | 1000/952 | expired |
| - | 8/27/2022 | 6FFD2F476097F59B1D5D | 100% OFF | 1000/840 | expired |
| - | 9/5/2022 | 82F09A306BDB331E1B0B | 100% OFF | 1000/882 | expired |
| - | 9/13/2022 | 14AECAF627EA8AB15273 | 100% OFF | 1000/935 | expired |
| - | 9/26/2022 | D96A22E74B3F18ACA637 | 100% OFF | 1000/764 | expired |
| - | 10/18/2022 | 43B79171716DF99A3012 | 100% OFF | 1000/890 | expired |
| - | 10/25/2022 | 8565A3D68093CD719E02 | 100% OFF | 1000/900 | expired |
| - | 10/29/2022 | 5FC66B0D84B4825DD686 | 100% OFF | 1000/932 | expired |
| - | 11/5/2022 | E8511EE6830CDD6DB9CD | 100% OFF | 1000/904 | expired |
| - | 11/10/2022 | 182C473809543AA41793 | 100% OFF | 1000/975 | expired |
| - | 11/26/2022 | B43CFD6B485C73F400D7 | 100% OFF | 1000/927 | expired |
Charts
Price
Rating
Enrollment distribution
9/4/2021
course created date
9/6/2021
course indexed date