CSS - Basics to Adv for front end development [2022]
Complete guide to create beautiful, responsive and user-friendly websites using CSS3. Learn CSS3 with hands-on projects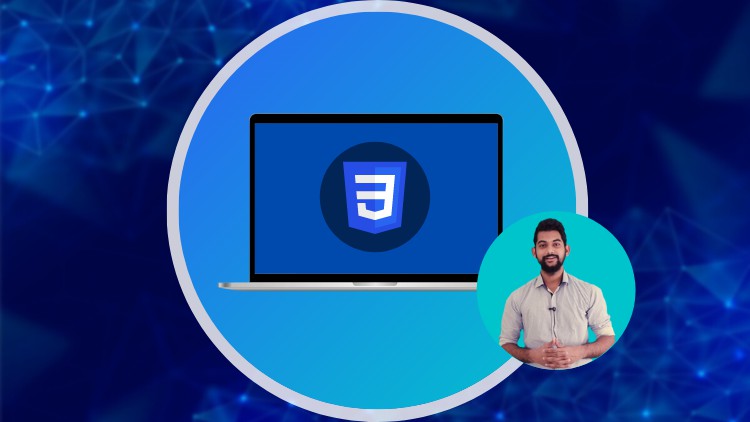 What you will learn
Basic styling of web pages using CSS3
Manipulate the display and position of HTML elements
Understand the Box Model concept
Introduction into Responsive Design
Design mobile friendly web pages using CSS Media Queries
Animate HTML elements using CSS animate property
Web page Layouts - CSS Flex Box and CSS Grid
Description
***UPDATE [01-Jan-2022]: New Content Added!!!!!****
Around 25+ NEW video content added
New Sections added on:
Responsive Design

Flexbox

Grid Layouts
********************************************************
CSS - short for Cascading Style Sheets - is a "programming language" you use to turn your raw HTML pages into real beautiful websites.
If you are new to web development but you have a little bit of knowledge of HTML and its tags and want to take the next step towards becoming a professional frontend web developer, then this is the right course for you.
Here, we have covered everything right from basics to advanced concepts of CSS3. We have included all the properties in CSS + the newly introduced ones in CSS3 that will help shape the future of web development in the coming years. This course is designed bearing in mind that a beginner should be able to understand what is CSS and how it is used to turn a raw, basic, black & white HTML webpage structure into a beautiful web page. To make web pages interactive for users, you will also learn how to animate the various HTML elements.
By the end of this course, you will be able to design beautiful, user-friendly, and mobile-friendly websites from scratch, all on your own.
After completion, we recommend checking out our Javascript, ES6, and React JS courses which are designed with the same simple approach to help you become a professional Frontend web developer.
PS: More lectures will be uploaded soon.
Who's teaching you in this course?
I am a Computer Science graduate highly rated instructor with a rating of 4.3 and more than 200k students on Udemy, I have been part of the corporate circle since his college days. In his early days, I was part of a startup team delivering production grid android apps. Currently, I am a lead developer at EdYoda. I'm responsible for the entire front-end development & integration with the back-end. React, Python, Django is my areas of expertise. I have been delivering corporate training for Android, React, Javascript, Python & Django. I have eyes for details & that makes him suited for delivering a finished product. I'm a fitness freak & working out is his favorite thing to do in his spare time.
I want everyone should enjoy learning and I have shared my knowledge that gonna be helpful for you.
Enroll Now!! see you in class.

Happy learning
Team Edyoda
Content
CSS Introduction
CSS - Introduction
CSS - How to use CSS?
Basic Styling
CSS - Styling Text
CSS - Adding Borders
CSS - Margin and Padding
CSS - Styling Lists
CSS - Styling Links
CSS - Styling Buttons
CSS - Adding Icons
Display and Position Properties
CSS - Working with Display Values
CSS - Display value: Inline-Block
CSS - Positioning HTML Elements Part-1
CSS - Positioning HTML Elements Part-2
CSS - Handling Content Overflow
CSS - Floating HTML Elements
Box Model and Shadows
CSS - Box Model
CSS - Box Sizing
CSS - Adding Shadows
Combinators, Psudeo Classes and Elements
CSS - Combinators Part-1
CSS - Combinators Part-2
Reviews
He's just great on what he does. He been teaching me html, now css and for sure will teach me javascript .
It had exactly what I needed in a CSS course! The instructor needs to add links to the course resources for the projects though.
He thinks we already know CSS. Bruh if I knew all those tags you were using why would I choose the course.
Much of its content was self understandable but some videos like in section 11 grid layout particularly grid item properties were not explained properly like as explained in flex portion.
The lecture is pretty good. The thing I find annoying is all the classes uploaded are taken from some other learning platform and the lecturer doesn't provide any resources.
Would be real nice if we could provided with the starting code for each section, instead of having to assemble an entire HTML doc with multiple images ourselves just to code along with one video.
There was a lot of explanation here. Using live server was good indea, because you could see what i how was working.
Actually the audio quality is not that good. but overall content is extremely good like teaching style, the content he delivers and the real practical exemples
This CSS course will up-skill the persons who are in the basic level. For me its clear i understanding each and every topic in a neat way and i can able to do it as my own thank you. professor who taught this lessons to us
This course is amazing to cover your basics, helped me a lot in learning my university course of web engineering.
El curso es bueno, pero le falta tener disponibles recursos y llevar una secuencia con los ejercicios para que sea fácil de seguir
Like magic happens, this course really what i want. But Theres is no code source, i cant explore more about the styles. Overall still good !
Some basic resource files would make all the difference here. I love the CSS training but the course needs to come with the HTML and the image files so that I can focus on the learning.
don't do you only all the steps give end two end knowledge like practically user can also follow because watching a video is not learning practical is only learning
Agustina
September 11, 2021
Briliant course! The instructor gives detailed explanations about each CSS property, why he does what he does, why some things don't work, etc. Also, videos are just as long as they need to be, very concise and not boring at all.
Coupons
| Submit by | Date | Coupon Code | Discount | Emitted/Used | Status |
| --- | --- | --- | --- | --- | --- |
| Angelcrc Seven | 6/30/2020 | GETFORFREE | 100% OFF | 40000/12371 | expired |
| - | 7/3/2020 | JULY2020FREE | 100% OFF | 40000/4685 | expired |
| - | 7/10/2020 | FREEJULY2020 | 100% OFF | 40000/4788 | expired |
| - | 7/27/2020 | FREECOURSEJULY2020 | 100% OFF | 40000/5064 | expired |
| Lee Jia Cheng | 8/11/2020 | FREEAUG2020 | 100% OFF | 40000/7789 | expired |
| - | 8/21/2020 | AUG2020FREE | 100% OFF | 40000/4053 | expired |
| Lee Jia Cheng | 8/28/2020 | AUGFREE2020 | 100% OFF | 40000/2175 | expired |
| Angelcrc Seven | 9/17/2020 | SEP2020FREE | 100% OFF | 40000/2467 | expired |
| - | 9/23/2020 | SEPTEMBERFREE | 100% OFF | 40000/5022 | expired |
| Lee Jia Cheng | 10/13/2020 | EDYODAFREE | 100% OFF | 40000/3778 | expired |
| - | 10/27/2020 | FREEOCTOBER | 100% OFF | 40000/3451 | expired |
| - | 11/27/2020 | FREENOV | 100% OFF | 40000/6150 | expired |
| Angelcrc Seven | 12/20/2020 | FREEDEC | 100% OFF | 40000/6263 | expired |
| - | 12/24/2020 | FREEDEC2 | 100% OFF | 40000/5380 | expired |
| - | 1/8/2021 | FREEJAN | 100% OFF | 40000/4273 | expired |
| - | 1/15/2021 | FREEJAN2 | 100% OFF | 40000/8172 | expired |
| - | 2/18/2021 | FREEFEB3 | 100% OFF | 40000/10289 | expired |
| - | 3/5/2021 | FREEMAR1 | 100% OFF | 40000/7217 | expired |
| - | 3/24/2021 | FREEMAR3 | 100% OFF | 40000/6574 | expired |
| mohamedxxx | 3/27/2021 | FREEMAR4 | 100% OFF | 40000/5369 | expired |
| - | 4/27/2021 | FREEAPR4 | 100% OFF | 40000/3250 | expired |
| manto | 5/4/2021 | FREEMAY1 | 100% OFF | 40000/2859 | expired |
| gordon | 7/2/2021 | FREEJULY1 | 100% OFF | 40000/14351 | expired |
| - | 7/12/2021 | FREEJULY4 | 100% OFF | 40000/6556 | expired |
| - | 7/20/2021 | FREEJULY6 | 100% OFF | 40000/8931 | expired |
| - | 8/2/2021 | FREEAUG1 | 100% OFF | 40000/5315 | expired |
| - | 8/21/2021 | FREEAUG6 | 100% OFF | 40000/5051 | expired |
| Angelcrc Seven | 9/16/2021 | FREESEP4 | 100% OFF | 40000/5246 | expired |
| - | 9/23/2021 | FREESEP6 | 100% OFF | 40000/1532 | expired |
| - | 9/27/2021 | FREESEP8 | 100% OFF | 40000/2593 | expired |
| mohamedxxx | 10/5/2021 | FREEOCT1 | 100% OFF | 40000/2269 | expired |
| - | 10/11/2021 | FREEOCT3 | 100% OFF | 40000/2023 | expired |
| Athea | 10/21/2021 | FREEOCT6 | 100% OFF | 40000/2041 | expired |
| - | 11/1/2021 | FREENOV1 | 100% OFF | 1000/710 | expired |
| chris | 11/21/2021 | FREENOV42 | 100% OFF | 1000/848 | expired |
| - | 12/9/2021 | FREEDEC22 | 100% OFF | 1000/976 | expired |
| - | 12/24/2021 | FREEDEC44 | 100% OFF | 1000/676 | expired |
| - | 1/22/2022 | FREEJAN44 | 100% OFF | 1000/939 | expired |
| - | 1/27/2022 | FREEJAN54 | 100% OFF | 1000/796 | expired |
| donolo159 | 2/15/2022 | FREEFEB27 | 100% OFF | 1000/871 | expired |
| Ignacio Castro | 3/6/2022 | FREEMAR11 | 100% OFF | 1000/848 | expired |
| - | 3/26/2022 | FREEMAR36 | 100% OFF | 1000/997 | expired |
| - | 4/1/2022 | FREEMAR52 | 100% OFF | 1000/989 | expired |
| - | 4/14/2022 | FREEAPR227 | 100% OFF | 1000/996 | expired |
| Angelcrc Seven | 4/24/2022 | FREEAPR242 | 100% OFF | 1000/829 | expired |
| - | 5/11/2022 | FREEMAY229 | 100% OFF | 1000/960 | expired |
| - | 5/21/2022 | FREEMAY244 | 100% OFF | 1000/973 | expired |
| - | 5/31/2022 | FREEMAY259 | 100% OFF | 1000/995 | expired |
| - | 6/18/2022 | FREEJUNE289 | 100% OFF | 1000/872 | expired |
| - | 6/28/2022 | FREEJUNE304 | 100% OFF | 1000/869 | expired |
| - | 7/9/2022 | FREEJULY319 | 100% OFF | 1000/807 | expired |
| - | 7/26/2022 | FREEJULY334 | 100% OFF | 1000/714 | expired |
| - | 7/31/2022 | FREEJULY349 | 100% OFF | 1000/856 | expired |
| - | 8/6/2022 | FREEJULY364 | 100% OFF | 1000/928 | expired |
| - | 8/16/2022 | FREEAUG108 | 100% OFF | 1000/472 | expired |
| - | 8/26/2022 | FREEAUG123 | 100% OFF | 1000/906 | expired |
| - | 9/6/2022 | FREESEPT108 | 100% OFF | 1000/886 | expired |
| - | 9/17/2022 | FREESEPT123 | 100% OFF | 1000/875 | expired |
| - | 9/27/2022 | FREESEPT138 | 100% OFF | 1000/986 | expired |
| - | 10/21/2022 | FREEOCT168 | 100% OFF | 1000/784 | expired |
| - | 10/29/2022 | FREEOCT183 | 100% OFF | 1000/911 | expired |
| - | 11/9/2022 | FREENOV103 | 100% OFF | 1000/996 | expired |
| - | 11/19/2022 | FREENOV118 | 100% OFF | 1000/893 | expired |
| - | 11/29/2022 | FREENOV133 | 100% OFF | 1000/770 | expired |
Charts
Price
Rating
Enrollment distribution
4/21/2020
course created date
5/2/2020
course indexed date
Angelcrc Seven
course submited by