Create BI Reports with Power BI Using Excel Data
Build stunning visual reports in Power BI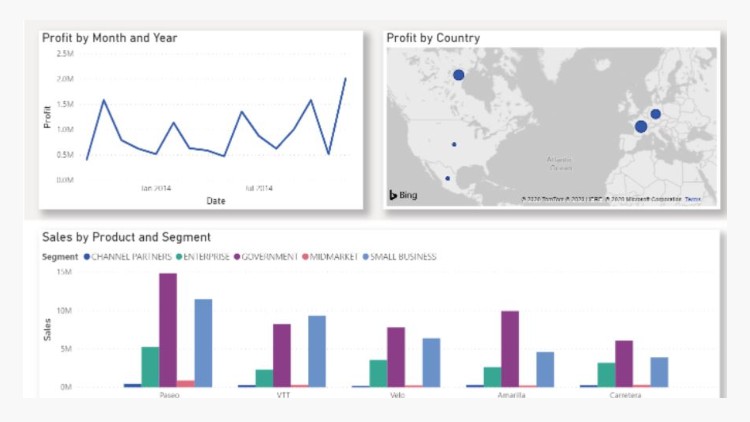 What you will learn
Connecting to Excel workbook data
Clean & Transform data
Write DAX expressions to create measures
Write DAX Expressions to create tables
Join tables using DAX Expressions
Building Your Report
Format Report
Publish report to Power BI Service
Description
Microsoft Power BI is a suite of business intelligence (BI), reporting, and data visualization products and services for individuals and teams. Power BI stands out with streamlined publication and distribution capabilities, as well as integration with other Microsoft products and services.
Power BI is a business analytics solution that lets you visualize your data and share insights across your organization, or embed them in your app or website." The solution comprises several products and services, and value and versatility comes from leveraging the individual elements, and taking advantage of how they work together.
Power BI service is a secure Microsoft hosted cloud service that lets users view dashboards, reports, and Power BI apps — a type of content that combines related dashboards and reports — using a web browser or via mobile apps for Windows, iOS, and Android.
Power BI Desktop is a free, self-service data analysis and report authoring tool that you install on a Windows computer. It can connect to more than 70 on-premises and cloud data sources to turn information into interactive visuals. Data scientists and developers work with Power BI Desktop to produce reports and make them available to the Power BI service.
In Power BI Desktop, users can:
Connect to data

Transform and model the data

Create reports and dashboards that are collections of visuals

Share reports with others using the Power BI service

Format report
In this course you learn how to create stunning visuals in your Power BI reports using Microsoft Excel Workbook data.
Content
Power BI Setup
Introduction
What is Power BI
What is Power BI Desktop
Install Power BI Desktop
Explore Power BI Desktop Interface
Install Microsoft 365
Explore Microsoft 365
Add new users to office 365
Create a report with Power BI using Excel data
The Task
Data Source
Connecting to Excel data
Clean & Transform data
What are DAX & Measures
Join tables using DAX Expressions
Building Your Report
Format Your Report
Publish report to Power BI Service
5/23/2022
course created date
5/26/2022
course indexed date