Create and sell coloring books
Design step by step coloring books with Affinity Publisher and sell on Amazon KDP for passive income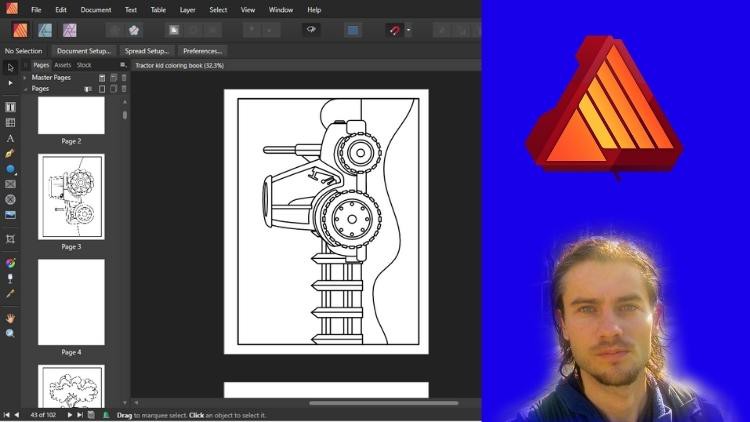 What you will learn
Understand the different styles of coloring book
Define trim size
Define a number of pages
Target the niche process
Target the creation process
Target the sale process
Find niches
Use tools to find niches
Understand how to niche coloring book
Find image library
Use images
Understand copyright to use images
Create interior for coloring book using Affinity Publisher
Start with Affinity Publisher
Convert images in drawings using Affinity Publisher
Understand the different processes to create coloring book
Understand all basics to create covers
Create cover step by step using Affinity Publisher
Start with Amazon KDP
Understand profitability criterias to sell coloring book
Publish coloring book step by step on Amazon KDP
Create activity book using coloring book
Ideas for activity books
Description
Coloring book concept with Amazon KDP
Create and sell coloring books on the Amazon KDP platform is a great way to make money online. It is thus possible to create additional income, but also a full salary. Indeed, there is a low initial investment. It is a business that can be profitable, provided that the different parts of the process are optimized. It's not enough to create an interior, a cover, publish the book you want, and wait. This is the best way to not succeed. On the other hand, by working step by step, in a structured way, and with the right tools, it is possible to position your books on the first pages of research on keyword queries and make sales. The business is focused on three axes, finding niches, creating the book and cover, and publishing the book.
Affinity Publisher software
Affinity Publisher is a design software specialized in layouts, but also in the creation of graphic documents. It thus has advanced tools for managing pages, using models, or even advanced text modifications. Its value for money is excellent with a lifetime license, which means a purchase for long term use. Very affordable cost. Very ergonomic, it will allow you to optimize the creation of coloring book. It is important to directly use the best to create quality coloring books. Managing pages, advanced tools or even adding effects, that's what it takes to create quality coloring books.
What you need to have to optimize this training
- Motivation and personal investment
- An Affinity Publisher license, lifetime license, you can also start with a trial version
- Open an account on Amazon
Training course
In this course, I will show you how to create and sell coloring books step by step. To do this, you'll learn the basics of setting a size, using margins, bleeds, and more. Then, we will see the process in several modules. Search for coloring book niches to define profitable books. You will learn how to create a coloring book interior using images and quickly converting them to a drawing in Affinity Publisher, layout and export your work. The other design step will be the cover, we will also see how to design it using the cover model, calculating the size and optimizing the different elements. Then there will be the publication part with the Amazon KDP platform. you will learn how to publish a book step by step on Amazon KDP by optimizing the metadata.
A reference course to create and publish coloring books ! Ideal for people who enjoy creating, researching, or even using graphic design software !
Content
Concept presentation
Different types of coloring book
Niche part
Design part
Publication part
Coloring book examples
BSR description
Define trim size
Number of pages for your coloring book
Create drawing horizontally or vertically
Find niches for coloring book
Find ideas
Niche research basics
Niche research complete process
Why you need to niche your coloring book
Find seasonal niche
Find images
Why you need to work in vector
Choose an image library
Use images
Image licence
Start with dashboard
Master navigation
Affinity Publisher create interior for coloring book
Start an interior
Add margins
Edit pages
Convert image to drawing with frame
Convert image to drawing with bleed
Create layout
Export your interior
Affinity Publisher useful features for coloring book
Use layers
Create shapes
Draw with pen
Edit nodes
Remove elements
Edit strokes
Create group
Improve drawing
Create drawing with different files
Start with cover creation
Cover process
Cover calculator
Cover structure
Affinity Publisher create cover for coloring book
Cover turtle coloring book part 1
Cover turtle coloring book part 2
Cover turtle coloring book part 3
Cover turtle coloring book part 4
Cover horse coloring book part 1
Cover horse coloring book part 2
Cover horse coloring book part 3
Cover horse coloring book part 4
Affinity Publisher useful features for cover
Manage aligments
Edit colors
Curve text
Edit letters
Add effects
Add transparency
Amazon KDP start with the marketplace
Start with Amazon
Profitability criterias
Importance of informations
Title importance
Description importance
Keywords importance
Categories importance
Cover importance
Define price
Publish coloring book on Amazon KDP
Publish coloring book part 1
Publish coloring book part 2
Publish coloring book part 3
Publish coloring book part 4
Use coloring book to create activity book
Create activity book
Find scissor skills niches
Book coloring cutting part 1
Book coloring cutting part 2
Book coloring cutting past part 1
Book coloring cutting past part 2
Create cover
11/19/2021
course created date
1/4/2022
course indexed date