Game Graphics - For beginners. Create amazing art-free tools
Learn how to create amazing art in Inkscape & develop your game art with free tools available for everybody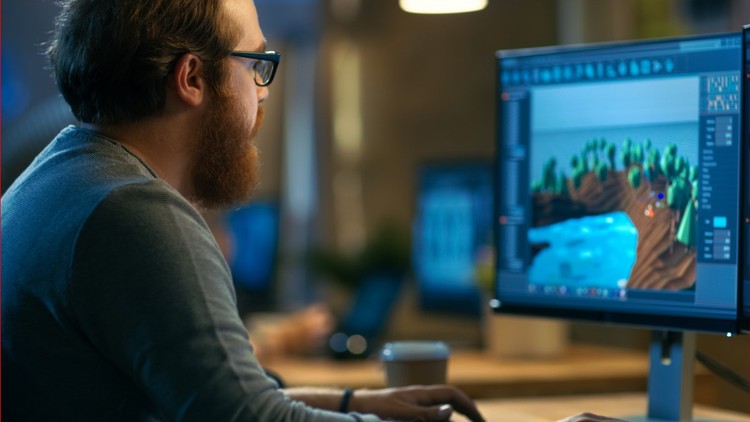 What you will learn
The basics of Inkscape and Game Art Design
Design and animate a 2D game character
Design a beautiful game background
Description
If you have an amazing game idea, and you wish to develop your own custom graphics, this class is for you!
I'm going to teach you how to use Inkscape, a free design software, and create all the game art you need in order to develop a 2D game!
Because Inkscape is a vector graphics software, the assets you create will be scalable and also highly versatile. You will create them once and then you can use them on any device and also any resolution! From iPhones to desktop computers.
You will learn the core concepts, tools, and functions and you will be able to develop fully functional 2D Games.
Learning the basics of Inkscape and Game Art Design will put a very powerful and useful tool at your fingertips. Inkscape is very easy to learn, it has amazing documentation, and is one of the most used tools for creating vector arts.
Content
Introduction
Introduction
Congratulations
Video Speed rate
Raster & Vector Graphics
Game Design
Inkscape
Document Properties and first tools in Inkscape
The Ellipse tool and designing a heart in Inkscape
Objects Order, Grouping Objects, the Zoom tool and Colors in Inkscape
Path Operations, the star tool and gradients in Inkscape
Align And Distribute, the text tool and a game coin in Inkscape
Path and Nodes in Inkscape
Section Recap
Starting with the Background and the Character in Inkscape
Lets draw some Ghosts in Inkscape
Adding the Power Ups (fruits) in Inkscape
Layers, the walls of PacMan and Installing a font in Inkscape
Exporting and making a PacMan Wallpaper in Inkscape
Starting with the UI - Buttons in Inkscape
Design some nice platforms in Inkscape
Make the platforms tileable in Inkscape
Design Some popular game assets in Inkscape
Animation Introduction in Inkscape
Finish and preview the animation in Inkscape
Design the head of the character in Inkscape
Continue with the body of the character in Inkscape
First four frames of the walk cycle animation in Inkscape
Finish and preview the walk cycle animation in Inkscape
Your first game background and the spray tool in Inkscape
A Desert Background in Inkscape
Night Sky Background in Inkscape
The Foreground and some more assets in Inkscape
How to setup Inkscape for Isometric game art
Create an Isometric tile in Inkscape
How to set dark theme on Inkscape
Congratulations!
Reviews
The instructor is very detailed in describing how to use the tools of Inkscape. I have been using it for many years, but I am learning new ways to create my objects with shortcuts I never knew before. Excellent course for every level of Inkscape user!
Great course! Really teaches you all the basics of Inkscape. Initially, the lecturer is slightly difficult to understand. However, I got used to it fairly soon and it wasn't really an issue for me for the rest of the course
It's a bit hard to understand the instructor sometimes but it's not horrible. But other than that its easy to follow along.
Thank you for this beginner instructions. I finally got to know all those handy tools I never tried before.
To the lecturer is hard to understand but it is not such a trouble here. Everything else is excellent.
It was a very interesting course, which helps to use the little tricks in Inkscape. Sometimes hard to understand what the instructor is speaking, but it's not a problem because you can check the actions in the video or can go back on them. Thank you guys, I got what I wanted.
The course is very useful for anyone that begins to navigate Inkscape. It includes useful examples with comments, with some good tutorial examples. Very detailed and helpful.
Hasta ahora se ha limitado a explicar el uso de un programa en lugar de la creación de arte, que es el objetivo del curso.
Kristopher
February 3, 2019
I highly recommend this course for true beginners, like me. I'm a real newcomer to graphics. I have some experience in Photoshop, but that's all. Amazingly, I'm going through this course & learning very quickly! I'm amazed, because I'm a slow learner. The instructor's style is clear & friendly. The lessons are structured so that you'll remember what you've learned. I do recommend that you start from the beginning & go forward, rather than skipping around, because the lessons are built on what came before. Finishing each lesson gives you a great sense of accomplishment. It's a lot of fun!
the lessons are great and targeted for game dev, the instructor is very clear and explains it very well
Coupons
| Submit by | Date | Coupon Code | Discount | Emitted/Used | Status |
| --- | --- | --- | --- | --- | --- |
| - | 5/23/2019 | 2DGAME | 100% OFF | | expired |
| - | 8/25/2019 | INKSCAPEC | 100% OFF | 10000/1133 | expired |
| - | 10/6/2019 | INKSCAPEDESIGNING | 100% OFF | 15000/1081 | expired |
1/12/2019
course created date
5/23/2019
course indexed date