Course 1: Set Windows Server 2019 Network-Microsoft series
Build Server 2019 Network LAB, follow this series for advance topics and LABS from Real industry to achieve Admin level.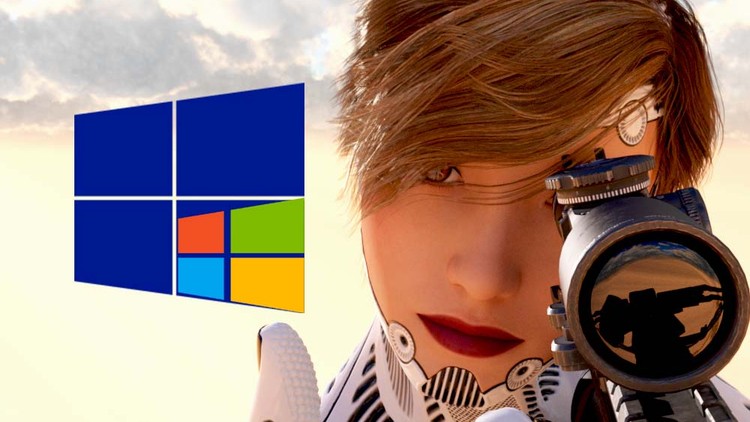 What you will learn
Create a Windows Server 2019 based Virtualized Lab with VMware "to be used with other advanced courses"
Setting up 2 Networks connected by a Microsoft Router, 2 domain controllers, 4 desk-top servers, 1 core server and 2 windows 10 PCs.
Understand WAC(Windows admin center) browser-based app for managing servers, clusters, hyper-converged infrastructure, and Windows 10 PCs
Concept of what's new in Windows server 2019
Active Directory Domain Services (AD DS), Domain Name System (DNS) and Dynamic Host Configuration Protocol (DHCP)
Fully understand the design of Microsoft forest-domains (FFL / DFL)
Learn about Windows server 2019 (Full vs Core) Installation and configuration
Learn your pathway of all coming courses in this series from HelpDesk L1 to junior System Admin
Learn what FSMO roles are and what is their importance in your network
Create sample data for your Active directory
Different techniques of joining machines to a domain.
Finally by following our pathway get ready to enter the world of Cloud platform and Infrastructure.
Description
"Official Microsoft Course structure", "English subtitles", "Lab manuals", "Beneficial resources".
This course is one of 10 courses in Win Server 2019 series, designed to cover the 3 levels "Beginner, Intermediate and Professional".
These 10 courses is all you need to land your dream job if you are looking for jobs as Help-desk, Junior Admin or even as Microsoft Certified Solutions Associate (MCSA)
This series includes the official courses of Windows Server 2019 (Active Directory,Network and Storage) and some customized courses from real IT industry enlightening topics like Troubleshooting, PowerShell , Security and many more.
We have also incorporated Windows Admin Center(WAC) which is a customer-deployed, browser-based app for managing servers, clusters, hyper-converged infrastructure, and Windows 10 PCs.It is a highly secure, cloud-ready server management solution for future.
This course will help you set your Windows server 2019 network, you will be creating 2 network offices and activate routing between them, the same network will be used in advance courses in this series. Our aim is to connect all the dots in the big picture of IT industry. By building your own network from scratch you will gain confidence and a feel of working in a real Network.
The course also has the necessary concepts of AD(Active Directory), DNS and DHCP; in addition to FFL/DFL, FSMO roles and Global Catalog.
I have published few free videos in this course and i will highly recommend you to watch Lecture No. 4 "Network course topics" to get an idea of what are we planning to achieve from this course.
Stay connected to get updates for future courses and be the first one to get notified about new releases and official information from Microsoft.
Content
Introduction
Course Promotion
Series Introduction
Our Teaching Approach *Must Watch*
Network course topics
Virtual APP, Server 2019
Server 2019 ISO
Virtualization , Virtual switch concept
Virtual Switch creation
Source machines
Solving installation problem "License Term"
Win server 2019 source
Win 10 source
SYSPrep and Cloning
SYSPrep
Cloning
VM Network adapter settings
ICT of VIC & Perth networks
ICT of VIC & Perth networks
ICT Router "2019RTR"
FFL - DFL , GC
FFL - DFL
GC
AD DS, DNS, DHCP, FSMO
AD, DNS, DHCP brief
1st DC in VIC network
DHCP in VIC network
FSMO in VIC network
1st DC in Perth network, DHCP
Joining Domain - 3 methods
Joining domain "Direct join, Prestage join and offline join"
Routing between Victoria and Perth Network
Activate routing
Basic commands - CMD
Basic commands
Windows Admin Center
WAC concept
WAC installation
WAC troubleshooting
Group policy default settings
GPO Password settings
Prepare your Active Directory with Sample Data
Add Data in Active Directory using GUI tool
Access to internet using Microsoft Router
Internet Routing Part - I
Internet Routing Part - II
Check points and Snaps
Create machines snap
Microsoft license manager
OS rearm "different windows activation methods"
New updates & Bonus Videos
Updating Source machines ( Nov 2019)
Next courses
What's next ?
Reviews
It's great detailed explanation of everything. Only the audio is not the best and often had to listen on higher volume, so I would suggest to improve that.
The course was okay, but some steps were missing and the lab didn't work as expected. Some configuration needs to be set up for it to work correctly
Dante is delivering information very thorough. He has a extremely solid roadmap for teaching the small but intricate details that most course talk about but skip over and never teach!! I am glad I came upon him to be able to buy some of his courses.
Pretty good rehash of installation and setup part of Windows Server. Not everybody uses VMware. MCSA has no question on it.
Great teacher, really lays things out for you, easy to follow. I'm thankful for subtitles, as I have a difficult time understanding him.
Adalberto
December 12, 2020
I am going for my Network+ and this course fills in the gaps, probably one of the most thorough courses with labs that I've taken. I just wish I would have found this course earlier as it would have saved me a lot of time. Thank You
You should update some of your videos since they are overlapping with cross-referenced information (you say that the function is installed and you install the function in the next video). Besides that, you should review your definitions, since you explain one thing and Microsoft says it's the other. It's true that you have good knowledge about windows servers, there's no doubt about it, but the theory that supports your classes is a little bit off from the Microsoft explanations.
This is just the introduction to the course, but I feel like this is the right fit for me, and I like the direction and detail to the material.
I am a long time windows administrator and decided to enroll in these course to see what they offered. This one is a good primer for building out your own lab using VMware workstation. There are some things I would do differently but for the beginner this is very good.
This course is really GREAT it is almost 5 stars, really well developed, Good downloadable material, bonus material is great but the audio is NOT Good enough but I really recommend this course. to anyone how is starting Windows Server.
This was a good course and it fulled in a few blanks that i had. There was two problems. 1 Setting up network ip , subnets, gatways and DNS address. Was not fully explained and I had to use my own knowledge to fix it. 2 You talked very fast and most times I had trouble keeping up
Been surf for MCSA training video and found this series. Is very informative and great with labs. Thank you.
This is an interesting course because unlike other courses , this one has a story line and even if you are new to windows server administration you will be able to grab everything easily.The instructor keeps you engaged with course and the course structure is unique. Looking forward to enroll and learn all the 10 courses that they are planning to offer. Great work.
the course was good and set the stage for the next courses, so just waiting for them to appear in Udemy Catologue
Très bien course, enregistrement vocal et l' explication très claire et excellente ...bon continuation.
Coupons
| Submit by | Date | Coupon Code | Discount | Emitted/Used | Status |
| --- | --- | --- | --- | --- | --- |
| - | 8/2/2019 | 2019COURSE1 | 87% OFF | | expired |
1/23/2019
course created date
8/2/2019
course indexed date