Corp Finance #17 Merger, Acquisition & Foreign Currency
Learn about mergers, acquisitions, & foreign currency transactions from a certified public accountant (CPA)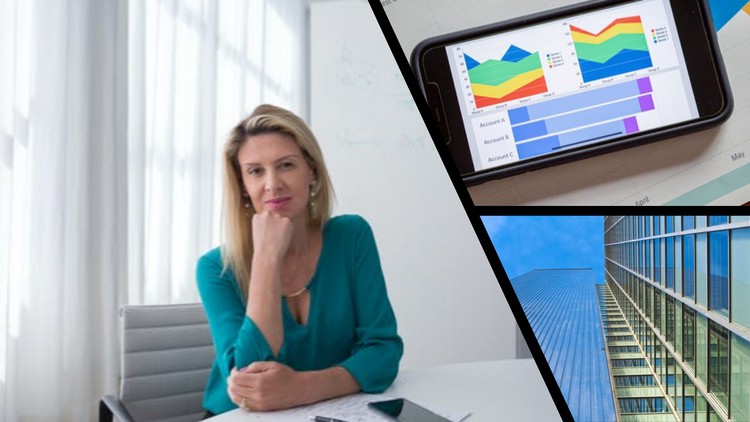 What you will learn
Explain what mergers & acquisitions are
Contrast cash acquisition vs stock acquisition
Discuss business combination methods
Explain the concept of goodwill and how it relates to acquisitions
Describe how a tender offer works
Discuss how a tax loss carryover can impact an acquisition
Calculate the impact on earnings per share of an acquisition
Describe common foreign currency transactions
Explain what a forward exchange contract is
Record transactions for purchases and sales involving foreign currency
Describe how a forward contract can be used as a hedge against currency exchange risk
Description
This course will cover mergers, acquisitions & foreign currency.
We will include many example problems, both in the format of presentations and Excel worksheet problems. The Excel worksheet presentations will include a downloadable Excel workbook with at least two tabs, one with the answer, the second with a preformatted worksheet that can be completed in a step-by-step process along with the instructional videos.
We will discuss what acquisitions and mergers are and how they may be structured, including cash acquisitions and stock for stock acquisitions.
The course will discuss different business combination methods, including the concept of a tender offer.
Learners will also understand some tax implications related to acquisitions, including those that can be created from a tax loss carryover.
We will calculate the impact of a merger on earnings per share.
The course will cover foreign currency exchange rates and foreign currency transactions.
We will learn how to calculate purchases and sales involving foreign currency. Learners will also understand how to use forward contracts as a hedge to reduce risk.
Learners will understand how forward contracts are calculate. We will learn how use forward contracts for speculative purposes. We will also discuss how forward contracts can be used as a hedge to medicate risk related to foreign currency fluctuations.
Content
Presentations - Mergers and Acquisitions
2005 Mergers & Acquisitions Overview
2010 Cash Acquisition & Stock for Stock Acquisition
2015 Business Combinations Methods
2020 Acquisition Accounting Goodwill
2025 Tender Offer
Excel Probs. - Mergers and Acquisitions
2010 Acquisition & Tax Carryover with Even Inflows
2012 Acquisition & Tax Carryover Spread Over Multiple Years
2013 Acquisition Uneven Returns Prob. 1
2014 Acquisition Uneven Returns Prob. 2
2015 Merger & Earnings Per Share
2017 Acquisition & Earnings Per Share
2018 Acquisition in Two Steps
2019 Owner Sells Interest & Tax Obligations
2020 Offer of Acquisition & Impact on Stock Price
2022 Acquisition, Expected Value, Standard Deviation, & Coefficient of Variation
Presentations - Foreign Currency & Exchange Rates
1110 Foreign Currency Exchange Rates
1120 Foreign Currency Transactions
1125 Forward Exchange Financial Instruments
1130 Forward Exchange Contracts
Presentations - Foreign Currency & Exchange Rates
1133 Purchases & Sales Involving Foreign Currency
1138 P2 Forward Contract to Hedge Commitment Agreement to Purchase
1138 P3 Forward Contract as a Cash Flow Hedge
1138 P4 Forward Contract for Speculative Purposes Only
Excel Probs. - Foreign Currency & Exchange Rates
1133 Purchases & Sales Involving Foreign Currency
1138 P1 Forward Contract to Manage Foreign Currency Risk from Purchase
1138 P2 Forward Contract to Hedge Commitment Agreement to Purchase
1138 P3 Forward Contract as a Cash Flow Hedge
1138 P4 Forward Contract for Speculative Purposes Only
Reviews
Madeline
February 24, 2023
I enjoyed this course, love the repetition, has tremendously helped with my excel knowledge, towards the end I sort of phased out, so I'd stop. Pause, go over again, recommend doing a full screen view, high resolution so you don't miss anything. But it's overall helped my view to evaluate finances in a company better as we economically face more mergers, sell offs and liquidations into 2023-24
Coupons
| Submit by | Date | Coupon Code | Discount | Emitted/Used | Status |
| --- | --- | --- | --- | --- | --- |
| - | 9/23/2021 | C08AE7418F2804B5AC40 | 100% OFF | 40000/1405 | expired |
| Angelcrc Seven | 10/10/2021 | 254310D648412562840B | 100% OFF | 40000/1603 | expired |
| - | 11/15/2021 | DCA1E5F06436F127EC1D | 100% OFF | 1000/950 | expired |
| Angelcrc Seven | 12/9/2021 | 7C5612E1E553928644DB | 100% OFF | 1000/932 | expired |
| - | 1/24/2022 | D9853C50D336EF487FBE | 100% OFF | 1000/792 | expired |
| - | 2/7/2022 | A67DDDCBB9061AC8C503 | 100% OFF | 1000/807 | expired |
| Ignacio Castro | 2/13/2022 | D7DE54CE28C8A1CCCAC9 | 100% OFF | 1000/996 | expired |
| Ignacio Castro | 2/23/2022 | 1B69C8D0FE1E0C144348 | 100% OFF | 1000/752 | expired |
| - | 3/7/2022 | A7F9C1A79F77C9CF5047 | 100% OFF | 1000/683 | expired |
| Ignacio Castro | 3/14/2022 | 52BED3852A20A53583B0 | 100% OFF | 1000/232 | expired |
| - | 4/2/2022 | F71BFC0D8ADADC85705F | 100% OFF | 1000/204 | expired |
| - | 4/10/2022 | 4D08487A86EED92B360F | 100% OFF | 1000/546 | expired |
| Angelcrc Seven | 4/19/2022 | 38587314B22CF41AF5BF | 100% OFF | 1000/208 | expired |
| Angelcrc Seven | 5/14/2022 | 84A8095B476C517C18AA | 100% OFF | 1000/838 | expired |
| - | 5/20/2022 | 049AE0A2966271ED5D4D | 100% OFF | 1000/825 | expired |
| - | 6/16/2022 | 528FB0D2DDC7F7E81B9D | 100% OFF | 1000/132 | expired |
| - | 7/7/2022 | B255DB608CD3D08DA1C7 | 100% OFF | 1000/431 | expired |
| - | 8/10/2022 | F66C1F34B53EA13CB908 | 100% OFF | 1000/711 | expired |
| - | 8/17/2022 | A994B675345EAC7E1E86 | 100% OFF | 1000/205 | expired |
| - | 9/10/2022 | D5701B1C4AF8A1C67B81 | 100% OFF | 1000/365 | expired |
| Angelcrc Seven | 9/14/2022 | 20D456D61EB354606845 | 100% OFF | 1000/747 | expired |
| - | 9/21/2022 | 6B844305331FC8943E4E | 100% OFF | 1000/344 | expired |
| - | 10/4/2022 | 1E21D93C4871668373C4 | 100% OFF | 1000/283 | expired |
| - | 10/11/2022 | CFDFE2F3A1A4D77AC365 | 100% OFF | 1000/342 | expired |
| - | 10/17/2022 | 6A4F2884DCCCF650AB66 | 100% OFF | 1000/127 | expired |
| - | 11/5/2022 | 51028F9FBF54BCC1D6BC | 100% OFF | 1000/304 | expired |
| - | 1/5/2023 | D066A55A8E1D96E01AA7 | 100% OFF | 1000/335 | expired |
| - | 1/16/2023 | C4F5F131AD5ED97D18BD | 100% OFF | 1000/210 | expired |
| - | 4/28/2023 | 909041576B2A5790E742 | 100% OFF | 1000/243 | expired |
| - | 6/14/2023 | BDA77C77284B3B89D98D | 100% OFF | 1000/801 | expired |
| - | 7/18/2023 | 7D6E19B45036F2BF915D | 100% OFF | 1000/309 | expired |
| - | 10/9/2023 | 855491EBBD5BB586B4E1 | 100% OFF | 1000/331 | expired |
| - | 10/24/2023 | D80A2B791BDFDAF8071D | 100% OFF | 1000/148 | expired |
| - | 11/21/2023 | D5ECFF6DE98ED7F1A506 | 100% OFF | 1000/266 | expired |
Charts
Price
Rating
Enrollment distribution
7/5/2021
course created date
9/23/2021
course indexed date