Concrete and steel structures design
Learn to design reinforced concrete, steel bars and building steel structures
Architectural Design
category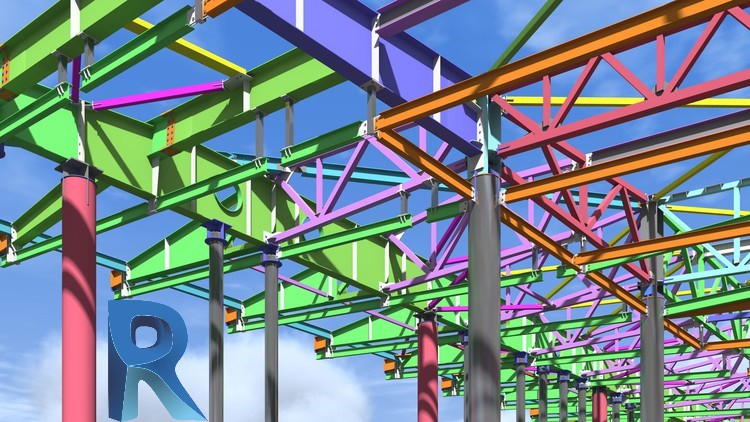 What you will learn
steel design
autodesk advance steel design
reinforced concrete structures design
revit structure
rebar
Description
With this course you will learn how to take advantage of these tools so that the process of designing structures for buildings is faster, more efficient and of higher quality.
A new way to manage your projects
Revit software is the world leader in building design using BIM (Building Information Modeling), allowing professionals not only to generate plans but to coordinate the entire building model including design features. Revit is designed to include design tools for building structures.
When you assign elements to a project, you can:
Automatically generate floor plans, elevations, sections and final impressions

Perform static calculations in the cloud

Perform advanced calculations in specialized programs such as Robot Structural Analysis

Create structural and analytical models

Quickly create and document detail plans

Improve your performance when working on a BIM model.
Course Orientation
We will follow the logical order in which you would develop a personal project. Instead of considering each theoretical aspect of the program, we will focus on following the workflow that best suits a real case and give you some tips to achieve the best results.
You will get prepared files that will allow you to follow the progress of the course from where you consider it most necessary by guiding you to use the tools yourself while watching the classes.
The course content is updated regularly to include important updates or points that can help you improve your learning and you will have access to them in real time so you can improve your continuous skills.
Content of the course
Reinforced concrete design
Lecture 1: Design of reinforced concrete bars

Lecture 2: Real bar armor

Lecture 3: Panel armor

Lecture 4: Foundation Design
Design of steel structures
Lecture 5: Assistant for the creation of industrial buildings

Lecture 6: Types of steel bars

Lecture 7: Design groups

Lecture 8: Sizing groups

Lecture 9: Final verification of steel bars

Lecture 10: Steel connections

Lecture 11: Personalized design
Brief introduction to detailed programs
Lecture 12: Export from Revit to Advance Steel

Lecture 13: Connections according to AISC

Lecture 14: Creation of final plans
Advance Steel in detail
Lecture 15: Grid Creation

Lecture 16: Column creation

Lecture 17: Beam Creation

Lecture 18: Beam Systems

Lecture 19: Transverse Reinforcements

Lecture 20: Joists

Lecture 21: Model views
#AulaGEO This course focuses on providing the student with the appropriate tools to model and detail structures. It is aimed at all students and professionals related to the branches of structural design such as: civil engineers, architects, structural engineers, BIM modelers and managers, or CAD draftsmen.
In this they will learn the creation of construction details in steel and concrete, such as beams, columns and other elements such as joints. You will be able to identify how to create and model steel structures, define the components and elements of a project, show the processes and styles for the elements, and much more.
With this online training you will be able to obtain the skills and tools required to be a BIM Manager and create all kinds of BIM projects.
Do not hesitate and learn with us
Content
Reinforced concrete design
Design of reinforced concrete bars
Real bar armor
Panel armor
Foundation Design
Design of steel structures
Assistant for the creation of industrial buildings
Types of steel bars
Design groups
Sizing groups
Final verification of steel bars
Steel connections
Personalized design
Brief introduction to detailed programs
Export from Revit to Advance Steel
Connections according to AISC
Creation of final plans
Advance Steel in detail
Grid Creation
Column creation
Beam Creation
Beam Systems
Transverse Reinforcements
Joists
Model views
8/18/2021
course created date
10/2/2021
course indexed date