Composition and Perspective for Illustration
10+ Composition Tips and Perspective Tips in Procreate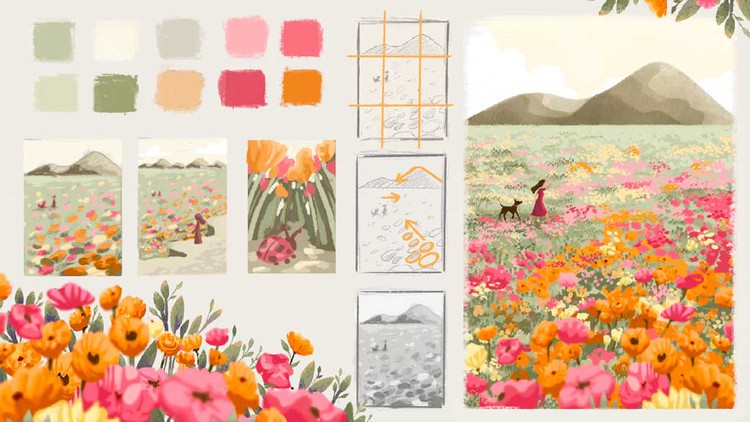 What you will learn
10+ Composition Tips
Basics of Perspective
Description
Improve your composition and perspective with these quick exercises in Procreate.
Feeling comfortable with drawing backgrounds for your artworks starts with a great composition.
In this class, I would like to share with you what I learned about composition to help you become more confident when creating your own unique artworks.
We will use fun story moments from my travel sketchbook to go through 10 tips on how to quickly and easily improve your compositions step by step.
We will talk about:
What makes a strong and pleasing composition design,

How to arrange and balance elements in your artworks so they work well together

How you can engage the audience through your art

How to lead the eye of the viewer around the image, visual weight, composition schemes, static and active compositions, point of view and much more

BONUS - we will also talk about the basics of perspective and how it can help you draw amazing backgrounds and environments for your artworks
I included fun exercises to build your confidence in creating your own compositions, emphasizing what is important in your Illustration, resulting in overall pleasing artworks.
To practice in a quick and easy way, we will use sketchbook illustrations.
I will be using Procreate, but feel free to use any other digital drawing software or pen and pencil and other
traditional tools.
Whether you are a beginner just starting to learn about compositions or you are a little bit more experienced illustrator looking into learning some new skills, this class is for you.
So let's start creating awesome compositions.
See you in the class!
Content
Introduction
Introduction
Introduction
Project and Class Overview
Composition: Placement and the Flow
Focus
Rule of Thirds
Composition Schemes
Leading Lines
Negative Space
Composition: The Story in Your Artwork
Visual Weight
Color Balance
Value Balance
Unity with Variety
Static and Active Composition
Point of View
Composition: More Examples
Composition - More Examples
Composition: Closing Thoughts
Closing Thoughts
Basics of Perspective: Introduction
Introduction
Resources
Basics of Perspective: Types of Perspective
1-Point Perspective
2-Points Perspective
Comparison
3-Points Perspective
Foreshortening
Aerial Perspective
Basics of Perspective: Closing Thoughts & Project
Closing Thoughts
Project
Reviews
The composition scheme worksheets were fun but got confused with some of them, especially the more intricate ones. I was left a bit stuck from the lack of examples. The perspectives portion seemed really rushed. There wasn't any practice material to remember what I learned without having to watch it again so I had to find my own examples. I'm glad the grids were included, it made it a lot easier. My 1 and 2 perspectives I got by fine but my 3 perspective needs work. This is the first time I'm learning about leading lines so it was really cool and interesting. I enjoyed the course but I think it needs a little work compared to other instructors courses I've taken. But we're all learning! Favorite part was how much fun I had on the project. I wish there were more. Thank you for a good course. Also bummed about no one else uploading their projects to view other students work to critique and find inspiration. Maybe because the small number of students and reviews? Waiting for mine (:
Iva is an excellent teacher and explains theory and technique in a clear, understandable way fitting for any level of learner. Modules are concise and relevant to course title and preview. Highly recommend Iva and her courses!
So far, so good. These lectures are easy to understand, and the exercises are fun. Definitely worth to take it.
I'm really happy that I decided to join this course! It will help both begginners and intermediate artists. Everything is carefully explained and supported by many practical examples. Can't wait to watch other courses made by Iva. :)
Thank you Iva for this wonderful and extremely helpful course. I have learnt so much, and am going to practise what you have taught in the course!
7/19/2020
course created date
8/3/2020
course indexed date