Complete Time Management Course Raise Personal Productivity
Time Management Skills to Boost Your Management Skills, Productivity and Goal Setting Abilities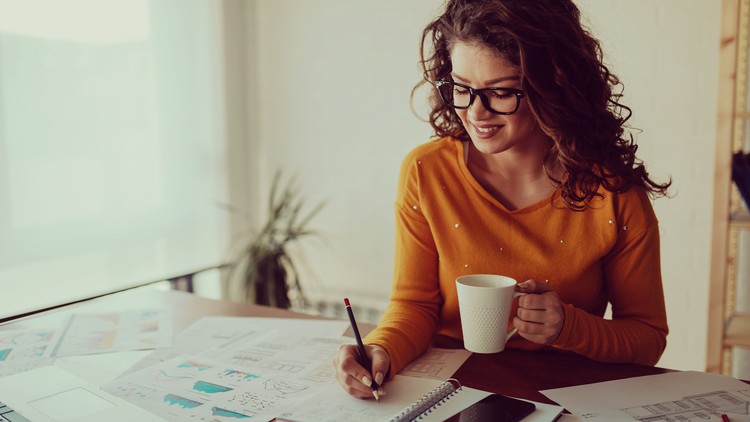 What you will learn
Time Management
Personal Productivity
Goal Setting
Management Skills
How to manage how you spend your time in life
Strategies for applying the Pareto Principle
Tips on how to NOT let Your Cell Phone eat away at your time and productivity
Mindful Stress Management
Achieve Better Work/Life Balance
Managing Burnout
Increase Productivity
Description
Complete Time Management Course Raise Personal Productivity
Time Management Skills to Boost Your Management Skills, Productivity and Goal Setting Abilities
(please note: this is the longest and most thorough Time Management course on the Udemy platform)
You can accomplish more! You can get more out of life. When you learn to master and control your own actions, your daily habits, and your focus, your time will be spent in ways that give you great outcomes and fulfillment. You can become the master of time management.
Time management. It is what defines the quality of your professional and personal life.
Imagine your time management skills skyrocketing so that you can meet more and more of your professional objectives and your personal aspirations.
Your time management skills are not a static measurement-it can be improved, dramatically and quickly!
You can get more out of each day. Your time management abilities can be supercharged so that you can get more done in less time AND have even more time for quality recreation, vacation and entertainment.
Personal development expert TJ Walker will teach you the simple habits and practices that you can use daily to become your own best time management expert. Walker has created more than 140 online personal development courses, 10 books and numerous other digital and non-digital products over the last 30 years. He shares with you the latest technology solutions to guide you down a path of expert time management and productivity.
Walker is the creator of the SelfieSpeak Programming (SSP) model for changing human behavior and habit acquisition. He will show you how changing your mindset can turn you into an excellent practitioner of sound time management principles.
Do you ever feel like your foot is only halfway pushed on the gas pedal of life? Do you feel that between checking news, email, social media, texts and going to and from work or school your life is just going through the motions but not really going anywhere? You are not alone.
Please note: This is by far the longest and most thorough course on time management on this platform. This is a built-in personal productivity advantage for you because it means you will not have to purchase multiple courses and books on this subject. Everything you need is right here.
This time management will teach you how to take control of your life by taking complete command of your personal productivity.
Sloppy and haphazard daily habits can destroy anybody's time management, including yours.
Smart and focused daily habits can make anyone dramatically boost their own personal productivity, including yours.
Instructor TJ Walker is one of the most prolific and productive authors, online course creators and trainers in the world. In this course you will learn his secrets for personal productivity plus a simplified distillation of all the personal productivity best practices.
This course is full of practical, nuts and bolts tips and tricks AND with Theory and perspective.
Please watch the preview videos available in this course to see why it has become one of the top sellers on personal productivity on Udemy.
You don't have to be stuck on a time management treadmill in life that always revolves at the same speed. Don't waste another day or even another minute of your day or personal productivity. Sign up right now for this course!
Here is what Udemy students say about this course:
"This Course is perfect. It's Organizing my life. I love it and I am finally satisfied with my life. thank you TJ ." Navid Tarazy
"The course engages you from the first second. The video, the voice, the background music makes you focus on learning what the instructor teaches and to think about how to improve your time management." Joaquim Martínez Bonde-Petersen
This course also helps people in the following areas: Mindful Stress Management, Boost Resilience with Mindfulness, Achieve Better Work/Life Balance, and Best Practices for Reducing Stress.
Managing Burnout
Sign up today to take advantage of this limited offer.
This Time Management course is ideal for anyone searching for more info on the following: time management - productivity - productivity and time management - effective time management - productivity and time management - time management and productivity. Plus, this course will be a great addition to anyone trying to build out their knowledge in the following areas: personal productivity - management skills - goal setting.
Content
You Can manage How You Spend Your Time!
Complete Time Management Course Raise Personal Productivity Promo Video
Quick win! Let's Accomplish This One Thing Today!
Another Quick Win! Get Rid of Your #1 Time Waster
Learn to Manage Yourself, and Time Will Take Care of Itself
Time for You to Share Your Time Management Goals
Put the Pareto Principle to Work for You Now - Work Less - Work Smarter
Here's What Makes this Course More Effective than Other Time Management Courses
Become Proactive with Your Day! Control your Calendar
You Already Manage 100% of Your Time Even If You Don't Realize It
Course Update! Live Instructor Office Hours are Now Available
You Don't Have to Have a Life Purpose, but It Makes It Easier to Manage Time
We Live In an Era of Overabundance that Makes Time Management Difficult
Make Sure You Don't Subcontract Your Time Management to These People
Truly Ambitious People Mange Time for Fun, Vacations, Entertainment, Social Life
Start with a Blank Slate
The Ultimate Time Management Tool that Nobody Uses Correctly
The Best and Worst Thing That Ever Happened to Time Management
Life Is the Sum of your Daily habits
Breakthroughs Come From Daily Mundane Work
The SelfieSpeak Audio Solution
Creating Your own Audios Is Always Better
Your Daily Habits SelfieSpeak Audio
The Easiest Way to Rewire Your Brain
Passive Brainwashing for You
Don't Over-complicate this Make the Simplest Audio Production Ever
Shutting Down The # 1 Source of Brain Pollution
The Source of Your Pollution
A News Junkie is still a Junkie
Your Perfect Media Diet
Best Email Practices
Cell Phone Hygiene
Block, Tackle, Turn Off
Schedule Your Cell Phone Time for maximum Productivity and Happiness
SelfieSpeak Audio to Gain Control of Your Cell Phone
Stop Wasting Your Time Shopping For, Buying, and Maintaining Stuff
The Overabundance of Stuff is Crowding Out Thought
Kondo Is One Important Piece of the Puzzle
Easiest Solution Don't Buy Junk in the First Place
Exceptions to the No clutter rule - Probably Not You
Throw Stuff Away To Clear Your thoughts
Get Ready for Your Selfie speak audio
You Control Your Possessions
Stop Wasting Time Eating All day Long And Dealing With Health Problems
The Third Big Overabundance
Everything You Need to know About Eating
It Is OK to Be Hungry Occasionally
Eating with Mindfulness Is the Answer
Managing Your Time for Maximum Productive Creative Thinking
The Magic of Solitude
The Magic of Constant, Focused Thought
Turn On Solitude with the OFF Button
Meditation Is Popular for a Reason
It Is Difficult to Do Nothing
Walk Your Way to Success
Solitude Used to Be Easy, Now it is Hard
Get Ready to Create Your Solitude habits
Your SelfieSpeak Solitude Programming
The Ultimate Time Management Tool - Deep Work
Daily Deep Work Is Essential for Time Management Success
Program Yourself to do Deep Work Daily
Deep Work SelfieSpeak Programming
Time Management Habits to Increase Productivity
Setting Up Your Daily Habits for Success
Create Strong Daily Habits By Reminding Yourself Daily, Forever
Design Your Own Lifestyle
Never Multitask
Occasional Reading of Best practice Tips Doesn't Work
Managing Quality Leisure Time Is Not a Luxury
Quality Leisure Time Is Essential for Quality Professional Creativity
Be Like Teddy Roosevelt
Simple Tech Steps In Creating Your Own SelfieSpeak Programming
No Problem If You Hate Technology
Simple Solutions to Common Problems When Making Your Audios
Nobody Likes the Sound of their Own Voice
Improving Every Single SelfieSpeak Audio
Conclusion - You Now Control Your Own Life
You are Empowered to Control Exactly How Your Spend Your Time
It's Time to Apply the Pareto Principle 80-20 to This Course
Your Lifetime of Living Life On Your Terms
Bonus Section Daily Time Management Habits Practiced by TJ
Start Each Day Drinking a Large Glass of Water
Schedule a Daily Hour Plus deep Work Session
Clean My Office Space Daily
Schedule My Entire Day
Empty Email Box by End of Each Day
Walk Six Miles a Day
Lift Weights for Only 5 Minutes per Day
Take a Digital Detox Walk
Run Daily
3:59 Is Quitting Time
Don't Answer the Phone!
Avoid Processed Food and Sugar
What is Number 1 Problem I'd Like to Solve?
Consume No More than 1 Cup of Coffee Per Day
Meditate 10 Minutes Per Day
Listen to Entire SSP SelfieSpeak Program Every Day
Weigh Myself
Reflect for 30 Seconds On Daily Habits Progress
Stretch for 60 Seconds
Write Down Three New Topics for My Daily Personal Development Show
Spend 5 Minutes a day Planning Entertainment and Fun
Read No More than 30 Minutes of News Per Day
Connect with a Friend Today
Consume One Great Work of Art
Get 8 Hours of Sleep
Determine What is Working Well
No Snacking, Other than a Piece of Fruit
Stare at Long-Term Goals Daily
Turn Off Computer No Later than 4 PM Daily
Learn a New Skill in 2 Minutes
Create Something of Lasting Value Today
Write a Poem Today
Play a Game Every Day
Doodle or Draw Every Day
Create Big, Bad Ideas for 2 Minutes a Day
Be Grateful
Write In Your Journal Every Day
Write One Joke a Day
Daily Meditation To Fuel Your Creativity
Write One Aphorism a Day
Turn Off all Screens and Read for One Hour Before Bed
Thanks for Spending Time With Me to Learn About My daily SSP Habits
Bonus Course! Below Is My Entire Personal Productivity Course
Quick Win! Master Your Phone Now! Avoid Switching Costs!
The #1 Secret of the Wildly Productive
Embrace the Concept of Deep Work And Watch Your Productivity Soar
The Real Truth About Time Management
The Top 10 Tips To Help Your Personal Productivity
Sleep Your Way to Productivity Success
Produce Just One Thing Each Day
Big News! You Need Less News
Streamline Your Cell Phone for Massive Productivity Gains
Read Books, Even Free Books
Fun Is the Ultimate Productivity Motivator
Celebrate the Easy Wins
Giving Your Brain Space to Breathe
Daily Entertainment Must Come with Limits
The Grandest Delusion of All - Multitasking
Fundamentals on Personal Productivity
Productivity Tips for taking this Course
Always Look for the Fast-Forward Button In Life
Surprisingly, Not all Procrastination Is Bad
Personalizing Productivity Tips Just for You
Why You Will Never Say "I Didn't Have Time for That"
Simplify Your Way to Personal Productivity Success
You Already Are Productive, When You Want to Be
You Will Become Your Own Personal Productivity Guru
Forget High Tech and Low Tech, You Must Be Now Tech
Here Is the ONE Thing That Is Consistent Among Wildly Productive People
Why 100% Personal Productivity Is Not Your Real Goal
Avoiding This Secret Un-Productivity Trap
You Can't be Productive Unless You Know Exactly What You Want to Produce
Infinite Opportunities To Be Productive Or.
Simple, Obvious, Non-Profound Tip That Many People Never Follow
Not enough To Be Good At Something, You Need To Have A...
Coming Up With Your Own Vision Of the Productive Life
Increase Your Productivity By Doing Less
The More Fun You Have, The More Productive You Can Be
Always Look for a Fun Way To Do Boring Tasks
Why You Should Never Try To Manage Every Second Of Your Day
Create The Highly Productive Daily Habits Used By Highly Productive People
Produce This One Thing Every Day
Here is How To Schedule Your Daily Productivity Output
The Most Important Part of Your Day - The Digital Detox
Highly Productive People Think of Themselves as Highly Productive People
Limiting This Dangerous Productivity Destroyer - The TV
The 30 Minute a Day Solution
Productive People are Never 'Busy'
Building Your NOT 'To Do' List
Time Is Always More Valuable Than Stuff or Saving Money
Don't Cut Lines, But NEVER Wait in Lines
Simplicity, Simplicity, Simplicity
Make Sure This Is Absolutely the Simplest Way of Doing Something
Don't Add Complicated, Time-Consuming Steps Just Because Everybody Else Does
Improving Your Daily Standard Operating Procedures
Figuring Out What Is the Most Productive Time of Day for You
Asking 'Why' A Lot Will Lead You to Greater Productivity
Build On Strengths, Don't Focus on Most Weaknesses
The Most Productive Social Media Platform for You Is...
Not All Productivity Is the Same
YOU Can't Be Your Only Source of Inspiration
Decrease Your Work Hours to Increase Your Productivity
Stand Up! Take a Break!
The Most Productive Way You Can Get What You Want Is to Ask
The Highly Productive Don't Rely on Memory
Make It Easier for Other People to Be More Productive
Say 'NO' Daily
It Never Hurts To Be Reminded, Automatically
Scheduled Learning Is a Daily Habit of the Highly Productive
Why Honesty Really Is the Best Policy
More Reasons to Say No
Higher Productivity the Mundane Way
Having a Broader And Deeper Perspective On Your Personal Productivity
The Personal Productivity Bigger Picture
Productivity Motivation is Overrated. Daily Productivity Habits Are Underrated
Everyone Has Habits. The Key Is the Right Habits
Your Brand Is Not Your Logo, It is What You Produce on a Regular Basis
Nothing Bad Has Ever Happened By Showing Up on Time
Do This To Be on Time
Managing Your Procrastination Demons
The Highest Price of All: Switching Costs
This Is How You Find Your Grove
The Lazy Man's and Lazy Woman's Guide to Productivity
Why You Don't Need a Bolt of Lightening
Create The Ideal Productivity Environment
Creating a Productive Surrounding
Making Your Desk Make You More Productive
Yes, Home Offices Can Be Wildly Productive, If You Do This...
Quiet Please! Genius Working Here
Turns Out, Your Mother Was Right About Keeping Tidy
Take a Break Already!
Drawing Your Way to Productivity Success
Constant Personal Productivity Improvement
Productivity Tips Come From Everywhere
Eliminate the Clutter of Daily Activity
Complexity Can Add Value, But Make Sure You Have Proof
Measure 2 or Even 3 Times In Advance
It's OK To Start with Baby Step
Make Meetings Work for You
Meetings Can Add to Your Productive, But Only When Done the Right Way
Meetings Can Be Run Efficiently
First Choice, The Virtual Meeting
Send a Surrogate
Your Meeting Needs To Run This Way
A Standing Ovation for Your Next Productive Meeting
The Amazon Way to Run Great Meetings
Setting Goals that Mean Something
Meaningful Goals for You
Resolve to Never Make Resolutions. Instead, Make Goals with Specific Actions
Plan, But At Some Point You Must Start
Fail Faster and Better
Cell Phones and Other Technologies That Can Help and Hurt Your Productivity
The Best and Worst Productivity Tool Ever
Delete News Apps from Your Phone
Automation Is Here, So Use It Wisely
The Philosophy Of Highly Productive People
Here Is How You Can Have the Same Perspective As Highly Productive People
You Determine Your Own Productivity Fate
Productive People Have a Growth Mindset
Optimism and Productivity Go Hand in Hand
This is the Golden Age for Personal Productivity
The Gatekeepers Can No Longer Stop Your Productivity
A Golden Age for the Productive and the Lazy
Personal Productivity Is Very Different Today Versus Most of Human History
Learn from the Past, but Don't Be Shackled By It
Don't Let Negative News Sap Your Productivity
Productive People Don't Fixate on Degrees. They Fixate on Lifelong Learning
You Never Graduate, and That's OK
The Greatest Source of Productivity Today. Your Brain
Learning New Stuff Always Helps You Learn More New Stuff
The Primacy of Books
More Praise for Books
Building Your Digital Library
Determining Your Best Learning Style
Honing Judgement Skills In the Highly Productive
Expanding Your Personal Productivity Mindset
You Don't Need And Office Anywhere to Be Productive
Increasing Your Idea Exposure
Learning Begets Learning
Free Books Galore on Google
Sorry, But Reading Is the Most Productive Use of Learning Time
More Content Than Ever Means You Need to Be More Selective Than Ever
The Productive Person's Relationship to Fear
Producing For a Higher Purpose
Celebrate Your Productivity Victories in Life
Continual Improvement Cycles Are Key
Yes, You Can Be Lazy
Productive People Don't Manage the World or Time. They Just Manage Themselves
Using a To-Do List the Right Way
Are You Making Progress With Cutting Back on Multi-Tasking?
Know Your Personal Bandwidth
The Pros and Cons of To-To Lists
Email Best Practices
Email Isn't Going Away
Never Look At An Email More Than Once
Don't Let Email Consume Your Day
Limit How Often You Check Your Email
Shorter Is Better
Use Your Subject Line to Maximum Advantage
Create Categories and Folders for Your Email
Make Your Email Address Top Secret Or At Least Semi-Secret
Don't Respond to Email Unless Absolutely Necessary
Productive People Still Use Old, Boring Email Newsletters Because They Work
What You Need to Know About Texting to Enhance Productivity
Social Media
This Is How Productive People Use Social Media
Aiming for High Productivity, Avoiding Productivity Pitfalls
Always Keep An Eye on the Long Term
More Reflections on Technology
Apps to Help You Avoid Distractions
Productive People Are Not Late Adopters to Useful Technology
The Productive Commute
Learn to Promote Without Becoming a Shameless Self-Promoter
Having Fun Isn't Necessarily Wasting Time
Highly Productive People Don't Let Emotions Destroy Their Life
Productive People don't talk About Hours Worked, They Talk About Results
Working Overtime Is Not a Bonus
Get Rich Quick Is Never the Goal
End Your Work Day On Time
If It Is All Hard Work, You Are Doing Something Wrong
Successful, Productive People Quit Stuff All the Time
Be Aggressive About Doing What You Like and Avoiding the Rest
Self-Regulation is Key to High Productivity
Sometimes, Any Decision Will Do
Stress Can Work In Your Favor
Yes, You Do Have Time for Hobbies
Getting Good Value
Highly Productive People Make Their Health a High Priority
There is No Productivity 6 Feet Under
Your Body Is Worth More than a Car
Drinking Your Way to Health
There's No Magic Food, But there Is Un-Magic Food
Productive People Don't Find Time To Exercise. They Just Exercise
Find an Exercise Program that Works Just for You
Sleep Is Not a Luxury
Teeth Aren't Just for Smiles
Productive People Don't DO Diets
Productive People Master Their Finances
Control Your Financial Destiny
This Is Boring, But Productive People Pay Their Bills On Time
Nobody Cares About Your Finances As Much As You Do
Productivity Tips That Might Not Be Practical for You (Please don't be offend
Get Ready!
You Can End Your Commute
Don't Let Other People Tell You What To do With Your Life
You May Have to Quit Your Job
Other Tips for Productivity
Visualize Your Productivity Successes
Don't Follow Productivity Gurus, Including Me!
Productive People Like to Socialize With Other Productive People
Beware Productivity Gimmicks
Productive People Project and Have Confidence, Real Confidence
Highly Productive People Have Stuff, But Stuff Doesn't Control Them
Highly Productive People Have High Standards, But Are Not Perfectionists
The Ultimate Personal Productivity Tool - Being a Great Presenter and Speaker
Be More Productive Every Time You Speak
Quick Wins! How to Impress Your Audience Within the First Two Seconds
Make YOUR Next Presentation Your Best Ever
Making Your Life a Series of Winning Presentations
Here Is What You Want to Accomplish With Your Presentation Skills
Why I Am the Most Unpopular Presentation Skills Trainer
How To Exploit Your Presentation Skills Instructor
The REAL Reason Most Presentations Fail
You Have Some Interesting Fellow Students Here
Master the Most Important Body Part in Body Language
Influence Your Audience By Starting Right Here
This Is How You Will Motivate Your Audience
This ONE Thing Is the Difference Between Great Speakers and Everyone Else
Your Picture will Be Worth 10,000 Words
Never Forget What To Say Again!
The Perfect Start for Your Presentation
This Won't Hurt A Bit, I Promise!
The REAL Secret to Practicing Presentation Skills on Video That Nobody Gets
Presentation Skills Are NOT Soft Skills! They Are Hard Skills That Can Be
The Most Important Thing I will Ever Ask You to Do In This Course
Pardon Me, But Are You Sure...
Testing Your Presentation Skills from Every Direction
Most Common Questions People Ask About Making More Productive Presentations
What Do I Do With My Hands While Giving a Presentation
What do You Do If You Are Nervous Before Giving a Presentation
What is the #1 Blunder Most People Make In their Presentation Skills
What Is the #1 Thing You Can Do to Improve Your Presentation
How Can You Remember What To Say During a Presentation
Who Is the Best Speaker In The World
What If You Are Asked a Question and You Don't Know the Answer
What Should Happen After the Presentation
Is It a Good Idea to Memorize a Presentation
What Is the Best Way to Write a Presentation
What Do You Do If You are Losing the Audience
What Do You Do If You Hate Your Voice
Is It OK to Use Alcohol, Beta Blockers or Marijuana to Calm Yourself
What Do You Do If You Mess Up In The Middle of a Presentation
Should You Tell 'Em What You're Gonna Tell 'Em
Is It OK To Wear Glasses During a Presentation
Should You Warn Your Audience That You are Going to Be Boring
Should I Use PowerPoint
How Long Should I Rehearse My Presentation
Should I Read My Presentation
How Long Should a Presentation Be
How Many Bullet Points Should Be On a PowerPoint Slide
Is It OK To Use Builds In a PowerPoint
Should You Look At One Friendly Face While Giving a Presentation
What is Everything You Need to Know about PowerPoint In One Minute
What is a 'Magic Phrase' for Presenters
What Do I Do If My Presenting Times Is Cut Back At The Last Minute
What Is the Best Way To Start a Presentation
How Do You Present With True Confidence
How Do You Present In Front Of a Large Audience
How Can You Sound Conversational While Giving a Presentation
How Can You Smile During a Presentation
How do You Recover from a Memory Lapse When Giving a Presentation
How Do You Manage Time When Giving a Presentation
How Can You Make Prepared Remarks as Interesting as the Q and A Session
Is It a Good Idea to Use Animation and Special Effects
Aren't Presentation Skills Something You Are Either Born With Or Not
Am I Better Off Just Winging It
How do You deal With Audience Members Who are Texting During Your Presentation
What Do You Do If You Have a Technical Malfunction During Your Presentation
What Is The Best Way to Close a Presentation
How do You Avoid Making a Bad Impression During a Presentation
How Should You Be Introduced Before Making a Presentation
How Many Slides Should You Have In a PowerPoint Presentation
How Do You Get Your Audience to Focus on You
How Do I Pick a Topic for a Presentation
How Do I Know What Messages Will Be Interesting To My Audience
Can I Make Up Stories for My Presentations
What Is the Best Way to Tell A Story In My Presentation
How Do You Consistently Improve as a Presenter
How Can You Test Your Presentation
Productive People Hone Their Soft Skills as Well as Technical/Academic skills
The Soft Tech Savvy Way to Always Be Essential
"Not My Job" and I am Happy to do it
You Can Become a Master Communicator!
A Part of Strong Communication Is Asking for Feedback the Right Way
Higher EQ Beats Higher IQ
Becoming a Leader without the Title or Position
Build Your Winning Team
Make Every One of Your Seconds Count
Unleash Your Inner Anthony Robbins
Avoid Being "Uncool"
Clothes Can Still Make Or Break Your Career
Be the Most Interesting Person in the Room
Highly Productive People Are Often Freelancers for at Least Part of Their Career
Start a Main Hustle or a Side Hustle Today
Rule Number 1 of The Successful Freelancer Club, Never Talk About...
You Now Truly Know What Freelancing Is
The Golden Age of Freelancing is NOW
You Never Know When a Self-Promotional Opportunity Might Pop Up
Crashing the Barriers to Entry
The Pros and Cons of Freelancing
For Better or Worse, Everyone Now Has a Global Reputation
In the Future, We Will All Be Freelancers and For More Than 15 Minutes
The Freelance Lifestyle Of Your Dreams
You WANT People to Tell You That You Are Too Expensive
Your ONE BIG Revenue Driver
The Best Time to Start a Freelance Business
Yes You CAN Have Full Benefits
The Exact Right Time to Quit Your Day Job
The Psychological Profile Of the Successful Freelancer
You Can Conquer Your Neighborhood, Your City, Your Country or the World
You Are NOT a Home-Based Business You Are A Customer-Based Business
Why Should You Listen to TJ Walker Talk About a Freelance Career
Finding Your Ideal Niche In the Freelance World
Finding the Best Markets
Positioning Your World class Expertise
Saving Your Clients Time and Pain Will Bring You Prosperity
Unlocking Secrets of Your Niche By Talking to Your Competitors
Unless You Are Growing Corn You Must Avoid Being a Commodity
Being Number 1 Isn't Just a Sporting Chant
Finding the Right Evergreen Niche
Avoiding the Discount Bin
Finding What Is Truly Distinctive About You
Meeting the Low-End Market With Inexpensive Products, But Not Your Time
Make Sure You Are Happy To Talk About Your Niche
Specialize Specialize Specialize
Selling Service or Selling Products or Selling Both
Passing the Friends and Family Test
Quickly Becoming a True Expert
Creating a Cycle of Constant Improvement
Get to Know Your Role Model
Follow Your Friendly and Unfriendly Competitors
Master of Opposition Research
The Constant Creative Difference
Getting Paid The Nuts and Bolts Of Your Freelance Business
The Nastiest Word In the World Discount
Getting It In Writing If You Really Want to Get Paid
The Price is Right
Make It Really Easy For Your Clients to Pay You
Give Yourself a Pay Raise Every Single Year
Training and Firing Your Clients
Avoid Being Seen as a Flake
Your Marketing and Branding Doesn't Stop Once the Customer Has Hired You
Why a Business Card Isn't Just for Old Fogeys
Being Professional And Avoiding the Flake Label
Here Is How You Look the Part
Saving What Your Clients Value More Than Even Money Their Time
Communicate the Way Your Customers Want to Communicate Not How You Like to
Creating a Workflow for Yourself and Your Clients
Highly Productive People Master the Art of Telling Their Own Stories
This DEVICE Is the Single Biggest Difference Between Great Speakers and Awful
Become a MASTER Storyteller
How to Use Stories When Giving TECHNICAL Presentations
Your Turn to Craft and DELIVER Your Story
Packaging Insights for Your Audience Using Stories
Improving Your Story Telling
Time for TJ to Practice What He Preaches Re Comes to Storytelling Productivity
A Masterclass in Storytelling
My Worst Presentation Ever!
I Was The Skunk At the Party
My Very First Presentation
Presenting the WRONG Way to the Media
Clintonian Eye Contact
My Zombie Client
Teaching Clients NOT to Act
Surrounded by Machine Guns!
The Crying Beauty Pageant Winner
You Never Have to Lurk In the Shadows Again
The Fluttering Bird Flying to Nowhere
'I Can't do This' Becomes 'I Can Do This'
My First Time on TV as 'The Fonz'
Speaking To a Small Audience of 5,000 People
The Show Must Go On
Pre-YouTube Days Driving to One TV Station At a Time
You Will Never Guess One Early Role Model
Fearlessness Is Often the Best PR Tool
King for a Day
TJ And the Cat Lady
Why Did You Wear That Ugly Tie?
Less Is More
The Missing Link
A Nobel Experience
The Fetal Position
On My Hands And Knees Begging!
Yes, My Stint on Reality TV
Brought Down to Earth
My Stagecoach to Pumpkin Moment
Me and Ben Affleck
Familiarity Breeds Contempt
Ups and Downs and Ups and Downs
The Least Listened To Talk Show Host Ever
Nothing Beats a Good Gimmick
Sometimes, Experience Just Means You Are Old
Some Media Stars Are Approachable
Waiting Til the Last Minute Is Always a Bad Idea
Treated Like a King...And a Mark
The Wrong Fit
A Complete and Total Meltdown
There Is Always Time for Anything Important
Me and Mr. Rogers in '68
Presenters Don't Get Paid What They Are Worth, They Get Paid What They Ask For
Nobody Knows Anything
Riveted...On a Dairy Farm
The World's Worst Vacuum Cleaner Salesman
The Lowest Arena for Presentation Skills
Presentation Skills On Video Will Sell You
Showing Up On Time and Avoiding Drama
It Can't Get Any Worse Than This
Diamonds And Gold for You!
Larry King's Public Speaking Secret
The Best Worst Presentation I Ever Saw
And The Winner of The Worst Dressed Award Is...
This Superstar Is So Happy To See Me
Going Into a Talking Career By Being Told 'Don't Talk'
Some People Just Watch To Hear You Present For The Entertainment
Cult Leaders Have Great Presentation Skills
TJ the Carnival Barker!
My First and Favorite Motivational Speaker
A Story I Don't Tell Anywhere Else But Here
Bonus Library
Books to Help You Increase Your Personal Productivity in Communication
Bonus Videos - How To Maximize Personal Productivity in Video Marketing
This Is How to Clone Yourself to Be In Two Places at Once
Media Training - The Complete Media Training Video Course
Crisis Communications _ The Complete Crisis Communications Overview
Communication Secrets of Ronald Reagan and Barbara Walters
Conclusion
The Ultimate In Productivity - Not Retiring
You Can Have It All
Ask Me Now! What Questions Do You Have About Personal Productivity?
Remember What The End Game is with All of this Productivity
Always Look for a Fun Way To Do Boring Tasks
Test Every Idea To come Up With What Makes You Productive
Feedback from You - How Can This Course Be Better?
Final Bonus Lecture re 90% Discount on Future Courses & Opportunities
Reviews
Donna-Marie
September 4, 2023
I really enjoyed this course. I wanted to learn more about time management and did and then some. I have been decluttering my life and if feels absolutely fabulous! TJ you are so right, stuff takes up too much time. Oh, extra bonus - I can turn my phone off now, great tip, common sense but just never did it. The other topics all had great tips and ideas to help me in my over all productivity-some that I am implementing at my workplace. Thank you for a super fantastic comprehensive course!
I am loving the course so far, it's very informative and I have started making changes in my life based on what I've learnt.
TJ, Sir you should name this course "MEGA" or "Beast" Course haha. Thanks for all the tips and I honestly learned so much from you. Many new things and many things that I already knew shined in a new perspective. The only thing I disliked is that the course looks a little disorganized, Idk but I felt that way. Thank you TJ and God bless!
Tshoganyetso
June 28, 2023
its awareness and enlightenment is on another level its been a challenge on time management and am inspired already. its a total turnaround for me
Shopping, eating, social media, etc. are small rewards that people use to reward themselves when involved in mundane, repetitive, boring, stupid work. Few of us are content with what we have to do for living. This course is BS
I gained some good tips and was also encouraged to change my way of thinking regarding time management; however, I found the course very long, as if it was many courses (topics) in one.
This course was covering all the important topics related to time management and I found it as very useful one. I started practicing some of the tips and tricks mentioned in this course into my day to day presentations in different forums. Thank you so much for this course and all the very best Thanks and Regards Jibu Kumar
I found the course to be very thorough especially on the topics that related to the course. There were a lot of repetition on topics and some which caused me to wonder what was the relation to time management. All in all food for thought.
This instructor is very knowledgeable about what he is teaching, and I feel like there is a practical way to apply everything he is teaching in day-to-day life. Wonderful course
Techniques are unique so I will need to see how well they work before I can determine their effectivity.
there are no practical tools, lots of people wont agree with all the tips that you gave. I like the short lectures but some lectures don't relate to the course .eg the its okay to be hunger occasionally, yes I understand your view point but it doesn't seem like it relates to the course
Audio formatting to form an habit is an interesting way to start a new habit. Its convenient mode of recording as we are always around our cell phone than having a dependency on a notepad
I'm so thankful for taking this course, very comprehensive discussion .This course will really address my needs on how to manage time to become more productive. The speaker was excellent, he well explained the sessions. I learned a lot from this course.
Yes, I have learned so much in this course. I would like to try the practical tips that were given to make time management a success. Thank you.
Paying bills on time is really a very good habit to practice. It will make life stress free and enjoyable every other day.
Coupons
| Submit by | Date | Coupon Code | Discount | Emitted/Used | Status |
| --- | --- | --- | --- | --- | --- |
| - | 10/18/2019 | 3990DF0E43EE31FB5E3C | 100% OFF | | expired |
| Lee Jia Cheng | 4/22/2020 | CPIICEPRO | 100% OFF | 40000/6897 | expired |
| Angelcrc Seven | 5/12/2020 | D3DF09C03BA8A07E6CE3 | 100% OFF | 40000/8738 | expired |
| Angelcrc Seven | 6/4/2020 | D0FA560E35B0D2AB9A8D | 100% OFF | 40000/7179 | expired |
| - | 7/13/2020 | 7AE0A56AC928EB2B5F3E | 100% OFF | 40000/4153 | expired |
| Angelcrc Seven | 8/5/2020 | F70487FDAD0B05D89044 | 100% OFF | 40000/6327 | expired |
| Lee Jia Cheng | 8/28/2020 | FC4ADDF19B9629014DC5 | 100% OFF | 40000/4473 | expired |
| - | 9/28/2020 | 32488B18E41585199325 | 100% OFF | 40000/2489 | expired |
| - | 10/17/2020 | B9FD6D6A40DCA8FD9FC6 | 100% OFF | 40000/2289 | expired |
| - | 11/16/2020 | 0E6D59786F549C9006A5 | 100% OFF | 40000/3112 | expired |
| mouzz | 11/26/2020 | THANKS1 | 95% OFF | | expired |
| Angelcrc Seven | 12/4/2020 | THANKS3 | 95% OFF | | expired |
| - | 12/21/2020 | THANKS4 | 100% OFF | 40000/2763 | expired |
| - | 1/4/2021 | THANKS2 | 95% OFF | | expired |
| - | 1/25/2021 | THANKS5 | 95% OFF | | expired |
| - | 2/11/2021 | THANKS7 | 95% OFF | | expired |
| - | 3/5/2021 | THANKS9 | 95% OFF | | expired |
| - | 4/2/2021 | THANKS02 | 94% OFF | | expired |
| - | 5/7/2021 | THANKS01 | 94% OFF | | expired |
| - | 6/11/2021 | THANKS04 | 94% OFF | | expired |
| - | 9/27/2021 | THANKS05 | 94% OFF | | expired |
| - | 12/21/2021 | THANKS016 | 94% OFF | | expired |
| - | 1/26/2022 | THANKS026 | 94% OFF | | expired |
| - | 5/16/2022 | THANKS055 | 94% OFF | | expired |
| - | 8/15/2022 | 05BC86AD515DF0872593 | 100% OFF | 1000/855 | expired |
| Angelcrc Seven | 9/7/2022 | 839E584A2E2A55A7FEF2 | 100% OFF | 1000/950 | expired |
| - | 8/14/2023 | AUG-SALE2 | 87% OFF | | expired |
Charts
Price
Rating
Enrollment distribution
10/10/2019
course created date
10/18/2019
course indexed date