Complete TikTok Marketing Course for Business TikTok Habits
Learn Daily TikTok Marketing Habits to Promote Your Business or Passion - You Can Master TikTok Marketing
Social Media Marketing
category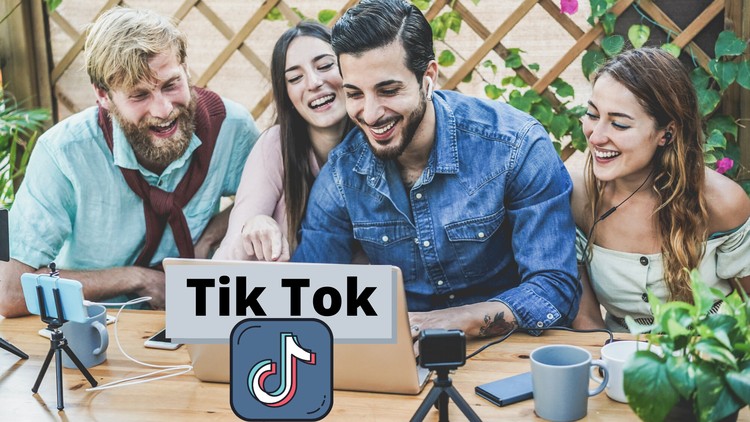 What you will learn
TikTok Marketing
Digital Marketing
All things TikTok
TikTok Video Production Techniques
TikTok Promotion Skills
Description
Complete TikTok Marketing Course for Business -TikTok Habits
Learn Daily TikTok Marketing Habits to Promote Your Business or Passion - You Can Master TikTok Marketing
TikTok is the newest and fastest-growing social media platform. It's getting a lot of hype, and with good reason. It is possible to start with zero followers on TikTok and, within a few days or even a few hours, generate thousands or even tens of thousands of views for your videos. That is why marketers are now flocking to TikTok and why you should too.
TikTok is completely unlike any other social media platform. What works on YouTube, Facebook and LinkedIn does not work on TikTok. You must learn what is unique to the TikTok platform and how to engage audiences there.
If you are a large or small business, an author, an expert, or an entertainer, then you need to be posting regular content on TikTok and marketing your brand to this worldwide audience.
TikTok now has more than 1.5 billion downloads of its app and more than half a billion regular monthly users. It is huge!
You may have heard that TikTok has a lot of teenagers and pre-teens. This is true, but with more than half a billion regular monthly users, TikTok now has members from every age group and every demographic. Many of your customers, clients, and prospects are already on TikTok.
Facebook, Instagram, Linked and YouTube all have strengths that marketers can leverage. But these are mature platforms that are all increasingly expensive to market on, even to your followers. TikTok is the Wild West. Now is THE time for you and your brand to stake your claim by getting serious about TikTok marketing.
The instructors for this course are not academic theoreticians. They are practitioners who produce and post new videos daily on TikTok. They share the best TikTok marketing tips, tricks, and tactics in real time.
If you are ready to jump into TikTok marketing, enroll in this course today.
Here's what Udemy students are saying about the course:
"OUTSTANDING course!!!! TJ is one of my favorite instructors, the wealth of knowledge he shares in this course is completely helping me to move forward with doing videos, marketing, and promoting on the TikTok platform, AND becoming a better speaker on video! HIGHLY RECOMMEND!!!!" –Jennifer
"Great to learn about TikTok marketing. Thank you" Deepak Seth
Content
You Can Master TikTok Marketing Quickly and Easily
Complete TikTok Marketing Course for Business TikTok Habits Promo Video
Quick Win! Less Is More on TikTok (Unlike YouTube)
Quick Win! Don't Overthink Your TikTok Videos
This Is How You Start with TikTok
This TikTok Course Is Designed for You If...
Time to Dispel the Myth That TikTok Is Just for Kids
And One More Myth
This Is What Is Special About the TikTok Platform
This is How You Get Live Feedback on Your TikTok Questions Right Away
Decide If You Want to Go Simple or Go Big!
If You Aren't an Entertainer, Simple Productions Will Do
Let's Cut to the Chase - Here Is the Easiest Way to Make Content for TikTok
Here is the Forum Where You Can Post Your TikTok Videos and Get Feedback
This Is Also What Is Different About the TikTok Platform
Here Is How to Get the Most Out of this Course
The Nuts and Bolts of Setting Up Your Account
Set Up Your Profile This Way
Sign Up for a TikTok Pro Account
Learn More About Your Audience This Way
A Few Other things You May Want to Know about TikTok
This Is How You Produce Your TikTok Videos for Massive Impact
Here is What You will Learn in this Production Section
How To Edit A Video From Your Phone
How To Create Portrait (9:16) Videos For Tik Tok
Keep Your Production Costs Low
Follow These Lighting Tips
An Example of a Simple TikTok Video That Generated 50,000 Views
More Tips On Editing
The Two Biggest Impediments Holding People Back on TikTok
The Quick and Dirty Way of Producing TikTok Videos Yourself
Here Is How You Do a Simple 2-Person TikTok Video Shoot
You are a One-Person Band - Make Your Own Video Now
Time to Make Your TikTok Video Right Now!
Here is How You Can Get Constructive Feedback on Your TikTok Videos
If You Don't Love How You Look and sound in Your TikTok Videos...
This Is How You Engage Your Community on the TikTok Platform
Engage Your Community this Way
How to Promote Your TikTok Videos
How to Leverage Your TikTok Content for Other Platforms
Most People are Really Nice On TikTok, but...
Techniques for Engaging Critics Constructively
Let's Build a Following for Your TikTok Account Right Now
Here Is How You Make Money Off of TikTok
You Can Monetize Your TikTok Audience
Best Practices for TikTok Success
Determine How Frequently You will Post By ...
Determine Your TikTok Expectations
Make the Right Editorial Decisions
Here Is the Easy Way of Finding Topics for Your Videos
Winning the Quality Versus Quantity Debate
Pick Your Winning TikTok Niche
Other Options for Planning Your Content
A Hidden Treasure Trove of Content for Your TikTok Channel
Don't be Afraid to Be Spontaneous
Advanced Tips on Engaging Other Creators and Audience Members
Overview of Advanced Tips on Engaging Other Creators and Audience Members
Here Is How You Can Livestream On Tiktok
Advertising on TikTok
This is Where You Can Buy ads on TikTok
Conclusion to this TikTok Marketing Course
Thanks For Being a Part of this TikTok Marketing Course!
Listen to Your Audience - I am Listening to You
Bonus Section Enjoy This Free Course on Becoming a Master of Talking Head Video
You Can Get Better and Better Speaking on Camera
Reviews
I don't mind TJ's talking head, but for a course like this, shouldn't there be some screen captures of TikTok in action? And I also don't mind his Sidekick, but the drastic difference in audio level is aweful. I turn the volume up when the Sidekick appears, but when TJ comes back, I get a shock from the sudden loudness! I know for sure that Tweeter has the power to ban an American Presiden, but does that make TikTok a safer place?
teaching so much about the use of tiktok and its massive audience and the huge benefit we can gather if we know how to properly engage in it.
i expect more case studies rather than just seeing two person taking turns speaking which i can just read the transcript instead...
The title and description implies business tiktok habits but its more focused on an influencer´s perspective rather than for a person who is a campaign specialist or manager for the overall tiktok business management.
Loving the course so far but only completed section 1. I'm really glad I took the time to find which course was suitable for the content I plan to host of TikTok. If you want to market your business on Tik Tok this is the course! Love the way the instructor presents information. Hopefully there is a lesson on how to speak like him in front of a camera.
A lot of the video are self promotion for platforms outside of TikTok. There's also several repetition of the same information in each videos.
I found it very interesting. TJ was very helpful! I am going to put his advice and knowledge in use righ away! Thank you so much!
OUTSTANDING course!!!! TJ is one of my favorite instructors, the wealth of knowledge he shares in this course, is completely helping me to move forward with doing videos, marketing and promoting on the TikTok platform, AND becoming a better speaker on video! HIGHLY RECOMMEND!!!!
It's been an educative session, things I taught it's difficult to go about seems easy with this session I had.
I wasn't too sure about this guy at first. I mean what could HE know about Tik Tok. But he's actually very knowledgeable and extremely good at going into detail about to do everything step by step. Not a waste of time at all.
Info is useful and the vids are short, but him staring into your soul on a white background is getting to me
after watching the rest I see now, that these two are extremely knowledgeable in the field. I didn't know there was so much that went into these videos behind the scenes, it's looks so pop and fresh on the app. Great gentlemen. Great team.
I personally put a lot of emphasis on how the videos are made. The content so far is ok but they way it's presented is not esthetically appealing to me
This course should be entitled how to use TikTok. After about an hour, I'm realizing that my parents, or perhaps grandparents, were the intend audience for this product.
Tremendously educational. Very informative and just like I like STRAIGHT TO THE POINT. This virus is keeping us indoors, so ill be able to leg up my competition pretty fast.
Coupons
| Submit by | Date | Coupon Code | Discount | Emitted/Used | Status |
| --- | --- | --- | --- | --- | --- |
| Lee Jia Cheng | 3/4/2020 | A417BB7B77DDC4B719EA | 100% OFF | | expired |
| Lee Jia Cheng | 4/18/2020 | ANTPIC | 100% OFF | 40000/5136 | expired |
| Angelcrc Seven | 5/8/2020 | 5420155D4426AD243E2E | 95% OFF | | expired |
| - | 5/11/2020 | 75C10B373B01F4B5C7A7 | 100% OFF | 40000/6596 | expired |
| - | 9/15/2021 | 26F1D8BD97C00B60FEEA | 100% OFF | 40000/3448 | expired |
| - | 4/27/2022 | 879B5500149BA9F409AA | 100% OFF | 1000/804 | expired |
| - | 5/7/2022 | C39A95302A5267DC40DB | 100% OFF | 1000/997 | expired |
| - | 8/26/2022 | 9E879074926E5EEE6DF3 | 100% OFF | 1000/969 | expired |
| Angelcrc Seven | 9/7/2022 | AB2AE7F6D370E98C11CE | 100% OFF | 1000/976 | expired |
| - | 10/2/2022 | 992F6A5BBFBDBF1DB208 | 100% OFF | 1000/981 | expired |
| - | 10/9/2022 | 29562F121C42F18654F7 | 100% OFF | 1000/833 | expired |
| - | 10/31/2022 | F49735D4F431C8382FD6 | 100% OFF | 1000/917 | expired |
| - | 11/8/2022 | FBBB0EA0B47D040BE6C9 | 100% OFF | 1000/927 | expired |
| - | 12/20/2022 | 48A29E66BBF74D591770 | 100% OFF | 1000/994 | expired |
| - | 12/27/2022 | 7CFBD0E314D0ECA7CED8 | 100% OFF | 1000/911 | expired |
| - | 5/17/2023 | 6CB70085372AF8C614E2 | 100% OFF | 1000/890 | expired |
| - | 8/23/2023 | 62B745DDC7D6CE9481F7 | 100% OFF | 1000/924 | expired |
Charts
Price
Rating
Enrollment distribution
2/25/2020
course created date
3/4/2020
course indexed date
Lee Jia Cheng
course submited by