Complete Progressive Web App Bootcamp
Learn to build discoverable, engaging Progressive Webs Apps (PWAs) from scratch,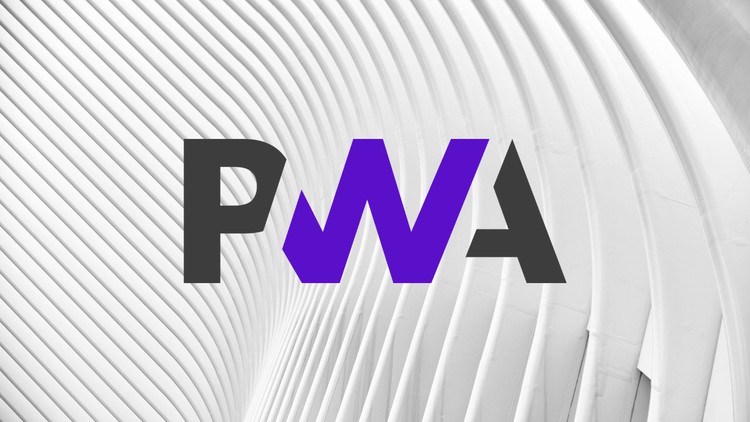 What you will learn
What a Progressive Web App is
Use Service Workers to enable your application to work offline
Create a progressive web app that is installable to the home screen
Description
What is Progessive Web App (PWA)?
PWAs are web applications created utilizing various explicit advances and standard examples to permit them to exploit both web and local application highlights. For instance, web applications are more discoverable than local applications; it's much simpler and quicker to visit a site than to introduce an application, and you can likewise share web applications by essentially sending a connection.
Then again, local applications are better incorporated with the working framework and along these lines offer a more consistent encounter for the clients. You can introduce a local application so it works disconnected, and clients love tapping their symbols to handily get to their most loved applications, instead of exploring to it utilizing a program.
PWAs enable us to make web applications that can appreciate these equivalent favorable circumstances.
It is anything but a shiny new idea—such thoughts have been returned to commonly on the web stage with different methodologies before. Reformist Enhancement and responsive plan as of now permit us to fabricate versatile neighborly sites.
What will you learn in this course?
In this course you'll begin dealing with your absolute first Progressive Web App (PWA) - a web application that can exploit a considerable lot of the highlights local applications have appreciated. You'll likewise get more involvement with making a web application that works disconnected utilizing Service Workers. At last, you'll make your application installable to the client's home screen with the Web App Manifest file.
Content
Introduction
Introduction
Create pages
Create input modal and edit modal
Add the floating action button
Create icons for the progressive web app
Create manifest file
Open the web on Android Simulator
iOS Simulator icon problems
What is service worker
Service worker lifecycle introduction
Service worker registration
Service worker installation
Service worker activation
Using lighthouse to audit the progressive web app
Service worker listen fetch event
Open the localhost of the mobile phone
Cache the core asset of the app
Return the cached assets to the app
Dynamic Cache
Add a fallback page
Limit the number of cache
Create Firebase project
Add document in cloud firestore
Get realtime update with cloud firestore
Create the template for the contacts
Updating the UI
Configure Firestore offline persistence
Delete document in cloud firestore
Edit document in cloud firestore
Toggle favorite
Render favorite pages
Reviews
The material is not a course. The "instructor" doesn't teach anything, only shows superficially how to do some "things".
the learning is too fast and unclear, the teacher doesn't seem want to teach. By the way, the teory and use cases are good. Thanks anyway
Concepts where treated as if they were already known by the students. Also, the pronunciation of the teacher in terms of the language was awful. It was very difficult to understand
It looks like he is doing those things for himself! I don't understand what he is doing and he is not willing to say them!
I Think this course is very useful to learn to create a web application . But I couldn't get the course completion Certificate
Buen curso excelente explicacion y comprension total del tema a pesar de que soy hispanohablante manejo bien el ingles y es comprensible
Content is good for an introduction to PWA, material could be presented better than just copying and pasting sample code from sample documentation
Literally awesome..! Every single video is to the topic.. No fillers, no theory, I'm rating this course 10 out of 10.
My review for this course is: 1. I think you should explain more about the course topic and the reason behind it. In this course you tell us to use materialize css but you didn't explain the reason behind it. 2. I think the course should add more readable content. 3. I think you should introduce yourself in the course introduction. Im sorry that I'm reviewed this course without finishing it because i can't keep my focus on your course. I learn a lot from reading and i think maybe the video-only course is not so good for me. Thank you and keep improve your content Mr. Kim!
Priyadarshini
December 20, 2020
I can't understand what he's saying! Ridiculous! Also, the instructor simply jumps into things, with no great explanation... Just horrible.
It's directed to the core. Very good in Technical. Practice with Implementation of building an app. Love it.
The context is missing - a description of the architecture, what tool set to use, setup etc. Most of the lectures are copy this here copy that there...
NOUMBISSI
October 23, 2020
LE contenu du cours est tres explicite. l'instructeur rentre dans les moindres details concernant les pwa . J'aime tout simplement
Coupons
| Submit by | Date | Coupon Code | Discount | Emitted/Used | Status |
| --- | --- | --- | --- | --- | --- |
| - | 9/27/2020 | 1538D5BA1CBCA4619AA3 | 100% OFF | 40000/12943 | expired |
| - | 10/10/2020 | FD3B3D6E8143A1C30157 | 100% OFF | 40000/5571 | expired |
| Angelcrc Seven | 10/23/2020 | B53F06FBA97EFB264161 | 100% OFF | 40000/2001 | expired |
| - | 11/8/2020 | 6CAFC39C5D5F0508385C | 100% OFF | 40000/6899 | expired |
| - | 11/23/2020 | D92E24E89C155D11A7D3 | 100% OFF | 40000/9387 | expired |
| Dibakor Roy | 11/23/2020 | A12F9292D56E8134B984 | 94% OFF | | expired |
| - | 12/4/2020 | 472E3321D1E1C4D50193 | 100% OFF | 40000/7340 | expired |
| - | 1/7/2021 | CDF9DD8B1745E432747D | 100% OFF | 40000/9653 | expired |
| - | 1/20/2021 | D748DB3F3533FCE69476 | 100% OFF | 40000/2118 | expired |
| - | 2/11/2021 | 0BB4607C5C012C878168 | 100% OFF | 40000/3970 | expired |
| - | 2/18/2021 | C0FE65C7CDD2EA1184C8 | 94% OFF | | expired |
| - | 3/3/2021 | 786D31535E2268027239 | 100% OFF | 40000/5327 | expired |
| - | 3/18/2021 | 8F9CC04150F481739C61 | 94% OFF | | expired |
| - | 3/18/2021 | 5450E5D63A8AE8304A57 | 100% OFF | 40000/3900 | expired |
| - | 4/6/2021 | 12EC312E864D6717CF9A | 100% OFF | 40000/7513 | expired |
| - | 4/13/2021 | 2C27F69B85317C861028 | 100% OFF | 40000/3871 | expired |
| manto | 5/4/2021 | ED009FCDA6EBBF8170FC | 100% OFF | 40000/4352 | expired |
| - | 5/12/2021 | 45EA06165FBDCEE1FDE0 | 100% OFF | 40000/6565 | expired |
| - | 6/2/2021 | FD68EF3DA859515E0BA4 | 100% OFF | 40000/6639 | expired |
| - | 7/2/2021 | 05B380925938B6943A8C | 100% OFF | 40000/4388 | expired |
| - | 7/13/2021 | DF8B09AF98BE7374590F | 100% OFF | 40000/7446 | expired |
| - | 8/10/2021 | 9E70EF505F429EA9CABE | 100% OFF | 40000/6384 | expired |
| Angelcrc Seven | 10/5/2021 | 71EE822E7FBC3A16C988 | 100% OFF | 40000/4039 | expired |
| Angelcrc Seven | 10/15/2021 | 9F757B60ECF3F300AD8A | 100% OFF | 40000/1775 | expired |
| - | 11/3/2021 | 1CA48152683E0E0B1B24 | 100% OFF | 1000/355 | expired |
| - | 11/3/2021 | ILOVEYOUSUBSCRIBERS | 100% OFF | 100/98 | expired |
| Angelcrc Seven | 12/9/2021 | B9BC06BCD21B66DE2951 | 100% OFF | 1000/839 | expired |
9/4/2020
course created date
9/27/2020
course indexed date