Complete Google Slides Course - Create Stunning Slides
Create Google Slides - Your Presentations Can Captivate - Beginner to Advanced - Wow the Audience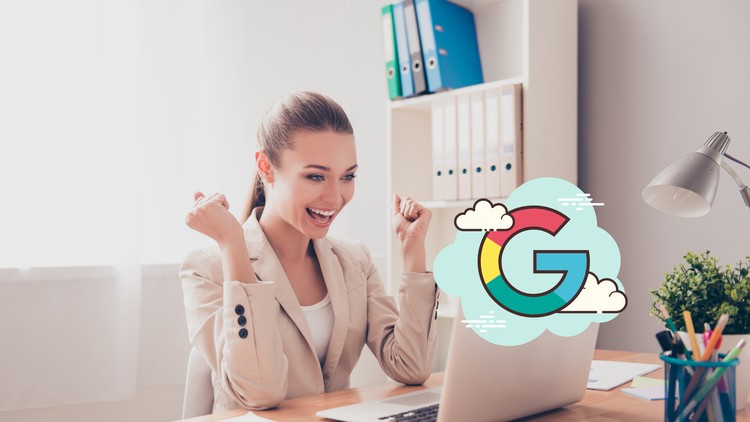 What you will learn
Design compelling and visually-appealing presentations
Customize preset templates, diagrams, and etc
Combining basic skills to create more advanced designs
Quick wins & resources to help better your presentations
Share & collaborate on slideshows from the comfort of your own home
Description
Welcome to The Complete Google Slides Course. This course will teach you to understand how to use and design stunning slideshows using the Google application Google Slides.
Google Slides is a free presentation software that allows you to design visually-appealing presentations for both a professional and casual setting. When compared to Microsoft Powerpoint, Slides offers the benefit of simplicity. With its various templates and themes, it can be as simple as plugging text into the provided text boxes. However, you can take your presentation one step further by adding in customizations. By inserting images, animations, transitions, charts, and diagrams you can amaze your audience!
As a complete Google Slides course, this course will start from the basics; first covering the benefits of why you should use Google Slides and how to set up a presentation from either scratch or from a template. It will then segment into the design functions of Google Slides. The lessons from this section include understanding how to use the text box, how to create charts, how to insert links, and more. The learning portion of the course is then closed off with videos teaching more advanced/ not widely known functions. Here you will learn how to edit a master to further customize your slides, insert attention-grabbing diagrams to display data, and apply image masks to morph photos. In addition, quick wins are scattered across these three sections to provide more tips on how to create stunning, captivating presentations.
Sometimes Google Slides' simple user interface misleads users to not take full advantage of the offered tools. Therefore there is a section that quickly walks through creating a few common slides to showcase how combining these simple and basic functions can lead you to stunning slideshows. Since presentations should be catered to their subject, these examples would not fit for every presentation topic. However, once you understand and become familiar with the tools on Google Slides, you will be able to follow your creativity and bring your slide visions to life.
Google Slides is a powerful application that allows you to design beautiful presentations for all occasions. This course will also show you how to strengthen your collaboration and communication skills so you can co-work on slideshows from the comforts of your own home. Some of the many things that you can make on Google Slides include:
Consulting proposals, case studies, stock pitches

Digital scrapbooks, portfolios, lookbooks

Lectures, projects, and etc.
Enroll to learn how to use Google Slides to create stunning presentations!
Content
You Can Make And Deliver Great Google Slides
Complete Google Slides Course - Create Stunning Slides Promo Video
Google Slides Introduction & Basics
Why Google Slides?
Presentation Setup
Reminder! Your Google Slides Questions Are Answered Right Here
Themes & Backgrounds
Quick Win: Template Resources
Quick Win: Color Palette
Quick Win: Background Resources
Layouts
Organizing Slides
Google Slides Design
Text Box & Aesthetics
Quick Win: Special Characters
Quick Win: Word Art
Quick Win: Keyboard Shortcuts
Images & Videos
Quick Win: Gifs
Tables
Charts
Shapes & Lines
Quick Win: Using Shapes for Numerical Data
Distribution
Ordering/ Layering
Links
Animations
Transitions
More Advanced Google Slides Features
Master View
Diagrams
Image Masking
Quick Win: Image Masking Title Slides
Bringing It Together
Walk-Through: "The Team" Slide
Walk-Through: "About Us/ Main Idea" Slide
Walk-Through: "Timeline" Slide
Walk-Through: "Challenges" Slide
Walk-Through: "Results/ Reviews" Slide
Presenting & Sharing
Present Slideshow
Speaker Notes
Comments
Share
Conclusion to Complete Google Slides Course - Create Stunning Slides
We Are Close to the Finish Line!
Test Your Slides By Asking For Feedback
Congratulations! You Now Have Mastery Over Google Slides
Reviews
I was hoping for more advanced tips for "stunning slides" not the basics. There was much more on giving a presentation than there was creating slides - and most of that information was redundant throughout the course. He also talked about using certain slides and visuals without showing any actual examples of the visuals. It could have been much more concise, in my opinion.
Its a little slower then what i would personally want but slower is also better because i can take in all of the information. so far its been great.
This course is a intro-mid level course on presentation creation, but doesn't go over many design aspects. to be truly great you need to fine something else
Great presentation, very beneficial in SIMPLIFYING the best way to give a presentation. I love the handful of slides, images and stories concept.
It's great if you're a beginner and would like to learn (sometimes outdated) Slides concepts such as creating a new presentation from scratch, but there is nothing in here for advanced recommendations to "create stunning slides" as the course title states. Additionally, the last half of the course is all about "Presenting & Sharing"...PowerPoint. Not even Google Slides. PowerPoint. The thing I didn't come here to learn about. Waste of time and money.
A very good introduction to both Google Slides and presentation techniques. The course was comprehensive enough to provide a good foundation to build on. Well done.
The instructor's expertise in this particular field is top-notch. Halfway through this course, This course has already met my expectation. Highly recommended, if anyone wants to become a pro in google slides
There is a lot of theory. The course does not cover positions and alignment features which are most important
This is pretty good, got the technical aspects of Google Slides. How to give a good presentation opens up another aspect of how to put the ideas across audiance and be effective
I was looking for something with a lot of focus on improving Slides design skills to create contemporary slides. This course description was misleading as it focuses on design for only the first quarter and the rest is on presentation skills. What was in the first quarter was useful and helpful. There is a lot more that could be taught on the design side and I'd love to see more of that.
Great content, not only focused on the layout, but I think the most important, what you are intending to insert in your presentation
I have been using google slides for the past year. I did not know about Slidesgo or Slidescarnival. This is a gamechanger.
I knew a LITTLE bit about Google Slides. I have worked in PowerPoint for decades and I was resistant to switching to GS. At the requirement of my employer, I began to upload PPT-designed slides into Google Slides and always had formatting issues. I new tried to CREATE a GS presentation from scratch. Thanks to this course, I am now confident that I can!
The current lengthy dialogue is preaching to the converted. Too many gestures and seriosly, get to the point. R
Yes, it is good but as it is very new to me I am trying to take in a lot of information. I will probably go over it a couple of times to reinforce the new knowledge and then practice.
Coupons
| Submit by | Date | Coupon Code | Discount | Emitted/Used | Status |
| --- | --- | --- | --- | --- | --- |
| Lee Jia Cheng | 8/11/2020 | 333A6EBE9015B4E2B48B | 100% OFF | 40000/9901 | expired |
| - | 8/19/2020 | 356CED7816D33E786501 | 100% OFF | 40000/4613 | expired |
| - | 8/31/2020 | 9E0C46F82F3BA911F1AF | 100% OFF | 40000/2367 | expired |
| Lee Jia Cheng | 9/7/2020 | D41EA1578FC4A8C03A86 | 100% OFF | 40000/1390 | expired |
| - | 10/22/2020 | 73395D28062F911A67DC | 100% OFF | 40000/3170 | expired |
| - | 11/9/2020 | 10860E9BE71BF24C804A | 100% OFF | 40000/2729 | expired |
| - | 12/10/2020 | A35A49AFE449AC66239C | 100% OFF | 40000/5539 | expired |
| - | 1/25/2021 | 20B93B52F275990E9CA8 | 100% OFF | 40000/3601 | expired |
| - | 2/5/2021 | 2782F76325378753B58B | 100% OFF | 40000/2757 | expired |
| - | 6/17/2021 | B15238B5BD99E17B8E4B | 100% OFF | 40000/5939 | expired |
| - | 9/19/2021 | 8C5C7B534AEC4989C6E8 | 100% OFF | 40000/1756 | expired |
| Angelcrc Seven | 1/26/2022 | ADDA5871111036F29722 | 100% OFF | 1000/820 | expired |
| Angelcrc Seven | 3/26/2022 | C78FC3477BEDEB873F84 | 100% OFF | 1000/794 | expired |
| Angelcrc Seven | 4/19/2022 | 7292A366BED9FDD5DA55 | 100% OFF | 1000/928 | expired |
| - | 5/11/2022 | E5635151AFD2313924C1 | 100% OFF | 1000/694 | expired |
| - | 8/25/2022 | 474842B8DE19D715DF90 | 100% OFF | 1000/937 | expired |
| - | 9/10/2022 | 4A0CDC3024B496C2EDC1 | 100% OFF | 1000/802 | expired |
| - | 9/30/2022 | 801AF09E5481C74E861E | 100% OFF | 1000/778 | expired |
| - | 10/21/2022 | 082E224C023870A29E7F | 100% OFF | 1000/937 | expired |
| - | 11/7/2022 | DF9E6BDF4DE87D469637 | 100% OFF | 1000/961 | expired |
| - | 11/11/2022 | 2FF58979A4A242599FC7 | 100% OFF | 1000/864 | expired |
| - | 11/14/2022 | F16621C6391424B9AF85 | 100% OFF | 1000/990 | expired |
| - | 12/4/2022 | 8B19A3B519E579CD1AA7 | 100% OFF | 1000/883 | expired |
| - | 12/20/2022 | EFABFA5E6A3ACE1E1D6A | 100% OFF | 1000/956 | expired |
| - | 1/3/2023 | 7B445AEA2A55255B54B7 | 100% OFF | 1000/988 | expired |
| - | 1/13/2023 | 70B1F5EA7A1F28EB78B3 | 100% OFF | 1000/995 | expired |
| - | 2/8/2023 | D82511F62F5AC2F7813C | 100% OFF | 1000/975 | expired |
| - | 3/18/2023 | BA699483E7DE9B785DB6 | 100% OFF | 1000/894 | expired |
| - | 3/31/2023 | 8B892895DC9E3A69FF9E | 100% OFF | 1000/650 | expired |
| - | 5/31/2023 | 67714ADA545BDD0C38DD | 100% OFF | 1000/952 | expired |
| - | 6/9/2023 | 19EE126B18F5470993D4 | 100% OFF | 1000/318 | expired |
| - | 6/25/2023 | 13FDA9ACCFCA9909DBED | 100% OFF | 1000/960 | expired |
| - | 7/11/2023 | 267F04C8E4FAB8B40725 | 100% OFF | 1000/267 | expired |
| - | 7/29/2023 | 90AF8C2F64130F1532D6 | 100% OFF | 1000/997 | expired |
| - | 8/6/2023 | 9B128CB7CAB0291D3B7E | 100% OFF | 1000/688 | expired |
| - | 9/4/2023 | DFCFD902534A9F2E3EFB | 100% OFF | 1000/993 | expired |
| - | 10/13/2023 | 5B5158C85B2EBF772E22 | 100% OFF | 1000/999 | expired |
| - | 11/15/2023 | 1B825BAC41E3AB290987 | 100% OFF | 1000/472 | expired |
Charts
Price
Rating
Enrollment distribution
7/20/2020
course created date
8/7/2020
course indexed date