Complete Good Sleep Habits Course - Sleep Better Tonight!
Build Healthy Sleep Habits - Eliminate Insomnia - Learn Strong Habits to Sleep Better - Become Well Rested Again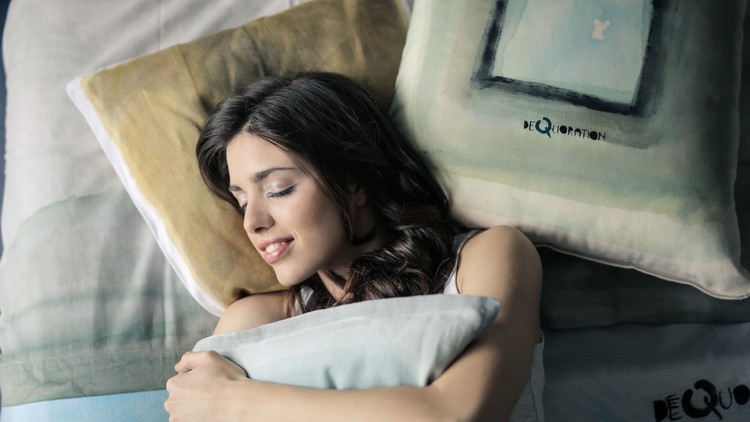 What you will learn
Strong Sleep Habits
Sleep Hacks
Beat Insomnia
Healthier Living
Gain More Rest
Description
Complete Good Sleep Habits Course - Sleep Better Tonight!
Build Healthy Sleep Habits - Eliminate Insomnia - Learn Strong Habits to Sleep Better - Become Well Rested Again
You can increase your odds of getting a good night's sleep. Most people who are poor sleepers have poor sleep habits. Personal development and habit expert TJ Walker will teach you how to build strong sleep habits effortlessly.
In this course, TJ Walker will cover every important habit you need to develop in order to have a solid and restful night's sleep. He covers the following:

Nighttime routines and rituals

Creating a bedroom designed for sleep

Tools and technology for sleep

Diet do's and don't's

Morning routines.

Daytime routines
Most important, TJ Walker teaches you his unique and proprietary SelfieSpeak Programming (SSP) method for turning best sleep practices into your own daily habits.
You've likely heard other experts tell you that you should not look at your cell phone or your texts or email right before you go to bed. Walker goes beyond the standard advice and digs deep in order to create new and permanent habits in you that will set you up for a lifetime of restful sleep.
If you are ready to start sleeping more soundly this week or even tonight, then enroll in this course now. You have nothing to lose but the bags under your eyes.
Here is what Udemy students say about this course:
"I really enjoyed this course. It's very detailed and specific and it has really helped me to develop a Good daily Habits" Fortune Mayokun Onileowo
"So many jewels of healthy living wisdom with realistic tools to enhance success! Thank you!" Sarah Santorsiero
Content
You Deserve a Good Night's Sleep
Complete Good Sleep Habits Course - Sleep Better Tonight! Promo Video
Quick Win! 2 Step Process To Increase Sleep
Watch This Before You Try Pills or Other Quick Fixes
How This Course Is Different from Any Other Sleep and Insomnia Course
Build a Positive Sleep Philosophy
Please Consult Your Doctor If You Have Any Serious Medical Conditions
Nighttime Routines To Set You Up for Sleep Success
Establish A Winning Nighttime Routine
You Don't Want to Hear This, But You've Got To Turn Your Screen Off
The Perfect Way to Fill The Last Hour of the Night
Dim Lighting will Make You look Good and Sleep Better
Pick a Bedtime and Stick to It!
Figure Out What Relaxes You
A Cool Room Is Cool
Get Your Water Ready
Drink As Little As Possible Before Bed
Tools for Improving Sleep
Tools To Help You Sleep Better
Pick The Best Bed for You
If You Must Use an Alarm...
Don't Let Your Lips Go Dry
Sleep Masks Might Look Fussy, But they Get the Job Done
Blackout Shades Will Help You Avoid Waking At the Crack of Dawn
Earplugs Might Seem Extreme, But They Can Really Help
A White Noise Machine Can Sound Better Than Music to Your Ears
The First Tool You Should Try If You Snore
Don't Let Dry Mouth In the Winter Keep You Up
A Therapy Light Can Help Regulate Your Sleep Times
Be Wary of Wearables and Apps
Morning Routines That Lead to Nighttime Sleep
Your Morning Will Affect Your Sleep
Early Morning Sunlight Is Great!
Meditation Can Calm the Brain and Facilitate Sleep
Journaling Can Relieve Stress On Your Brain
Exercise in the Morning
Fuel Your Body To Run Efficiently
The Morning Coffee?
Healthy Diet Tips for Healthy Sleep
Your Diet Will Have a Good or Bad Impact on Your Sleep
Alcohol Can Be Tricky When It Comes to Sleep
The Rest of Your Day
Move More!
Spend Time in Nature
Schedule Digital Detox Periods Throughout Your Day
A Hot Soak Late In the Day Can Relax You
Avoiding The Biggest Blunders of All
Avoid this Trap If You Ever Want to Sleep
Naps Can Be Tricky
Travel Tips
Good Sleep Habits Are Even More Important When You Travel
Turning Sleep Best-Practices Into Your Own Daily Habits Using SSP
Now Comes the Most Important Part
Why It Is So Hard To Get Sleep in the 2020s
Turn Conscious Facts Into Unconscious Habits
Marketing Good Sleep Habits To Your Brain
Here Is An Example of a Sleep SelfieSpeak Program
Create Your Own SelfieText Program and Checklist
A Note about SelfieSpeak Programming
Conclusion - You Are ready for a Lifetime of Good sleep
Getting Close the The End - Get Ready!
Give Feedback On How to Improve this Sleep Course Now
Congratulations! You are Ready for Good Sleep
Reviews
I really liked this course because it discussed a variety of topics related to overall health and well-being. If I could improve one part of this course, it would be to add in how to motivate yourself when struggling to get going.
Christopher
December 14, 2022
I like that the teacher is talking about sleep in terms of habits and having a positive philosophy of sleep. I do not think that I currently have a good sleep philosophy which has led me to have bad habits regarding sleep. I hope that this course can improve my outlook and sleep health
Alejandro
October 15, 2022
Hopefully I will get better with my sleeping schedule, I want to be more productive have a greater attitude towards life in general!
I'm happy I found this course. It makes excellent points, while offering advices that are practical and doable. Thanks so much.
Considero que el curso, hasta ahora, tiene puntos muy interesantes y están presentados de manera fluida y dinámica.
Yes, until now I can find a course which it states to help human beings in construct a better daily habits.
I found your content comprehensive as a whole, yet sufficiently brief. Liked your style of delivery which is engaging and captivating. Hope to be able to implement it going forward.
Yes, definitely the facts shown in the course is eye opening and the fast changing world needs this course. Thanks for the video!
It seems keep on seeing the same content so far. You may edit and shorten the stuff will make more interesting. I know you want to go in detail. But it can be crispy! just a thought. Good work!
Sleeping section is awesome and using TJ's advice I sleep like a baby! For this part, I would give 6 stars out of 5. However, more than 50% of this course gives advice on areas of life that I am not interested in simply because I have them long figured out. I understand that TJ wants to provide it as a free bonus which I appreciate. Perhaps the same additional content should be offered as a separate free course or some other benefit. In the present format, I must watch hours of videos not related to sleep just to make sure that I am not missing some important point later.
I really enjoyed this course. It's very detailed and specific and it has really helped me to develop a Good daily Habits.
Am Anfang viel Gelaber, aber keine Inhalte. Später eine gute Übersicht über Gewohnheiten allgemein und einen gesunden Lebensstil.
Great content. Usually self help stuff can be airy fairy and just tells you feel-good content. TJ cuts through the BS and gets to the truth very quickly. He's even smart enough to call out some of the BS from other ''self-help Gurus'' As a wise TJ once said "You need to be your own Guru" Thoroughly enjoyed the course and I'm only half way through! Worth every penny spent!
Great course with a lot more than I expected. Just one thing though, I really don't get where the racist and sexist comments in video 89 come from. I mean, the problem with the mentioned CEOs isn't that they are "rich white guys", the problem is that they have a strong (not to say vital) monetary interest in having people addicted to (or in the bad habit of using) their (more or less toxic/harmful/time-wasting) products.
Excellent course and content! Once suggestion would be to include how to efficiently sleep for those who does day/night shifts work.
Coupons
| Submit by | Date | Coupon Code | Discount | Emitted/Used | Status |
| --- | --- | --- | --- | --- | --- |
| Lee Jia Cheng | 5/28/2020 | 9B3296E1BD1D33241A51 | 100% OFF | 40000/8236 | expired |
| Lee Jia Cheng | 6/14/2020 | E229AE29D6CBAF3AA417 | 100% OFF | 40000/2492 | expired |
| - | 7/11/2020 | F972EEDCC0234F2943A3 | 100% OFF | 40000/2328 | expired |
| Lee Jia Cheng | 8/4/2020 | BE4FE1B235CC4CF49384 | 100% OFF | 40000/2815 | expired |
| Lee Jia Cheng | 8/25/2020 | B4EFA524268BCCF533D7 | 100% OFF | 40000/1956 | expired |
| - | 9/18/2020 | EB242C6FF1CF12D3A6F5 | 100% OFF | 40000/2507 | expired |
| - | 10/19/2020 | 406A995139A9C84E8BB9 | 100% OFF | 40000/2236 | expired |
| - | 11/12/2020 | 9DB96F041CC3BBEE24F7 | 100% OFF | 40000/2460 | expired |
| - | 12/29/2020 | 7CE591F1BE9E1B711B75 | 100% OFF | 40000/2099 | expired |
| - | 1/19/2021 | D33B1F9FE5F01D197511 | 100% OFF | 40000/1943 | expired |
| - | 2/22/2021 | EC9863941F96DC4298CD | 100% OFF | 40000/2318 | expired |
| - | 8/22/2021 | 1E4C74FB1C8789F25CB9 | 100% OFF | 40000/3161 | expired |
| - | 10/30/2021 | 62331AD4E0E5745186A3 | 100% OFF | 1000/810 | expired |
| - | 4/19/2022 | 5FD67847C9AAA10B3B55 | 100% OFF | 1000/942 | expired |
| - | 5/20/2022 | 6ABDB77DB18C97A728E6 | 100% OFF | 1000/994 | expired |
| - | 7/19/2022 | B3BC6FC594290F92F6D9 | 100% OFF | 1000/937 | expired |
| - | 8/9/2022 | BC461D6534E1B8DA2475 | 100% OFF | 1000/995 | expired |
| - | 11/1/2022 | 60FE7DC10AFD114F1DF2 | 100% OFF | 1000/676 | expired |
| - | 11/11/2022 | BD46A0789ABBA7F0B953 | 100% OFF | 1000/974 | expired |
| - | 12/20/2022 | C59DE42784AB448F2E55 | 100% OFF | 1000/999 | expired |
| - | 12/27/2022 | C129B6697094E74232B3 | 100% OFF | 1000/576 | expired |
| - | 1/4/2023 | C27984E36793780A00D4 | 100% OFF | 1000/744 | expired |
| - | 1/30/2023 | E2858F89686AEAC32161 | 100% OFF | 1000/501 | working |
Charts
Price
Rating
Enrollment distribution
5/5/2020
course created date
5/22/2020
course indexed date