Complete Goal Achievement Course - Personal Success Goals
Goal Achievement In Your Life Now! Learn the Personal Success Formula to Increase Goal Setting and Personal Productivity
Personal Transformation
category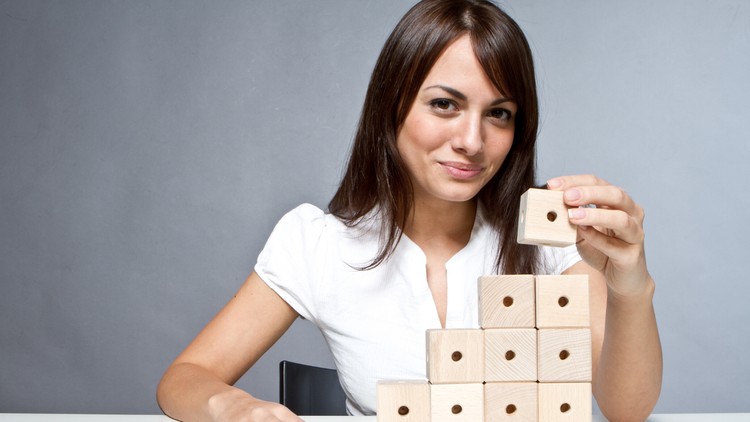 What you will learn
Goal Achievement
Goal Setting
Personal Productivity
Time Management
Personal Success
Smart Goals
Description
Complete Goal Achievement Course - Personal Success Goals
Goal Achievement In Your Life Now! Learn the Personal Success Formula to Increase Goal Setting and Personal Productivity
You can achieve your goals in life. By mastering personal development skills in a systematic way, goal achievement can be yours, for all aspects of your life.
You do not have to go through life with empty dreams and unfulfilled hearts. You can turn your dreams into reality. Goal achievement can be programmed into your DNA.
Personal development expert TJ Walker has helped more than 1 million students online achieve their goals in life when it comes to building essential habits and personal development skills. His unique SelfieSpeak Programming method (SSP) will help you turn any large complex goal into a series of simple, daily tasks that can be turned into habits.
You can live life on your own terms. You do not have to envy other peoples' lives and accomplishments. You can achieve your own dreams. Your goals can be achieved!
After taking this course, you will no longer be someone who just makes and breaks New Year's resolutions or has general, vague desires for more wealth or power. You will learn exactly how to achieve your goals.
If you are ready to bring more fulfillment and happiness to your life through systematic goal achievement, then sign up for this course right now!
Here is what Udemy students say about this course:
"Yes, it is very useful. I am looking forward to reaching the last video as it will help me set up my goals and how to break them into small and tiny goals." Nadine Ahmed Helmy Basha
"Very interesting, refreshing and motivational with new thoughts and ideas" Trang Duong
Content
You Can Live a Life Of Goal Achievement!
Complete Goal Achievement Course - Personal Success Goals Promo Video
Quick Win! Break Goals Down Into the Smallest Unit Possible
Another Quick Win Today!
Your Questions on Goal Achievement Answered Right Here
Your Goal Achievement Journey
Don't Forget to Celebrate Every Goal Achievement
Strategic Failure On Your Way to Achieving Your Goals
Don't Be Afraid to Let Your Goals Evolve
Goal Achievement Won't Make You Happy - Being Happy Will Help You Achieve Goals
You Must Have a Strong 'Why' For Wanting to Achieve Your Goals
You Must Be Honest With Yourself If You Want Your Goals to Be In Alignment
Setting Your Goals Properly to Set Yourself Up for Goal Achievement
Goal Setting to Set Yourself Up for Goal Accomplishment
Your Ultimate Goal Is Living a Life of Meaning, Purpose, Fulfillment, Happiness
The Piecemeal Approach Doesn't Work. You Need to Set Goals for Your Entire Life
You Will Become Your Own Best Life Coach
Focus On Just One Goal For Today
Avoid this! The Biggest Mistake You Can Make When It Comes to Goal Setting
The Second Biggest Goal Setting Mistake - Being Too Fuzzy
Conclusion to Complete Goal Achievement Course
We Are Almost Done - Not too Late For Your Final Concerns
Last Chance to Help The Goals of This Course Become Realized
Congratulations! You are Now Prepared for a Lifetime of Goal Achievement!
Reviews
TJ is a great presenter and there's no fluff in this course - all content is presented in a pretty concise fashion, so I didn't feel like my time is being wasted (unlike in case with some other content creators). As for the tips here, they are good, although most of it I already heard somewhere else, - other than the main highlight of the program, the selfiespeak technique, which does sound interesting, and I'm going to try it. Thanks for the course!
This is really a great course. Took other goals setting courses, but this course is totally different from others. Really eye-opening course. I watched this course twice because I really enjoyed it. Thanks TJ for sharing such a great and valuable knowledge.
A very motivating course to implement new daily habits in order to find more fulfillment in life! Although there's a lot of repetition I like to listen to TJ as he's so convincing, passionate and authentic. I appreciate that he frankly shares a couple of his own goals with us. Recording my own directives and listening to them regulary will definitely improve my articulateness. So I digged my old digital voice recorder out but using my cell phone is even more comfortable. I am giving it a try and up to now it's great fun!
there is nothing helpful it's only waste my time and i hate the teaching skill not understand easily is just big time waste course try to not erolled
very good instructor and course for achieving my goal I have thoughts but I don't know how to do today I was found a path to my success thanks …
You will start working towards your goal with full productivity from 3rd lecture only. Thankyou Mr. Walker
Christinas
February 18, 2021
Even though I already knew a lot about how to set goals and how not to, I think this course is great to get me back on track. TJ is very engaging and explains the concepts very well, so that I really enjoy the course. I didn't give a full 5-star review because a lot of the concepts are really basic and I have heard them not one but several times from different sources in the past.
I loved the overall presentation of the course, it's well roundedness and the concept of selfie speak.
Is a very good summary of such a big topic like goals of your life. Everything is good explained using examples from the real life.
for me it was difficult a bit to follow all what mentioned in the videos because English is not my native language. so I think if there are some hard material for the information for reading will be more helpful
Thank you sir for giving so much clearance about goad setting, how to get on the way to accomplish it.
شكرا للمعلومات التي وضعت في هذه الدورة ... لقد حصلت على معلومات جميلة واساليب لم اكن على علم بها من اجل تحسين قدراتي الشخصية لمساعدة نفسي لانجاز بعض الاهداف ولم اكن اعير اهتماما لاشياء صغيرة لكنها بالاستمرار والتحسين يمكن ان تحدث تغييرات واضحة وذات جدوى في تفاصيل حياتي ومستوى معارفي وقدرتي على احراز تقدم من نوع ما في مجال من مجالات حياتي الشخصية او المهنية الوقت لازال مبكر لاخبرك اني استفدت ام لا ... انا اطلعت علىى المعلومات واشكرك على توفيرها لي ... وسابدا بتطبيقها فترة من الزمن وبعدها اقيس التغيير الذي يطرا على حياتي شكرا لانك وضعتني على الطريق واوقدت لي مصباحا صغيرا يساعدني على الوصول الى هدفي اتمنى لك التوفيق والتقدم المستمر
This is the best course on goal setting and goal achieve and TJ Walker breaks the process softly and easily. Great course and my life will never be same
Great course TJ, I have gained a lot and I do practice the Seven Goal Spheres of life rules myself (maybe just using different names for each sphere lol), thank you for this course and can't wait for the next one.
One of the Best Course for Personal Success Goals,I suggestion others to enroll in this Excellent Course.
Coupons
| Submit by | Date | Coupon Code | Discount | Emitted/Used | Status |
| --- | --- | --- | --- | --- | --- |
| - | 7/16/2020 | 23132EC1BF0A3C67CD13 | 100% OFF | 40000/3598 | expired |
| - | 7/16/2020 | 4CF22F7AB9D59CB88E21 | 100% OFF | 40000/555 | expired |
| Lee Jia Cheng | 7/31/2020 | 512E160047A2D1AA0F04 | 100% OFF | 40000/4793 | expired |
| Lee Jia Cheng | 8/18/2020 | 02E03CADCE4537109BE2 | 100% OFF | 40000/2054 | expired |
| - | 8/31/2020 | 2CA8E9587641094F9118 | 100% OFF | 40000/2300 | expired |
| Lee Jia Cheng | 9/7/2020 | 80B7173E17A96969AF13 | 100% OFF | 40000/4401 | expired |
| Angelcrc Seven | 10/2/2020 | 507FFB3EB2608AFD63AF | 100% OFF | 40000/2090 | expired |
| - | 11/5/2020 | 1334B54755F75E9F0909 | 100% OFF | 40000/2322 | expired |
| - | 12/7/2020 | 7508746E3A0FAFA00C7D | 100% OFF | 40000/2872 | expired |
| - | 1/4/2021 | 7A27A5BBC3BC148E60F1 | 100% OFF | 40000/3031 | expired |
| - | 2/15/2021 | D335DC8F5629D70BE687 | 100% OFF | 40000/3310 | expired |
| - | 3/11/2021 | 0BD8F1FC0A9C0F77B3F0 | 95% OFF | | expired |
| - | 5/28/2021 | AA8C8C0AE29F50F9219F | 100% OFF | 40000/4106 | expired |
| Angelcrc Seven | 9/6/2021 | 6577B1B2DFC2FCBEE0D9 | 100% OFF | 40000/2345 | expired |
| - | 10/27/2021 | 4484E66C989E8A59522B | 100% OFF | 40000/2230 | expired |
| Ignacio Castro | 2/2/2022 | 40A056269BB87D03C28C | 100% OFF | 1000/928 | expired |
| - | 5/1/2022 | 80B882D3CAEA0B622890 | 100% OFF | 1000/981 | expired |
| - | 6/24/2022 | 08861E480A8475BBF8A2 | 100% OFF | 1000/967 | expired |
| - | 7/8/2022 | 2434056D5D392D614EF5 | 100% OFF | 1000/971 | expired |
| - | 11/1/2022 | 65D0F4AF29A47A72112C | 100% OFF | 1000/849 | expired |
| - | 11/7/2022 | CD3B3C3CD35978182382 | 100% OFF | 1000/730 | expired |
| - | 11/13/2022 | 2281EAAC086329F35071 | 100% OFF | 1000/530 | expired |
| - | 1/24/2023 | 27334580C838DDF38E06 | 100% OFF | 1000/996 | expired |
| - | 1/30/2023 | F691D6F4FE4983547AEB | 100% OFF | 1000/836 | working |
Charts
Price
Rating
Enrollment distribution
6/23/2020
course created date
7/13/2020
course indexed date