Complete Gmail Productivity Course - More Productive Email
Boost Productivity - Master Gmail Tips, Tricks, and Techniques - Learn Email Strategies To Make Your Time More Effective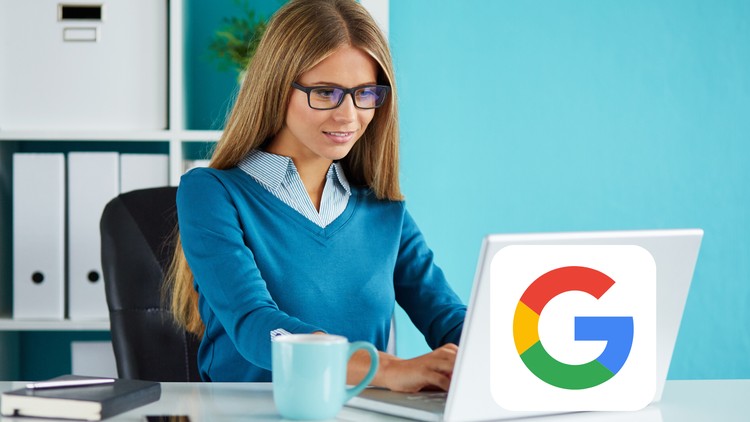 What you will learn
Gmail
Gmail Productivity Strategy
Gmail Protection and Security
Google Account Management
Basics of Gmail
Sending an Email and Managing It
Quick Settings of Gmail
Productive Google Applications
Email Best Practices
Security Is Everything
Complete Gmail Training
Description
Complete Gmail Productivity Course - More Productive Email: Boost Productivity - Master Gmail Tips, Tricks, and Techniques - Learn Email Strategies To Make Your Time More Effective
Secure, smart, and easy-to-use email: Get more done with Gmail. Now integrated with Google Chat, Google Meet, and more, all in one place. Email that's secure, private, and puts you in control. We never use your Gmail content for any ads purposes. Gmail uses industry-leading encryption for all messages you receive and send. We never use your Gmail content to personalize ads. Gmail keeps over a billion people safe every day. Gmail blocks 99.9% of spam, malware, and dangerous links from ever reaching your inbox. The most advanced phishing protection available. When a suspicious email arrives that could be legitimate, Gmail lets you know, keeping you in control. Best-in-class controls over emails you send. Confidential Mode lets you set expirations and require recipients to verify by text. You can also remove options to forward, copy, download, and print. (Gmail)
In this course, we focused on helping you learn everything options in Gmail and let you know practical what they are for and what are they doing. Only learning specific options is not required. So we are happy to help learn strategy to keep you Inbox clean and beautiful.
Get more done with Gmail - Stay connected and get organized - Start a Chat, jump into a video call with Meet, or collaborate in a Doc, all right from Gmail. - Get more done faster - Write emails and messages faster with features like Smart Compose to spend more time doing what you love. - Never forget to reply - Gentle nudges help you stay on top of everything. (Gmail)
Gmail is now part of Google Workspace: Collaborate faster, from any device, anytime, all in one place. Google Workspace is a set of productivity and collaboration tools that helps individuals, teams, and businesses stay on top of everything. It is a flexible, innovative solution that includes all your favorite apps like Gmail, Calendar, Drive, Docs, Meet, and more. (Gmail)
By taking this course, you'll learn how to:
Utilize Gmail and its features to increase productivity

Implement a Gmail productivity strategy

Enhance the security and protection of your Gmail account

Manage your Google account and its various applications

Master the basics of using Gmail

Send and manage emails efficiently

Utilize the quick settings in Gmail to streamline your workflow

Use various Google applications to increase productivity

Adopt best practices for email management

Prioritize security in all aspects of your online activity

Receive comprehensive training on Gmail and its various features

So don't hesitate anymore,
Join us now to make new experiences with the Complete Gmail Productivity Course - More Productive Email today!
Content
Complete Gmail Productivity Course - More Productive Email
Complete Gmail Productivity Course - More Productive Email Promo
2. You Can Ask Me Anytime
3. You Can Join Your Facebook Group.MP4
Quick Win - how To Compose and Schedule an Email
Quick Win - Manage Signature in Gmail
Quick Win - Grammar and Spell Check in Gmail
Basics of Gmail
What Is Gmail and Why Use It
Creating a Google Account if You Already Don't Own
Gmail Interface to Know About
Setting up The Profile Picture for Your Gmail
Sending an Email and Managing It
Composing an Email in Gmail and How Can We Receive
Core Options - Archive, Delete, Mark as Unread and Snooze of An Email in Gmail
The Rest of Main Tool Bar and Core Options in Gmail
Inbox Settings to Make Better Productive
Quick Settings of Gmail
Theme and Density in Gmail
Reading Range in Gmail
What's a Conversation View in Gmail
More Options in Gmail Email
Gmail Productivity Strategy
The Best Strategy to Keep Your Email Neat and Clean
Advanced Search Can Help You a Lot in Productivity
Create Filter to Be Even More Productive
Another Best Strategy to Keep Your Inbox Free
Other Productive Google Applications
We Have to Talk About Them
Google Meet
Google Hangouts and Chat
Google Calendar
Google Keep
Google Tasks
Google Drive
Google Settings Complete Guide
Overview of The Gmail Settings
Create a Signature for Your Gmail
Create Autoreply for Your Gmail
Notification Management in Google
Mail and Account Management in Gmail
Forwarding an Email to Someone Else in Gmail
Add-Ons in Gmail
Templates in Gmail
Gmail Google Account Settings
Email Best Practices
Email Isn't Going Away
Never Look At An Email More Than Once
Don't Let Email Consume Your Day
Once a Day, Your Email Box Needs to Be Empty
Limit How Often You Check Your Email
Shorter Is Better
Use Your Subject Line to Maximum Advantage
Create Categories and Folders for Your Email
Make Your Email Address Top Secret Or At Least Semi-Secret
Don't Respond to Email Unless Absolutely Necessary
Productive People Still Use Old, Boring Email Newsletters Because They Work
What You Need to Know About Texting to Enhance Productivity
Security Is Everything
Quick Win - Create Unknown password
Security Is Everything
Quick Win - Insecurity Is Coming from You and Others
Understand Security Type or Category
Life Savers - You Should Know These
Have Proper Password - Start Securing You Now
Don't Use the Same Password Anymore
Should You Use Longer Password or Complicated!
The Best and Only Solution to Make and Keep Password Un-Crack-Able
Last-Pass Authy Mobile App
Lastpass Setup and Configure
Last-Pass Options Part 1
Last-Pass Options Part 2
Last-Pass Option Part 3
2FA Makes You Even Stronger in Password
Security Is Everything, Keep Secured Your Devices
Security on Your Data and Privacy
Conclusion
Congratulations
Reviews
This lecture is best suited for those who encounter G-mail firsthand. It is entirely understandable and detailed and explained well in a step-by-step process.
The instructor the young dude that is is raw and rough - very inconsistent in his speech and cursor movements - you keep hearing Oops all the time - shambolic. Also could have used a populated inbox for a better example for this course. I mean the only thing I learned is labels and add-ons. Everything else was a little below average. The dude also needs to learn how to write well - example in composing a template was a mess.
I knew almost 95% of the content and felt like wasted my 3.5 hours time on this course where only 10 to 15 minutes is worth. It might be helpful to those who are new to Gmail and not to regular users.
Coupons
| Submit by | Date | Coupon Code | Discount | Emitted/Used | Status |
| --- | --- | --- | --- | --- | --- |
| - | 10/15/2021 | 59A4FC9275E79CFDAE52 | 100% OFF | 40000/2756 | expired |
| - | 10/20/2021 | 403103D61B5FE4C5CFAA | 100% OFF | 40000/1807 | expired |
| - | 11/6/2021 | BD5291413C872EBAEF2C | 100% OFF | 1000/94 | expired |
| Angelcrc Seven | 12/4/2021 | 6C2CDF75D1203C90A81B | 100% OFF | 1000/987 | expired |
| Angelcrc Seven | 1/22/2022 | 2658020C149EC3EE149F | 100% OFF | 1000/791 | expired |
| Angelcrc Seven | 3/26/2022 | FD71A25DDD88AA1FEDC3 | 100% OFF | 1000/982 | expired |
| - | 4/19/2022 | 319E635C263CB6BCD747 | 100% OFF | 1000/998 | expired |
| - | 5/20/2022 | 2382161EB0D4DE7D0259 | 100% OFF | 1000/989 | expired |
| - | 9/10/2022 | A5EC5C1BB035660F9850 | 100% OFF | 1000/932 | expired |
| - | 11/4/2022 | 34F6A1B0273162E2496F | 100% OFF | 1000/970 | expired |
| - | 11/11/2022 | DD647634754CF70B5AB0 | 100% OFF | 1000/653 | expired |
| - | 11/14/2022 | AC814A6789337BDE4695 | 100% OFF | 1000/971 | expired |
| - | 12/4/2022 | 14EFBEF743D26DDD3D41 | 100% OFF | 1000/976 | expired |
| - | 12/20/2022 | 0ADCFDC7157CF9FD27F8 | 100% OFF | 1000/996 | expired |
| - | 1/3/2023 | C30E3050DFEC51316CFD | 100% OFF | 1000/914 | expired |
| - | 1/13/2023 | 54BF4D6E198F2BAC702F | 100% OFF | 1000/761 | expired |
| - | 2/19/2023 | F75FA098786E124A32AF | 100% OFF | 1000/995 | expired |
| - | 3/2/2023 | 261C5B743A20A4568057 | 100% OFF | 1000/983 | expired |
| - | 3/30/2023 | F169111F141CB81DC053 | 100% OFF | 1000/979 | expired |
| - | 4/26/2023 | B6C7A32F7E85A70FE6D4 | 100% OFF | 1000/670 | expired |
| - | 4/28/2023 | 304DA660A757840E32C4 | 100% OFF | 1000/965 | expired |
| - | 5/5/2023 | CEF7E8F71C682103978E | 100% OFF | 1000/748 | expired |
| - | 5/17/2023 | F9085B8EB0A73C3C567E | 100% OFF | 1000/705 | expired |
| - | 6/9/2023 | 655E2E02DDC3F32AB020 | 100% OFF | 1000/363 | expired |
| - | 6/24/2023 | 6968896FB2CAF0A428B1 | 100% OFF | 1000/577 | expired |
| - | 7/12/2023 | E3C437821F7FC8569A4E | 100% OFF | 1000/757 | expired |
| - | 8/6/2023 | 20EE58A818A96A9F7C45 | 100% OFF | 1000/545 | expired |
| - | 9/4/2023 | DE6F2CD8ACAA9940C85F | 100% OFF | 1000/894 | expired |
Charts
Price
Rating
Enrollment distribution
7/20/2020
course created date
10/15/2021
course indexed date