CISSP (ISC)² Practice Exam with Explanation 2022-NEW
Cover more than hundred questions for each of CISSP 8 domains of Security. Test your knowledge. Be a CISSP certified.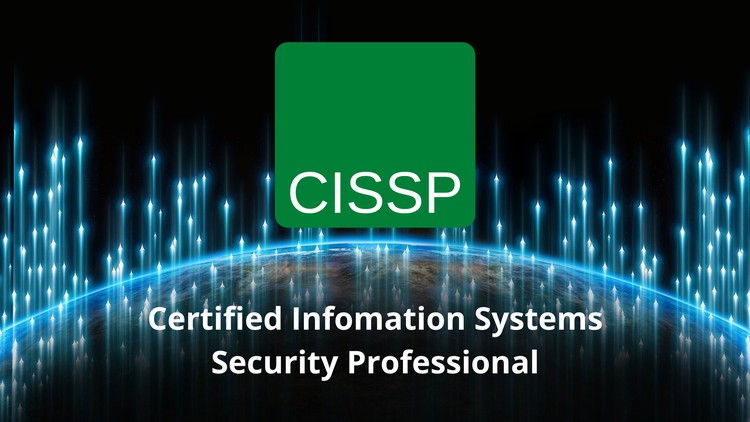 What you will learn
This practice exam helps you pass the CISSP (ISC)² certification exam with confidence.
Understand the Concepts of integrity, confidentiality, and availability
Identification, classification, and ownership of information and assets
Implementing and securing design principles in network architecture
Controlling physical and logical access to the assets
Building internal, external and third-party audit strategies
Understanding Investigations (Techniques, collection, handling, and digital forensic tools)
Understand and implement security throughout the Software Development Life Cycle (SDLC)
Description
Certified Information Systems Security Professional (CISSP) is one of the gold standard and most sought information security certification for proving knowledge in Cybersecurity. This validates the professionals for their information and experience to build and manage security architects for the organization.
Maintained by a non-profit organization, International Information System Security Certification Consortium (ISC)2 develops & maintains the CISSP Domains and conducts examinations for professionals globally.
CISSP Common Body of Knowledge (CBK) is a collection of 8 domains that covers all the comprehensive aspects of information security and CISSP domains explained. An applicant needs to show their expertise in each of the domains to gain the certification.
WHY GET CISSP CERTIFICATION?
A Certified Information Systems Security Professional (CISSP) is essential for security professionals to be successful in their careers. Many employers value the CISSP for its designation as a standard for security professionals. While the investments in time and money are substantial, the career rewards can be valuable as professionals with the CISSP are in demand.
Burning Glass Technologies, a career site, reports that nearly one fourth of cyber security job postings in 2015 requested the CISSP. According to the (ISC), "certified information security professionals earn a worldwide average of 25 percent more than their non-certified counterparts." Being a CISSP professional can lead to higher pay and a more rapid advancement in the security analyst field. Security professional positions such as network security specialists, senior security engineers, information security manager, or chief security officers can all benefit from CISSP certification training.
Here is a list of eight CISSP domains and chapters studied under this certification
Security and Risk Management

Asset Security

Security Architecture and Engineering

Communications and Network Security

Identity and Access Management

Security Assessment and Testing

Security Operations

Software Development Security
HOW TO PREPARE FOR THE CISSP
Security professionals who study for the CISSP should be able to explain issues such as architecture and access control for protecting information system assets. In being able to explain these issues to clients and other stakeholders, the analyst must know how to assess the business or organization's current operations policies for incident response and make recommendations to those concerned for improvements to business or organization security. Knowing how to explain the importance of disaster recovery policies and demonstrate multiple and effective strategies to clients and stakeholders is a key skill tested in the CISSP. As part of the communication process, security analysts must compare and contrast different cryptographic protocols and be able to make recommendations based on this analysis of security needs. Creating systems of policies, standards, procedures, and guidelines with clients and stakeholders in mind should be the end goal of a CISSP analyst who earns certification.
In terms of technical knowledge, CISSP analysts must demonstrate proficiency in a number of areas. Proficiency in network architecture and design, being able to implement network architecture to anticipate threats and best use given sometimes limited resources. This includes demonstrating clear understanding software security applications life cycle effectiveness. CISSP analysts also should have the ability to collect digital forensic evidence while maintaining the integrity of the evidence gathered. They also must demonstrate knowledge of physical security systems and how they add value to network security systems.
Content
Software Development Security
3/3/2022
course created date
3/17/2022
course indexed date