How To Draw Wild Animals Vol 7 - Chimp, Lioness and Lynx
Learn to draw 3 INCREDIBLE Wild Animal Portraits with Colin Bradley. Follow along step by step and get amazing results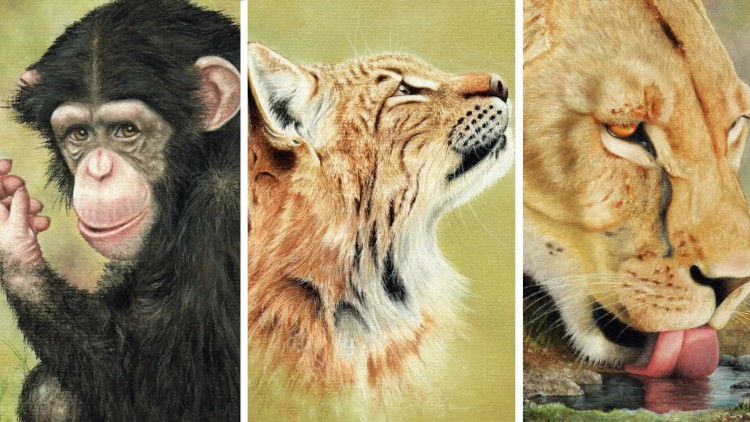 What you will learn
How to colour a Chimp, Lioness and Lynx
The fundamentals with using Pastel Pencils
The light to dark rule when layering Pastel Pencils
How to apply the techniques learnt to colour their own wild animal paintings
Description
Would you love to be able to paint AMAZING Wild Animals?
In this course you will learn techniques to be able to paint a Chimpanzee, Lynx and Lioness. When you're finished, you'll have the skills to be able to paint your own wild animals too.
Pastel Pencils
It all starts with Pastel Pencils.
In my 30+ Years of Experience I have found that Pastel Pencils is the by far the easiest art medium to pick up and learn.
When you have finished this course not only will you walk away with 3 AMAZING Paintings but you will also be able to apply what you have learnt to draw own pictures.
Materials
Pastel Pencils
Pastel Pencils are a wonderful medium, they can be blended easily on top of each other and, because they're in a pencil form, are very easy to use.
These subjects are technically classed at an "Intermediate" level however I always say that no matter your experience, if you want to have a go, then you should.
We use Pastel Pencils from Faber-Castell You can of course use your own brand of pastel pencil too. Here is the full list of colours used within the course:
Faber-Castell PITT Pastel Pencils
101 White

103 Ivory

270 Warm Grey I

273 Warm Grey IV

183 Light Yellow Ochre

182 Brown Ochre

186 Terracotta

188 Sanguine

172 Earth Green

104 Light Yellow Glaze

170 May Green

167 Permanent Green Olive

132 Beige Red

131 Coral

191 Pompeian Red

283 Burnt Sienna

176 Van Dyck Brown

175 Dark Sepia

181 Payne's Grey

157 Dark Indigo

199 Black

230 cold grey I

233 cold grey IV

187 burnt ochre

174 chrome green opaque

177 walnut brown

169 Caput Mortuum

225 Dark Red

168 Earth Green Yellowish
Pastel Paper
In this course I use Sand Coloured Fabriano Ingres Pastel Paper (160gsm). The Fabriano is a forgiving paper in that you can erase mistakes more easily. You can of course use your own paper that you would like, there's no pressure to use the same as me.
Outline Drawing
I provide you with a basic outline drawing for each picture. If you wish to use this, simply trace the outline to your paper using a graphite transfer sheet like tracedown (for dark grey paper you will benefit from using a white tracing sheet so you can see the outline more clearly).
Step by Step Instructions
I walk you through step by step with video instruction how to draw each stage. You'll learn techniques behind drawing beautiful bird pictures and create pictures you can be proud of.
Start Learning Today
With just a small amount of pencils you will see the AMAZING effects you can get.
Let your journey into drawing and painting start here.
Content
Basics
Welcome
Pencils
Paper
Blending
Fixative
Using The Courses
Chimp
Part 1
Part 2
Part 3
Part 4
Part 5
Part 6
Part 7
Lioness
Part 1
Part 2
Part 3
Part 4
Part 5
Part 6
Part 7
3/3/2022
course created date
4/23/2022
course indexed date