ChatGPT & Artificial Intelligence (AI) for Project Managers
Deep Dive to Leverage the Power of ChatGPT, Project Management Knowledge and AI. Great for PMPs & CAPMs!
Project Management
category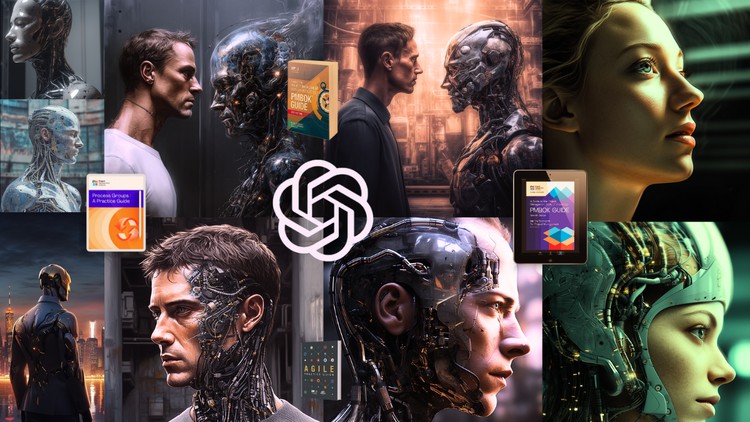 What you will learn
Basic Definitions in AI
What is AI and what is ChatGPT and why is it important?
How to use ChatGPT for basic tasks
Prompt Engineering basics for ChatGPT
Description
Welcome to the ChatGPT & Prompt Engineering Basics for Project Managers course! ?
In recent years, Artificial Intelligence (AI) has rapidly advanced, transforming industries and reshaping the way we live and work. One such area where AI has made significant strides is in natural language processing (NLP), which enables machines to understand and process human language. One remarkable example of NLP is ChatGPT, an AI-based language model that can generate human-like responses to text prompts. This course is designed to help you leverage the power of ChatGPT and AI in your work and personal life. You'll learn how to use ChatGPT to generate content, automate tasks, and improve customer interactions. By the end of this course, you'll have a solid understanding of how AI can enhance your productivity and improve your daily life. So let's dive in and discover the exciting world of ChatGPT and AI!
As a project manager, you understand the importance of effective communication and collaboration within your team. But in today's digital age, the methods of communication have evolved beyond the traditional means of email and phone calls.
In this course, we will explore the basics of Prompt Engineering and how it can be integrated with ChatGPT to improve communication and collaboration within your team. You'll learn how to use natural language prompts to interact with ChatGPT and obtain the information you need to manage your projects more effectively.
By the end of this course, you will have a solid understanding of how ChatGPT and Prompt Engineering can be used to streamline communication and collaboration, and ultimately improve the success of your projects. So, let's dive in! ?
Content
Introduction to ChatGPT
What is Chat GPT?
4 Levels of ChatGPT Definitions (10 Year Old, 15 Year Old, Graduate & PhD.)
Signup for a ChatGPT Account on OpenAI.Com
What Can GPT Do for Project Managers?
ChatGPT and Project Management Knowledge Areas
How Much PMBOK Does GPT Know?: A Word of Caution
ChatGPT: How to Make PMBOK-Based PMO Templates (AI for All Knowledge Areas)
Power-Packed Project Management Prompts for ChatGPT
Project Integration Knowledge Area #1 (Develop Project Charter)
Project Integration Knowledge Area #2 (Project Management Plan Creation in GPT)
Project Scope Management Knowledge Area (Creating a WBS in ChatGPT)
Project Communications & Email - Responding to Angry Customers
How Smart is ChatGPT?
Prompt Engineering
Introduction to Prompt Engineering (RGB Model)
Prompt Engineering Mastery Model
Saving and Searching GPT Data
Saving and Searching Your ChatGPT Data
AI Art & Video from DALL-E, Pictory.AI and MidJourney
What is DALL-E?
DALL.E - OpenAI ART Tool (ChatGPT) - Picasso, Monet, Rembrandt, Warhol
Practical Illustration of DALL-E (OpenAI.com Tool)
Generating Video Scripts With ChatGPT & AI Tool Pictory
Introduction to Midjourney
Setting up a Midjourney Account Part 1
Setting up a Midjourney Account & Using the Tool - Part 2
Manipulating Your Photos in Midjourney (Guest PMP: Brittnee Alston)
Building Games and Websites with ChatGPT
Simple Games and Websites Built With ChatGPT4
GPT Debates - Debating Agile and Project Management with AI
ChatGPT HOT Debate: PMBOK 7 is "Superior" to PMBOK 6
Debating Agile with GPT
BARD AI - Google AI Tool
Introduction to Bard AI in Minutes - Basic Maths and Project Management
Reviews
Having used ChatGPT for several months, I find it one of the easiest and most interesting courses I have ever taken Well done Phill, keep up inspiring us!
Charts
Price
Rating
Enrollment distribution
4/20/2023
course created date
5/25/2023
course indexed date