CCSP - Certified Cloud Security Professional
CLOUD SECURITY
Network & Security
category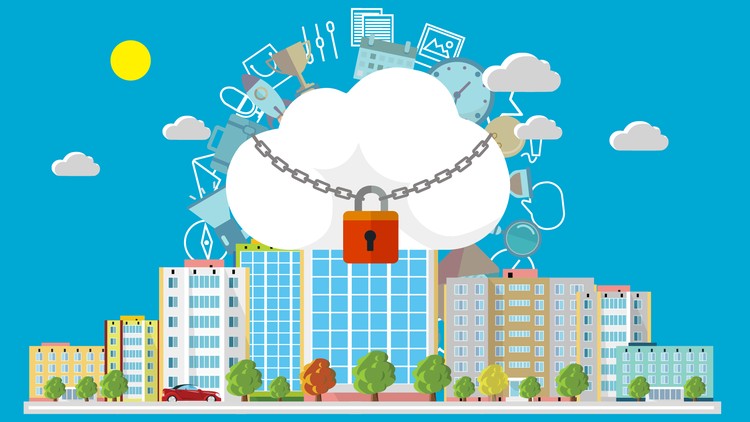 Description
Domain 1•  Architectural Concepts & Design Requirements  19%
Domain 2•    Cloud Data Security   20%
Domain 3•   Cloud Platform & Infrastructure Security  19%
Domain 4•  Cloud Application Security  15%
Domain 5•  Operations   15%
Domain 6•  Legal & Compliance   12%

Who Qualify ?

A minimum of five years cumulative, paid, full-time work experience in information technology
Of which three years must be in information security and one year in one or more of the six domains of the CCSP Common Body of Knowledge (CBK)
Earning CSA's CCSK Certificate can be substituted for one year of experience in one or more of the six domains of the CCSP CBK.
If you don't have Necessary experience ,You can take and pass the CCSP exam to earn an Associate of (ISC)² designation.
Content
Domain 1 (Architectural Concepts & Design Requirements )
Virtualization
Hypervisior & types
Cloud Computing & types
IAAS, PASS
Cloud Features
Forces Behind Cloud
Consumption Based Pricing
Risk & Security in Cloud
Cloud Service Model, IAAS
PASS, SASS
Key Benifits
Cloud Development Model
Cloud Cross Cutting Aspect
Enterprise Security Architecture Framework
Network Security & Perimeter
Cryptography
IAM Access Roles
Vendor Lock-in
Virtualization Security
Domain 2 (Cloud Data Security)
Data Discovery Method
Cloud Data Life Cycle
Storage In Cloud
Cloud Storage Architecture
Content Delivery Network
Threat to storage types
Encryption
Homomorphic Encryption
Tokenization
Activities Performed
Domain 3 (Cloud Platform & Infrastructure Security )
Data-center Design
Software Define Networking
Virtualization and Storage
Management Plane
Policy and Organization Risk
Business Continuity and Disaster Recovery
Business Continuity and Disaster Recovery Planning Factor
Domain4 (Cloud Application Security)
Cloud Application Security
DIU, DIR, DIM
Addressing The Risk
Domain 5 (Operations)
Cloud Operations
Physical Design & TIER
HVAC Consideration
Reviews
I already have understanding of virtualization. Some of the slides are not sharp or visible during presentation.
very bad content and accent! It's not a course for CCSP but more for someone who has never heard about IT jobs.
sound cuts in and out for section 5, this is a very basic overview of cloud and it was very hard to concentrate during this course. Not engaging at all.
inadequate training which is not even 10% efficient for exam orientation. I never expect this kind of training
Unprofessional - uses too much marker pen Cluttered - because of all these markings, concepts are modules as per his understanding not neutral as it is supposed to be. Feedback: Please make professional video, use a deck, don't use pen at all - please!!! This is not a work presentation. I want my money back please.
The explanation is not so clear and the windows paint using to draw make the thinks very difficult to understand.
Course needs editing for better sound and video quality. Starting in Domain 3, it because difficult at times to hear the instructor. Occasionally, the video presentation jumps screens to the Windows OS and slides no relevant to the course.
pronunciation of the instructor is terrible. And Seems like he is not aware of the idioms which are there on the slide.
Good as a very basic intro but not enough to pass CCSP. you definitely need to study more if you are looking to pass.
Instructor could just change the name of the course to Cloud 101 introduction to CCSP domains or something like that, as this is clearly far form the level needed for a CCSP professional accreditation.
Dude was simply reading the damn slides! It is missing ALL key concept of Cloud Risk. Waste of time
Contains information required for CCSP domains. Last two Domains, there are lots of issues with Voice, cannot hear it clearly. Can be used as good starter module for CCSP.
Missing some info on the cloud types like community cloud is not discussed at all in the intro. Only presents private, public, and highbred. Also skipped type 1 (hardware vm) and type 2 (software vm) when introducing vm types.
audio could be better, the auto caption is struggling. other virtualisation not mentioned (Xen, Citrix etc) differences in IaaS, PaaS and SaaS not clear (may be later in the course ?)
The examples drag on too long. This is probably not relevant to the test. Also the sound went dead in Section 2 of Lecture 8.
9/5/2018
course created date
11/20/2019
course indexed date