How To Draw a Cat's Eye | Pastel Pencil Techniques
With this Free Beginner's Class you'll learn how to use Pastel Pencils to create a realistic looking cat's eye.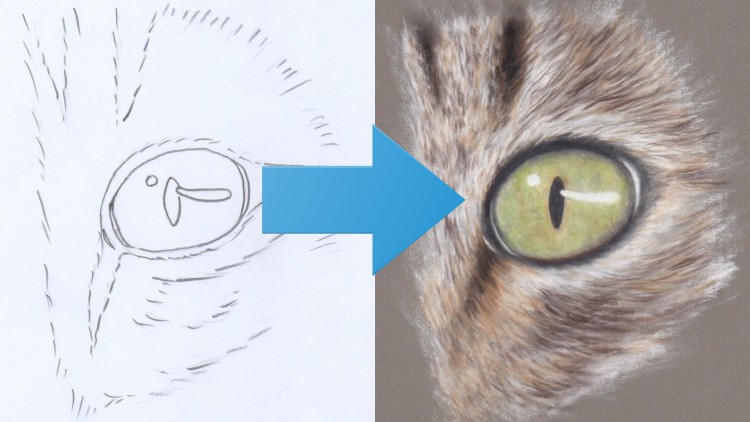 What you will learn
How to Draw a Realistic Looking Cat's Eye
The fundamentals with using Pastel Pencils
The light to dark rule when layering Pastel Pencils
How to apply the techniques learnt to start their own pet portraits
Description
Would you love to be able to paint AMAZING Pet Portraits?
In this course you will learn techniques to be able to paint a realistic looking cat's eye. When you're finished, you'll have the skills to be able to paint your own cat pictures too.
Pastel Pencils
It all starts with Pastel Pencils.
In my 30+ Years of Experience I have found that Pastel Pencils is the by far the easiest art medium to pick up and learn.
When you have finished this course you will learn the basic skills around using Pastel Pencils to create amazing looking pet portraits.
Materials
Pastel Pencils
Pastel Pencils are a wonderful medium, they can be blended easily on top of each other and, because they're in a pencil form, are very easy to use. This subject is classed at an "beginners" level. We have listed all the colours that you need below:
Faber-Castell PITT Pastel Pencils
101 white

102 cream

270 warm grey I

273 warm grey IV

181 payne's grey

172 earth green

168 earth green yellowish

174 chrome green opaque

187 burnt ochre

183 light yellow ochre

182 brown ochre

177 walnut brown

199 black
Pastel Paper
The paper I use is Dark Grey PastelMat Pastel Paper (300gms thickness). This is a fantastic paper and can take a lot of layers.
It has a sand paper like texture to it which makes it more difficult to erase mistakes on but the results you can get are worth it. If you do not have this paper you can use your own pastel paper (UART 800 grit is a great alternative).
Outline Drawing
I provide you with a basic outline drawing for each picture. If you wish to use this, simply trace the outline to your paper using a graphite transfer sheet like tracedown (for dark grey paper you will benefit from using a white tracing sheet so you can see the outline more clearly).
Step by Step Instructions
I walk you through step by step with video instruction how to draw each stage. You'll learn techniques behind drawing beautiful bird pictures and create pictures you can be proud of.
Start Learning Today
With just a small amount of pencils you will see the AMAZING effects you can get.
Let your journey into drawing and painting pet portraits start here.
Content
Basics
Welcome
Pastel Pencils
Pastel Paper
Blending
Fixative
Using the Courses
3/3/2022
course created date
3/23/2022
course indexed date