Business Networking for Success and Company Growth: Part One
Become A Jedi Master In The Art of Networking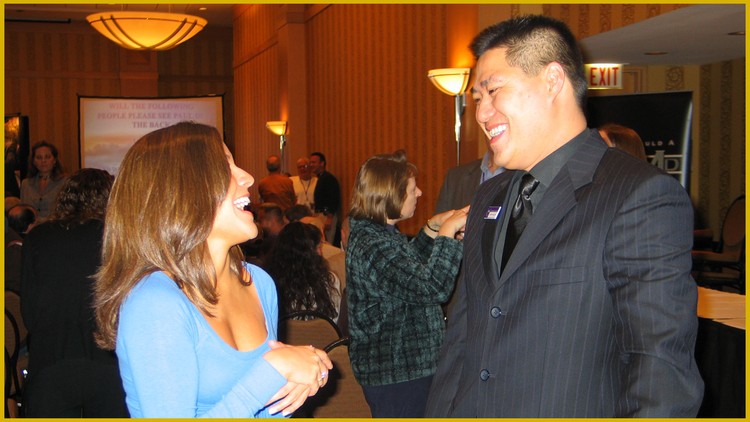 What you will learn
How to do network for sales and referrals properly.
Help those who have been getting poor results from networking
Maximize your networking efforts while minimizing your networking time.
Description
Networking is both a Science and an Art.  In this Networking Series, I'm going to cover the science of networking including the different types of networking groups, the different type of networking formats, and what to look for in networking groups.  I'm also going to cover the Art of Networking so you can choose the right groups to spend your precious time at, build long-lasting relationships, and maximize your impact in your ever growing sphere of influence.  
This course is for you if 
You just got a job or started a business and need to expand your sphere of influence.

You're in a new position that requires you to meet new people in order to get new business.

You're tired of spending all your time going to networking events without getting any results or you're tired of dealing with people who just want to sell you things.

You want to get better at building long-lasting, solid relationships and a long-lasting referral business.
In Part 1, we're going to cover the different Types of Networking Groups and where to find them.  This will allow you to find the right groups to attend and avoid the ones which are not in alignment with your needs or cause.  
What Students can expect:
In practical advice courses, like anything else in life, there are no guarantees of income made. Readers are cautioned to reply on their own judgment about their individual circumstances to act accordingly.

This course is not intended for use as a source of legal, business, accounting or financial advice.

This course is designed to help those new to networking understand how to do it properly.  

This course is also designed to help those who have been getting poor results from networking and what they need to do differently to get positive results.  

This course is designed to maximize your networking efforts while minimizing your networking time.  
Content
Networking Groups
Open versus Closed Groups
Exclusive versus Non-exclusive Groups
Referral Groups
Professional Association Groups
Professional, Social, Community Networking Groups
Summary
Determining Which Groups To Attend
Your Purpose for Networking
Your Target Market
Know Your Business (or Yourself) Inside And Out
Determine How You Can Provide Value To A Particular Group
Summary
Where / How To Find Groups
Your Local City Hall or Village Hall
Your Local Paper or Tribune
Social Media
Online
Summary
Wrap up
Next Steps
Help Your Fellow Students
Reviews
It's important to network and it's more important to know how to network and this course is a great guide.
It's a great course to know about networking groups i learned a lot from sir it also give me the knowledge by which i can save my money also so thank you so much. Love from India ??.
Coupons
| Submit by | Date | Coupon Code | Discount | Emitted/Used | Status |
| --- | --- | --- | --- | --- | --- |
| - | 12/5/2019 | 65C2E619557B127DD2D8 | 100% OFF | | expired |
| - | 2/24/2020 | EXPIRES-FEB27 | 100% OFF | | expired |
| Lee Jia Cheng | 3/16/2020 | MARCH18BUSINESS | 100% OFF | | expired |
| Angelcrc Seven | 7/6/2020 | BNSCG1EXPJULY092020 | 100% OFF | 40000/681 | expired |
| - | 10/27/2020 | BNSCPOEXPOCT302020 | 100% OFF | 40000/3386 | expired |
| - | 1/12/2021 | BNSCGEXPJAN142020 | 100% OFF | 40000/620 | expired |
| - | 5/20/2021 | BNSCGEXPMAY232021 | 100% OFF | 40000/4256 | expired |
| - | 11/16/2021 | BNFSCEXPNOV212021 | 100% OFF | 1000/874 | expired |
| Angelcrc Seven | 12/20/2021 | BNFSDEC252021 | 100% OFF | 1000/970 | expired |
2/2/2019
course created date
11/20/2019
course indexed date