Build Complete 2023 CMS Blog in PHP MySQL Bootstrap & PDO
Build Amazing Content Management System(CMS) with Full Admin Panel in PHP MySQL Bootstrap and PDO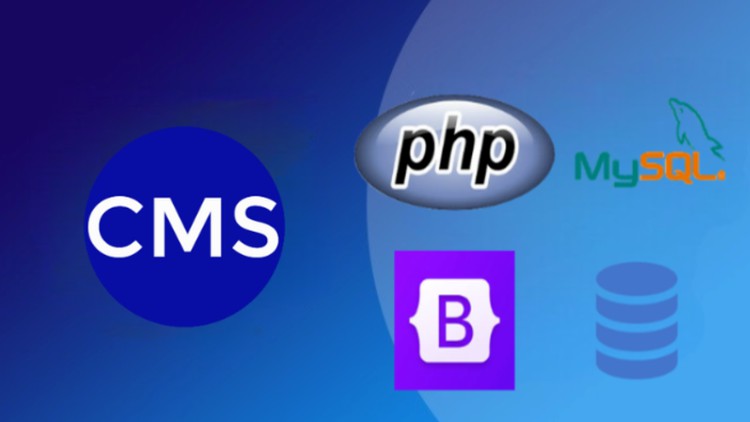 What you will learn
Build a Fully Customizable Login and Registration System
Learn How to Create, Update, Delete and Show Posts
Explore the Infinite Possibilities with PHP Sessions Inside the Blog
Build a Category System
Build a Profile System
Get Introduced to the Most Main Concepts in Web Development
Learn How to Hash and De-hash Passwords like a Pro
Apply Validations and Roles with PHP Sessions
Build a Fully Functional Admin Panel
Learn How to Upload and Update and Delete Images
Take Ownership and Get Confidant Building your Next Web Development Project
Control the User Ability and Limit him from Doing Harmful Acts to your Website
Master the Art of Debugging in a Way that's both Practical and Fun
Create a fully-functional Comment System
Learn some Cool Tips and Tricks about Programming in General
Master the Concept of SQL Joins in a Practical Way
Build a Complete Search Box from Start to Finish
Description
Do you want to build an Amazing cool project? Do you want to build up your CV? Did you learn a bunch of tools like (PHP, MySQL, and Bootstrap) and you want to train your skills?? This course should be perfect for you. In this course, you are going to apply what you have learned all at once. We are going to go through the most common concepts of web development practices and parts. we are going to look at things like the log-in and registration system, the posts crud and category system, how to process images, how to upload and update them, and all that cool stuff and that's for the user-end.

For the admin-end, we are going to log in the admins and create them. how to create and perfect the whole category system, and how to take control of the posting process inside the blog. And you are going to be introduced to some other concepts and ideas like password hashing, validation, complex queries like (joins) and sessions, and whole a lot more. So if you don't want to miss out on this opportunity and if you want to get ahead with your career as developer, go now and get the course. See you inside
Content
Installation
Installing Xampp
Installing Visual Studio Code
Getting Started and Creating the Authentication System
The Design of Clean Blog
Setting up the Config File
The Register Page
Very Important Video
The Login Page
Logging in and Starting the Session
Logging out and Destroying the Session pt.1
Logging out and Destroying the Session pt.2
Creating our Full Posts System
Creating Posts
Showing the Posts in the Index Page
Showing a Single Post
Deleting Posts
Updating Posts
Finshing up Updating and Deleting Posts(with Images)
Validation and Finishing Posts Up
Building the Category System (Users Side)
Showing Categories
Creating Posts with Categories
Showing Posts Based on Categories
Creating the Profile Page
Profile Page
Refining and Finishing up the Users Side
Refining and Finshing up the Users Side pt.1
Refining and Finishing up the Users Side pt.2
Getting Started with the Admin Panel
The Design of Admin Panel
Logging the Admins in pt.1
Logging the Admins in (with Sessions) pt.2
Starting with Admins
Displaying Data in the Dashboard
Showing the Admins Data
Creating New Admins
Perfecting the Categories (Admin Side)
Showing Categories
Creating Categories
Deleting Categories
Updating Categories
Perfecting the Posts (Admin Side)
Showing Posts
Deleting Posts
Controlling the Posts Status
Refining and Finishing up
Refining the Admin Panel and Finishing up
Reviews
I hope that, This course will help me to clear all concepts of php and how can we manipulate and manage the database at backend.
sometimes errors but it's okay. With this course, I learned Oriented Programming Object and Prepare Request and others things. Thank you
Excellent .. The best Web developing course I've ever seen, easy to understand and follow Thank you. .
This course on how to create a great CMS blog was very helpful and informative. I learned a lot of useful tips and tricks from the author, who explained everything clearly and concisely. I was so impressed by the quality of the content that I decided to purchase more courses from the same author. I highly recommend this course to anyone who wants to start or improve their own CMS blog.
The course is good for learning the fundamentals of PDO. The project that is created is useful for understanding how it works. Thanks to it I developed a simple application to which I applied simple AJAX functions with the help of Youtube tutorials. The instructor explains well even if sometimes the information is redundant. I would have preferred to have a module explaining how to implement AJAX and pagination. I look forward to future updates.
Coupons
| Submit by | Date | Coupon Code | Discount | Emitted/Used | Status |
| --- | --- | --- | --- | --- | --- |
| - | 9/15/2022 | PHPBLOG20 | 100% OFF | 1000/842 | expired |
| - | 9/19/2022 | PHPBLOG21 | 100% OFF | 1000/865 | expired |
| - | 9/25/2022 | PHPBLOG22 | 100% OFF | 1000/983 | expired |
| - | 10/3/2022 | PHPBLOG23 | 100% OFF | 1000/807 | expired |
| - | 10/14/2022 | PHPBLOG24 | 100% OFF | 1000/979 | expired |
| - | 10/23/2022 | PHPBLOG25 | 100% OFF | 1000/991 | expired |
| - | 11/8/2022 | PHPBLOG26 | 100% OFF | 1000/997 | expired |
| - | 11/16/2022 | PHPBLOG27 | 100% OFF | 1000/910 | expired |
| - | 11/25/2022 | PHPBLOG28 | 100% OFF | 1000/989 | expired |
| - | 12/6/2022 | PHPBLOG29 | 100% OFF | 1000/981 | expired |
| - | 12/19/2022 | PHPBLOG30 | 100% OFF | 1000/857 | expired |
| - | 12/30/2022 | PHPBLOG31 | 100% OFF | 1000/985 | expired |
| - | 1/6/2023 | PHPBLOG32 | 100% OFF | 1000/905 | expired |
| - | 1/17/2023 | PHPBLOG33 | 100% OFF | 1000/991 | expired |
| - | 1/27/2023 | PHPBLOG34 | 100% OFF | 1000/996 | expired |
| - | 2/5/2023 | PHPBLOG35 | 100% OFF | 1000/940 | expired |
| - | 2/18/2023 | PHPBLOG36 | 100% OFF | 1000/922 | expired |
| - | 3/2/2023 | PHPBLOG37 | 100% OFF | 1000/916 | expired |
| - | 3/17/2023 | PHPBLOG38 | 100% OFF | 1000/978 | expired |
| - | 4/6/2023 | PHPBLOG39 | 100% OFF | 1000/984 | expired |
| - | 4/22/2023 | PHPBLOG40 | 100% OFF | 1000/931 | expired |
| - | 5/4/2023 | PHPBLOG41 | 100% OFF | 1000/996 | expired |
| - | 5/23/2023 | PHPBLOG42 | 100% OFF | 1000/971 | expired |
| - | 6/4/2023 | PHPBLOG43 | 100% OFF | 1000/958 | expired |
| - | 6/25/2023 | PHPBLOG44 | 100% OFF | 1000/991 | expired |
| - | 7/8/2023 | PHPBLOG45 | 100% OFF | 1000/981 | expired |
| - | 7/26/2023 | PHPBLOG46 | 100% OFF | 1000/964 | expired |
| - | 8/7/2023 | PHPBLOG47 | 100% OFF | 1000/851 | expired |
| - | 9/11/2023 | PHPBLOG48 | 100% OFF | 1000/930 | expired |
| - | 10/9/2023 | PHPBLOG49 | 100% OFF | 1000/991 | expired |
| - | 11/8/2023 | PHPBLOG50 | 100% OFF | 1000/970 | expired |
Charts
Price
Rating
Enrollment distribution
9/9/2022
course created date
9/15/2022
course indexed date