BIM Autodesk Revit Dynamo Player Modeling MEP Instalations
Playlist for Plumbing, Hvac, Electrical and Low Voltage Instalations.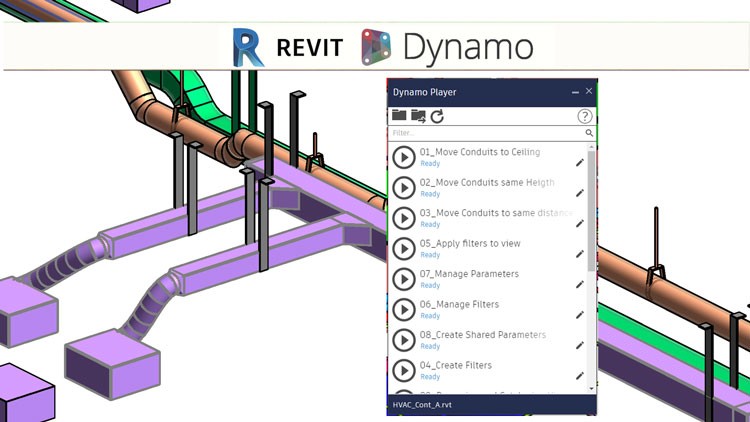 What you will learn
Develop some sample scripts with some requirements to be follow by dynamo.
Learn to recognize key values to be compare and to use as permutations for different type of results.
Review relations and interactions of the content display with Dynamo and Revit.
Add valuable information to Models and compare their values using Business Intelligence Dashboards.
Description
This course it's designed to teach you some the great advantages of using Dynamo Player as an application solver that can easily speed up any process.
Its an incredible opportunity to get access to workflows and open your possibilities to speed up your processes as well as for your partners or coworkers.
BIM is now on a second digital revolution where communication skills and programming would create a different value to construction and infrastructure BIM projects, the core stream would be reflected in responses and computer analysis rather than handmade models.
This course its the second volume of playlists design for MEP and later would have the encore for other workflows so don't miss out.
We will start from scratch on how to set user friendly routines with data shapes, and from there use it to set workflows reviews and other set of elements that would be useful and complementary to your development of add-ins and tools by Dynamo.
On this course we will ground concepts for a practical use so we can communicate with the computer and its capabilities would reflect those results.
Communication is the core competence require for a fluent BIM Coordination, and I do believe that generative design would shorten and improve the BIM adoption rate on design processes, so we are talking on a quantum leap to coordinate with construction and engineering systems.
This course complements with other courses such as Dynamo Basic Modeling, Mastering Geometry with Dynamo, and it will also set a new requirement for future courses using generative design with other workflows.
The course has several sample scripts to follow up so then you can do your own, and also includes all references, scripts and sample values reflected.
Go at your own pace, jump between sections and enjoy a lifetime access of content
Also, we have a direct response for any topic listed, so we can improve the content.
Be the first to know of future courses regarding BIM, take advantage of all the opportunities that may appear and use it to improve your work performance and get better job positions.
Content
Introduction
Introduction
Dynamo Player Volume 2 MEP
LOD on Detail
Instalation LODS
Requirements for the use of the Playlist
Course Files
Information Managment
Create Filters
Apply Filters to View
Manage Filters
Filter By Parameter
Lines to Model MEPover
Using Lines to Model Pipes
Using Lines to Model Conduit
Using Lines to Model HVAC
Geometrical Playlists
Move Conduit to Ceiling
Move Conduit Same Heigth
Move Conduit Same Distance
Bayonet on Pipes Conduit and Ducts
Bayonet on Detail
Supports and Hangers
Horizontal Hangers Channel
Horizontal Pear Supports
Reviews
I Don't appreciate how every script is just showed and not really explained. Lack of profesionalism, I just want to tell you that we paid for your course, give some motivation at least. All the UI isn't explained and the possibilities are just mentionned, damn i want a refund
8/24/2017
course created date
11/20/2019
course indexed date