BIM - The Methodology to coordinate construction
BIM is not a software - it is a methodology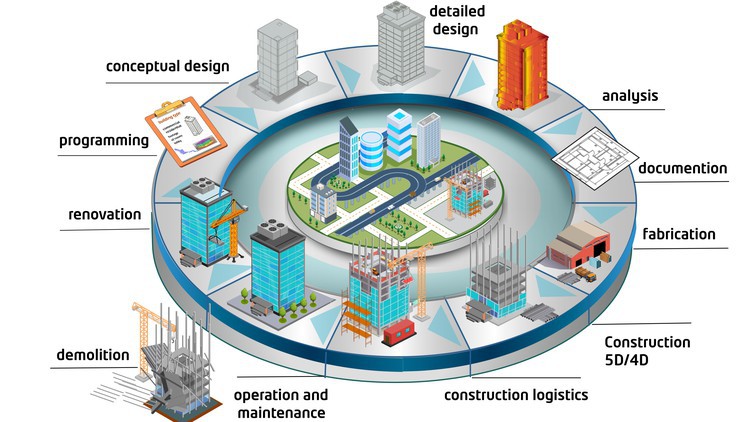 What you will learn
Building Information Modeling (BIM) methodology
BIM fundamentals
Regulatory aspects
Scope, standards and applicability of the BIM methodology
Description
The BIM concept was born as a methodology for the standardization of data and the operation of Architecture, Engineering and Construction processes. Although its applicability goes beyond this environment, its greatest impact has been due to the growing need for transformation of the construction sector and the existing offer of the different actors that participate in the value chain of modeling the physical world towards intelligent infrastructures.
Companies such as AutoDesk, Bentley Systems, Trimble and Hexagon have been part of this evolution, in part because they have a range of software associated with Geo-engineering. However, BIM is not learning software; BIM is a process improvement methodology taking advantage of the benefits of digital modeling where builders, architects, surveyors, civil, structural and electromechanical engineers require an interconnected flow for greater efficiency in decision-making and a provision of a better service to the clients.
#AulaGEO
This course has been developed to level the conceptualization of users interested in the transformation of the processes related to the transformation of the territory, under the premise:
BIM is not software. It is a methodology.
This course narrated by Gabriella is complemented by other modules from the AulaGEO offering, where these principles are applied using tools available in the industry.
We hope you enjoy it.
What will the user learn?
General concepts

General concepts of BIM

Standards

Open BIM

BIM standards

Roles and Levels

Roles in BIM

BIM workflow

Development Levels

Uses and Offer

BIM uses - part one

BIM uses - part two

BIM information offer
Content
General concepts
General concepts of BIM
Standards
Open BIM
BIM standards
Roles and Levels
Roles in BIM
BIM workflow
Development Levels
Uses and Offer
BIM uses - part one
BIM uses - part two
BIM information offer
7/24/2020
course created date
1/1/2022
course indexed date