Bible: Philemon - 7 Lessons We Can Learn For Today!
Bible Study of the letter to Philemon and the lessons individuals can draw from this man from Colossi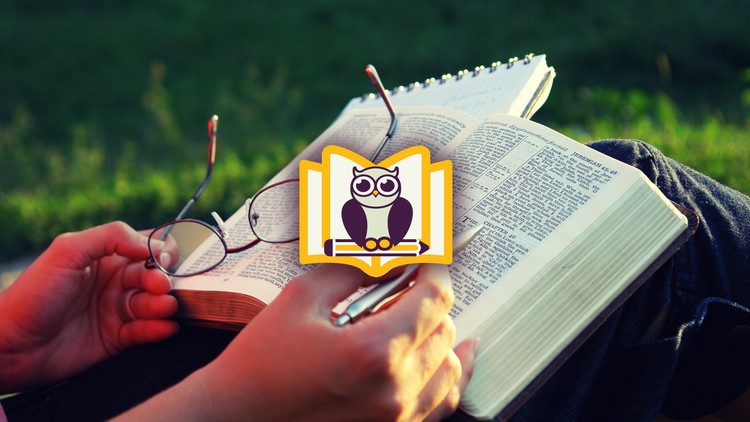 What you will learn
Understand how the book fits with other parts of the Bible
Learn key lessons that can be applied to everyday living
Grow in the knowledge of GOD
Understand who we are in CHRIST
Grow in our relationship with the LORD
Description
Recent Review
A Masterclass!
Wow! Boomy Tokan really knows his stuff! Wonderful in depth insights into the letter to Philemon with practical applications. I'm going to listen over again. Excellent course. Highly recommended!!! - Neresa Maye
-------------------------------------------------------------------------------------------------------------------
This may be one of the least known books and perhaps its similarity in size with Obadiah in the Old Testament and 1st, 2nd John & Jude in the New Testament might have caused some to over look it.
However this book of the Bible is just as power packed as any other because the Word of GOD is the power of GOD onto salvation! Hence we approach it with the same reverence, determination and desire to learn more from the HOLY SPIRIT.
Our objective here is to enjoy a brief history of the book then dive into at least seven lessons we as individuals can learn from in the our generation.
-------------------------------------------------------------------------------------------------------------------
Philemon may be little known to many Christians but this small book illustrates profound truths about:
Every individual

Sin

Forgiveness

Love

The Gospel

Leadership

Sacrifice

Transformation

Enrichment
-------------------------------------------------------------------------------------------------------------------
I sincerely hope that just as the Paul commended David's service in his generation we can also fulfill GOD;s purpose in ours as we learn from the letter to Philemon.
-------------------------------------------------------------------------------------------------------------------
Get Started Today - Click Take This Course Now!
Content
Why I Recorded This Series Of Lectures
Brief Introduction
Course Introduction & Curriculum
Background - The Book of Philemon
Exploration
Detail Account
The Necessary Transformation!
Lesson #1 How The Useless Can Become Useful
Lesson #2 Under Promise Over Deliver - Doing More Than Required
Lesson #3 What Life Is All About - Finishing Well!
Lesson #4 Sharing and Caring
Traits To Develop - Growing In Our Life
Lesson #5 The Keys of Prayer
Lesson #6 One of Todays Most Needed Trait - Submission!
Lesson 7 # Useful To Everyone, Everywhere
The Business Principle!
Negotiation
Creating A "Win Win" scenario
Updates
Did Paul Support Slavery?
Reviews
Richard
September 28, 2021
LOVELY SIMPLE CLEAR AND CONCISE AND DEEP LEARNING. REALLY LOVE IT AND I LEARNT A LOT. TWILL BE AN AWESOME PODCAST I THINK
interesting background some of which I already knew. There were quite a few good points raise but I did find some things a little cheesy; the business principle for example. There is a lot of food for thought here but I felt the study grasped on aspects of the book rather that the overall themes of the whole book. Nevertheless it gave me something to think about. I would have like to have the exact verses from other scripture stated or on screen so that I could look them up as there was quite a lot of cross referencing with other scripture. Thank you
I have been a christian for many years but had not spent much time studying this book. I am quite pleased with the content so far.
it's good but I still have like 100 questions that I need answers to. sooooo hoping this course can answer most of the curiosity questions that I have.
I took this course over a year ago and I come back to it now and again for a refresher. What is taught is clear and in little pieces so we can understand the meaning of the scripture. But, as I said he is a good place to return to whenever you need a lift, clarification or just closeness to the Lord.
Boomy Tokan has created an excellent course, and I am enjoying it so much that I return to it frequently! Boomy is a pastor, teacher, entrepreneur and a consummate professional. He is very knowledgeable of the book of Philemon as well as the Bible as a whole. He encourages interaction, challenging his students to think beyond worldly beliefs and values, to see what God has for us in his word. The study includes tips on studying the Bible more effectively, Youtube videos to expound on related topics and questions to help students delve deeper into the book of Philemon, in order to understand and apply the message this book has for us today.
I really enjoyed this in-depth study of the very short book of Philemon. My eyes were opened to some truths I had not seen before, and I got a lot out of this course. I also love the way Mr. Tokan pointed out the business side of this book, Negotiation. That was a pleasant bonus! I look forward to more biblical studies from Boomy Tokan.
Wow! Boomy Tokan really knows his stuff! Wonderful in depth insights into the letter to Philemon with practical applications. I'm going to listen over again. Excellent course. Highly recommended!!!
9/27/2015
course created date
8/30/2019
course indexed date