Master Online Events! Virtual Audience Engagement Tools 2023
NO MORE Boring Online Events, Meetings, and Workshops | Online Whiteboards | Quizzes | Giveaways | Collaborative Tools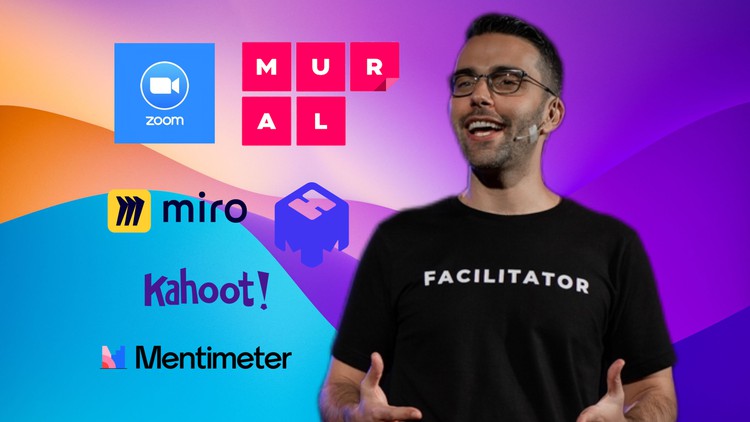 What you will learn
Powerful Virtual Audience Engagement Tools
Advanced Use of Zoom
MURAL and MIRO - Online Whiteboarding Tools
The Right Mindset for Creating Engagement
Advanced Virtual Presentation Skills and Techniques
How to Use Quizzes, Polls, Surveys, and Live Q&A to Engage Your Audience
Awesome Tools to Engage Participants Like Kahoot, Mmhmm, and Mentimeter
Description
If you host meetings online and are ready to bring your skills to the next level this course is for you!
This course is for intermediate and advanced users who need to host online workshops, trainings, meetings, and more.
Get the most up-to-date tools that professionals use to supercharge their engagement. And you'll be more confident in using them so you'll be ready for your next event.
Whether you've been working online for years or have only just started, you will be guided through everything you need to be a PRO. This course will provide you with easy, step-by-step training to get you feeling comfortable and getting everyone to interact during your next online event.
[YOUR CAREER] Knowing how to use these tools is a definite PLUS to your career, upon completing this course you'll receive a Certificate of Completion that you can add to your resume and LinkedIn Profile.
What students are saying about my courses:
John A. C. - "This was a good match because of all the detailed information (unlike most tutorials which tend to gloss over a lot of particulars). That makes a great difference. Well done!"

Sarah L. - "BEST course I've seen on Zoom. I had been trying to figure out how to share a video with computer audio and it was covered in this course. I also really enjoyed the updates as items change."

Anand B. - "Very detailed and step-by-step lucid and articulate explanations on how to use Zoom."

Randy C. - "I'm liking the hands-on knowledge and expertise being brought to the videos!"

Vonney N. - "Nice presentation. Good tips. Saw some things I wasn't aware of."
Content
Introduction
Facilitation and Why Engagement is So Important
Zoom and other video conferencing platforms
How to Learn from this Course
How to Leave a Comment (The Best Way to Get Support and Learn From this Course)
The Virtual Audience Engagement Mindset - The Foundation
The Right Mindset for Creating Engagement
Answer These Questions about Your Audience First
Behind the Scenes - A Session Lab Outline and Agenda
Inclusive Practices
Pick Your Exact Situation - Specify Your Goals
Tools Inside Your Video Conferencing Platform!
Zoom and Video Conferencing Platforms
Setup and Download Zoom
Zoom - Should You Purchase a Professional Plan?
Chat and how to use it
Creating Engagement on Zoom
Section Check In + Q&A
Networking!
The Power of Networking
Don't Make it Awkward! Networking Best Practices
Tools that Enhanced Virtual Presentations
Mmhmm
Mmhmm Pricing, Tutorial, and Overview
Section Check In + Q&A
Download Mmhmm and pick the layout that you like the most.
Virtual Whiteboarding Tools
Virtual Whiteboarding Tools
MURAL Pricing, Tutorial, and Overview
MIRO Pricing, Tutorial, and Overview
Section Check In + Q&A
Did you get hands on experience?
Tools for Quizzes, Polls, Surveys, Giveaways and Live Q&A
Quizzes, Polls, Surveys, Giveaways and Live Q&A
Wheel of Names
Kahoot
Mentimeter
Section Check In + Q&A
Did you get hands on experience?
Conclusion
What's Your Favorite Tool?
How Will You Apply What You Learned?
Congratulations + My Promise
Reviews
The instructor did a great job of covering a wide range of topics, from using different tools to create interactive experiences to developing the right mindset for creating engagement.
The course instructors are industry experts who provide valuable insights and practical strategies for creating immersive and interactive virtual events.
Great course. Just what I expected! Recommend it for people who want an overview. Great mix of theory and practical.
This course on Mastering Online Events and Virtual Audience Engagement Tools is an absolute game-changer for anyone involved in event planning or virtual hosting.
Live Chat and Discussion Boards: Platforms like ChatGrape and Slack enable real-time communication and collaboration among event attendees. They facilitate networking, audience interaction, and foster community engagement throughout the event.
Polling and Q&A Platforms: Tools like Slido and Mentimeter allow event organizers to create live polls and collect questions from the audience. These tools promote interactivity, engage participants, and provide valuable insights for speakers and presenters.
enjoyed how explanatory the course went and also the resource was direct and explicit, really nice course and content I recommend highly.
I'm enjoying it and am learning some things. I already have good experience with engaging a class and believe the section on that was very important. I'm looking for some new techniques that I don't have familiarity with. I'm aware the course is just beginning.
Very well-prepared curriculum. Focuses on concepts illustrated with examples. Videos are short, aligning with the attention span.
First course about it) Was quite interesting to say the least) Good way of approaching the student. Thanks)
I have always been interested in online Event Management. This course gave me an useful insight into the life of an event manager.
The course is very detailed, and I have learned more about marketing and advertising events, etcetera. It was worth my time and effort.
I found the course very educational and informative it allowed me to think in more in depth about events management.
This was an amazing course. Never heard of some of the tools shared before now. It was worth the while and I look forward to putting them to use in my online meetings. Thank you Hassan!
Easy to follow, well spoken, very enjoyable and appreciate the encouragement as well as the skills offered.
Coupons
| Submit by | Date | Coupon Code | Discount | Emitted/Used | Status |
| --- | --- | --- | --- | --- | --- |
| - | 1/28/2023 | LEARN2023 | 100% OFF | 1000/986 | expired |
| - | 3/30/2023 | ONLINE2023 | 100% OFF | 1000/970 | expired |
| solo2 | 4/1/2023 | LEARNNOW2023 | 100% OFF | 1000/999 | expired |
| - | 4/2/2023 | VIRTUAL2023 | 100% OFF | 1000/972 | expired |
| - | 4/22/2023 | APRIL2023 | 100% OFF | 1000/988 | expired |
| - | 4/25/2023 | FREECOURSE | 100% OFF | 1000/984 | expired |
| - | 4/30/2023 | EVENTS2023 | 100% OFF | 1000/970 | expired |
| - | 5/21/2023 | MAY2023 | 100% OFF | 1000/979 | expired |
| - | 5/26/2023 | FREE2023 | 100% OFF | 1000/485 | expired |
| - | 5/30/2023 | 2023EVENTS | 100% OFF | 1000/713 | expired |
| - | 6/17/2023 | JUNE2023 | 100% OFF | 1000/596 | expired |
| - | 6/22/2023 | MASTER2023 | 100% OFF | 1000/555 | expired |
| - | 6/26/2023 | 2023EVENT | 100% OFF | 1000/470 | expired |
| - | 7/18/2023 | JULY2023 | 100% OFF | 1000/953 | expired |
| - | 7/21/2023 | ONLINEMASTER | 100% OFF | 1000/454 | expired |
| - | 7/25/2023 | EVENT2023 | 100% OFF | 1000/777 | expired |
Charts
Price
Rating
Enrollment distribution
11/16/2022
course created date
12/23/2022
course indexed date