Video Conferencing Zoom Skype WebEX Tech Presentation Skills
Improve your presentation skills and tech skills for all your online video meetings, conferences, and webinars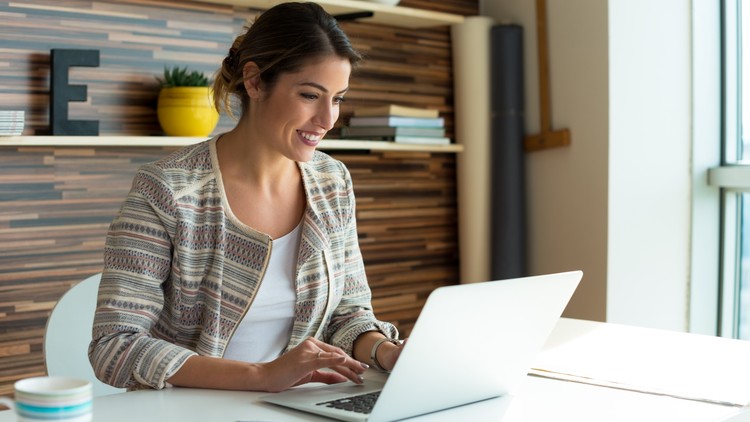 What you will learn
Presenting skills for online meetings
Speaking skills for video conferencing
Communication skills for virtual meetings
Teleconferencing
How to Use ZOOM
How to Use Skype
How to Use WebEx
How to Use Google Hangouts
Selling with Stories
Virtual Sales Presentations
Pitching Yourself
Virtual interviewing for HR
Remote Selling
Communicating Change
How to Discuss a Raise
Description
Best Presentation skills and Tech skills and practices for Video Conferencing - Zoom, Skype, WebEX and Google Hangouts
Become an effective communicator and leader in all your online video meetings, conferences, and webinars
Teleconferencing, telecommuting, remote meetings - these are the new normal.
Social Distancing has resulted in a need for all skilled workers to be able to communicate digitally through video platforms like ZOOM, WebEx, Skype, and Google Hangouts. It's no longer a luxury to be able to telecommute; it is a basic necessity. And you must have strong presentation skills and tech savvy for all online video-based meetings.
If the idea of having to speak to a little camera in a room all by yourself seems strange or alien, you are not alone. Communicating virtually through video platforms is uncomfortable for everyone at first. But once you know the secrets of communicating on live video conferencing platforms, it will be as easy as riding a bike or driving a car for you.
Instructor TJ Walker has taught thousands of executives like you how to speak effectively in front of a video camera. He will walk you through, step-by-step, on everything you need to do in order to communicate effectively during video meetings.
After finishing this course, you will know how to look comfortable confident relaxed on camera, you'll be able to communicate a message and have The other participants in your meetings understand you and remember your messages.
You will learn the ins and outs of the technology you will need and the platforms you will use. Most important, you'll learn how to save time and focus only on what is most essential for you to communicate effectively using virtual teleconferencing technology.
This course is designed to improve your Presentation skills, Communication skills, Remote speaking skills, Virtual meeting planning, Zoom conferences, Skype meetings, and Webex calls.
There are clients, customers, prospects and colleagues who need to not only hear from you, but see your face today. Video teleconferencing is the way to do that. Enroll in this course now to upgrade your presentation skills and tech know-how for all of you online video meetings, conferences and calls.
Here is what Udemy students say about this course:
"Hi TJ, this is very useful course i have ever attend, its covering all aspect, for me the whole course was useful especially for a person lives in a complicated conflict zone which is middle east, specifically Syria, by this course am confident to say that i have learned new techniques which will help me a lot" Azad Murad
"This goes beyond video conferencing, this is everything I needed in regards to presentation. Have a presentation to make, be it academic, politic, marketing, social or otherwise, this is the go-to course for you. Thank you TJ for this." Bashiru Sani

This course is also designed to help people with the following skills: Sales & marketing collaboration, selling with stories, virtual sales presentations, pitching yourself, virtual interviewing, remote selling and consumer sales training. The course is also helpful to those aspiring to be better at communicating to drive change and be seen as a purpose driven leader.
Sign up today to take advantage of this limited offer.
This Video Conferencing course is ideal for anyone searching for more info on the following: zoom - webex - zoom meeting - video conference - zoom webinar - how to use zoom - video conferencing - Skype. Plus, this course will be a great addition to anyone trying to build out their knowledge in the following areas: Online presentations - meetings - webinar - telecommuting.
Content
You Can Master Online Meetings!
Quick Win! Here is How to Look Your Best in Front of a Video Camera
Coronavirus Update and Impact on Video Conferencing
Setting the meeting objective -- a critical factor to success
Online Video Conferencing Is Just One More Simple Tool for Communicating
Learn How Video Conference Meetings Are the Same & Different From Other Meetings
There is a Student Facebook Page Set Up Just for You Here
Master Any Platform You Need, From Zoom to Skype to WebEx and Beyond
You Must Learn How Your Platform Works BEFORE The Conference Starts
Learning the Different Platforms
Zoom - Ins and Outs From Guest Lecturer Marceau Lewis
The Favorite Thing I Like About Zoom
Skype - Ins and Outs from Guest Lecturer Marceau Lewis
Web Ex - Ins And Outs With Guest Lecturer Marceau Lewis
You Can Look Comfortable, Confident And Relaxed On Camera
Do NOT Hide Behind Slides - Show Your Face on the Video Meeting
Never Be Nervous Again on Camera
Follow These Tips To Look Your Very Best on Camera for Your Next Meeting
This Is Why You Should NOT Use Teleprompters or Read Scripts
This Is What You Should Wear for a Video Conference
Creating Your Home Studio for Video Conferencing
Create the best lighting and angle for your video presence
The Biggest Distraction Can Be...
Solutions for Your Backdrop
Master Your Technology Needs
What Is the Best Video Camera to Use for Online Meetings?
Microphones to the Rescue
Speakers, Headphones, Earpieces and More
Use the Best Possible Internet Connection Possible
Don't Talk about the Technology, Just Use the Technology
Presenting in an Online Meeting
Don't Forget Your Meeting Agenda
Fundamentals of Effective Online Presentations
Tips for Using Visuals In Online Meetings
Frequently Asked Questions about Online Video Meetings
What If I am Not Hosting the Online Meeting But Might Have to Speak?
What Should My last Minute Checklist Include?
How Long Should a Video Meeting Last?
How do I Fix Problems with My Voice on a Video Conference?
Should You Memorize Your Online Presentation?
What If You Hate the Sound of Your Own Voice?
How Do You Reduce Background Noise?
What Else Can I do to Reduce Distractions During a Video Conference Meeting?
Conclusion - You Are Ready for Prime Time Video Conferencing
This Is What You Must Do If You Really Want to Pass With Flying Colors
One last Chance to Get Your Questions and Suggestions Responded To
Congrats! You Are Now Prepared to Communicate Effectively in Online Meetings
Reviews
So many "interesting" anecdotes! Not what I signed up for. Where is the content about virtual presentations?
It nice to presentations do not try use your voice all the time you must show your face sometimes and its gave them so interested from you and then know you that they a taking to we needs to be conversation as posable. show how you understand your power and conversation presentation to be jet presentation throe the video camera to use for online meetings we need to used to speak to video camera online, check your audio before you join the presentation or the meetings , we have different platforms for summary of future on our platforms are zoom , skip, wearbags and google hangout are the in doors are specific platform for learning in areal traying to learn and do not try to learn in front in real client and its so important minding , sometimes try to keep this in mind technology and technology platform spend this all time and learning to communicate
The course is informative however, it is repetitive and too long. The topics repeat the same unnecessary information. A good edit would be very effective.
Francheska
November 3, 2021
yes, it is a good match for me because i had stage fright and no confidence in presenting reports and give suggestion to fellow co workers
I have only just started the course, and so far everything content-wise seems so great. (Zoom part needs updating though, there are new features there.) I will write a full review when I get to the very end. But what troubles me so, so much already is the background. The virtual background with all those vertical lines behind TJ is, honestly, very distracting and constantly keeps me lose my focus. I have even found myself in a situation where I have to rewind some portions of the video. Him moving from side to side creates a feeling that he is part of an optical illusion. It's very hard for the eyes. I began seeing "short waves" everywhere but where my focus was (difficult to explain, never had that before). Hope this gets better during the course.
Hi TJ, this is very useful course i have ever attend, its covering all aspect, for me the whole course was useful especially for a person lives in a complicated conflict zone which is middle east, specifically Syria, by this course am confident to say that i have learned new techniques which will help me a lot
Despite my laptop volume at 100% the sound is too soft to hear properly.I have therefore abandoned this course.
It is an amazing course for any amateur or a professional who would like to have a know how of all possible online platforms for interacting with their students/clients/customer
Yes, but the instructor is an excellent speaker, not a trainer. Many hours to get half of the content. I think a good presenter like him, can make this course direct to the point. I insist, I think content and experiences are great and full of learning, However you can get tired after see him and listen to him for many hours talking and talking. To summarize, I think it could be better.
Liked that the video topics were segmented and labeled accordingly, making it easy to follow. With Covid-19 sheltering at home, everyone is video conferencing and could use pointers from this course, especially care in selecting backgrounds and lighting!
Great course and very practical. Not one of those theory-based ones that are too abstract to understand. TJ really knows his stuff and practices what he preaches.
I took it mostly out of curiosity, and it was globally interesting. Also well organized, in very small parts (usually 1 to 3 minutes, very rarely more than 5), so it was easy to skip sections that didn't interest me and/or I already knew about, without missing a large chunk.
Yes it is very helpful as I am a teacher who is taking up online classes. Thank you so much for making me in good shape for online teaching.
c'etait magnifiquement bien expliqué, j'ai appris beaucoup de choses.. I really appreciate it .. thank you
Figuring out where I went wrong in my first session on zoom as there was power failure after 5 min of beginning and I was struggling to connect via hotspot which I had. Of rehearsed.
Coupons
| Submit by | Date | Coupon Code | Discount | Emitted/Used | Status |
| --- | --- | --- | --- | --- | --- |
| Lee Jia Cheng | 3/31/2020 | 6C1D332256465E8D2E46 | 100% OFF | 40000/8064 | expired |
| Lee Jia Cheng | 5/5/2020 | PEEKVIDCON | 95% OFF | | expired |
| Angelcrc Seven | 5/6/2020 | 979B8EFC54B099987907 | 100% OFF | 40000/4479 | expired |
| - | 6/10/2020 | 9BA7DFBC5E6E4F10C95C | 100% OFF | 40000/3688 | expired |
| - | 7/7/2020 | D14A0429FC141B03C9F0 | 100% OFF | 40000/3640 | expired |
| Lee Jia Cheng | 8/4/2020 | 281FDA0633FE1A611A64 | 100% OFF | 40000/2602 | expired |
| Lee Jia Cheng | 9/3/2020 | THANKSSEP | 94% OFF | | expired |
| - | 10/17/2020 | 04EBEF90E189A2475CD4 | 100% OFF | 40000/1575 | expired |
| - | 12/1/2020 | 5A8A0B6076529062213A | 100% OFF | 40000/1306 | expired |
| - | 1/19/2021 | THANKS2 | 93% OFF | | expired |
| Comidoc | 5/26/2021 | THANKS01 | 93% OFF | | expired |
| Angelcrc Seven | 9/24/2021 | 5C2E821F1C9B089B619B | 100% OFF | 40000/2391 | expired |
| - | 5/10/2022 | THANKS053 | 93% OFF | | expired |
| - | 6/4/2022 | THANKS063 | 93% OFF | | expired |
| - | 7/20/2022 | 08B0EC51930FB85DF682 | 100% OFF | 1000/901 | expired |
| - | 8/13/2022 | 280D6F4053157DFD14FA | 100% OFF | 1000/967 | expired |
| - | 9/14/2022 | THANKS009 | 88% OFF | | expired |
| - | 8/6/2023 | AUG-SALE | 91% OFF | | expired |
| - | 8/14/2023 | AUG-SALE2 | 91% OFF | | expired |
Charts
Price
Rating
Enrollment distribution
3/26/2020
course created date
3/31/2020
course indexed date