Learn Elementor & WordPress, for Startups & Freelancers
Master WordPress and Elementor, from beginner to expert with free plugins and themes with this hands-on course
No-Code Development
category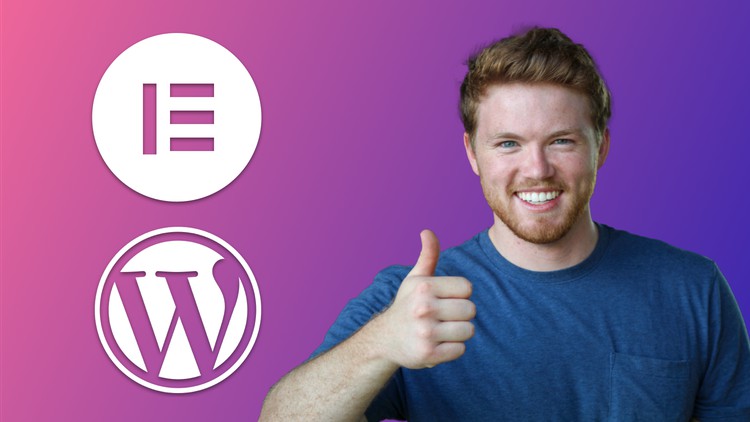 What you will learn
How to buy a domain and get a huge discount on website hosting
How to protect yourself when buying a website domain
How to install and MASTER WordPress, which powers 40% of the internet
How to use Elementor (free version) and make websites that could sell for thousands of dollars
How to find and install top notch plugins
How to make yourself a professional website with the world's leading website builder
Description
Create an amazing website with WordPress and the world's best page builder, Elementor (and NO CODE)! This is a practice-based course on the free version of Elementor, which is a drag & drop page builder built on WordPress!
We're going to go through everything regarding designing & building a WordPress & Elementor website:
Buying a domain and protecting yourself from spam on the internet

Getting the best hosting on the market with a heavy discount

Becoming an Elementor expert and creating any website you can imagine for FREE, for yourself, or for clients.

Becoming a WordPress expert and expanding the functionality of your website with incredible free plugins
Basically, this course was designed to walk the beginner through buying a domain, understanding WordPress, and creating a website with Elementor for free.
While we're building an actor's or performer's website, the site is designed to be dynamic, and to fit the needs of a freelancer building their portfolio, or an entrepreneur building a website for their world-changing product or service.
After this course, you'll have the skills to create websites that could sell for a couple of thousand dollars, whether it's a quality website for yourself or for a client.
Are you, or do you want to be a:
Freelancer?

Entrepreneur?

Marketer?

Startup Employee?

Performer?
Then this course is made for you!
But why use WordPress? It powers over 40% of the internet, and powers websites like:
New Yorker

TechCrunch

Katey Perry

The government of Sweden

Usain Bolt

Beyonce

And even Snoop Dogg
Elementor has updated a ton in recent years, so you need a course that is up-to-date. This course is kept up-to-date and I devote a ton of time each week to support my students.
To finish this course, you will need to purchase hosting and a domain name from a hosting provider, for only a couple of dollars per month. If you do not purchase hosting, no one else will be able to view your website, but we'll go over that more in the "how does the internet work" lecture! And don't worry, we'll go over how to purchase hosting & a domain name with a discount!
But who am I? My name is Nathan Minns, and I've been working almost exclusively in Elementor for the last 2-3 years, and WordPress for the last 6 years. I started as a freelancer, I got a full-time job building websites, and now I'm back to freelancing, using Elementor and WordPress every day.
I know you'll love the course, and if you have any questions along the way, I'm here to help!
Content
Introduction
Welcome to the course & What we're building
How this course is structured
Udemy Rating System
A special note on software in this course
Visit Course Resources for Course Links & Course Materials (ALWAYS UPDATED)
Hosting & Domain Names
The costs of creating a website and how the internet works
My hosting recommendation
Purchasing a domain & hosting
Installing & Using WordPress
What is WordPress and why do we use it?
Installing WordPress
An overview of using WordPress and setting it up to best practices
Installing your theme
Installing helpful plugins
Installing & setting up Elementor
Get Ready to use Elementor
Becoming an Elementor (Free Version) Expert
Why Elementor?
An overview of how Elementor works
Setting up Hello, by Elementor
Building the Header
Building the Menu with CSS IDs
Building the Hero
Building the Buttons in the Hero
What is Elementor's Theme Builder?
Setting up Elementor's Theme Builder: Fonts
Setting up Elementor's Theme Builder: Typography
Setting up Elementor's Theme Builder: Buttons
Setting up Elementor's Theme Builder: The Rest
Building the Counting Numbers section
Building the Video Call-To-Action Section
Building the Photos Call-To-Action Section
Building the Photos Gallery Section
Building the Callout Call-To-Action Section
Building the Testimonial Section
Building the Contact Us Section (and a shortcut in Elementor)
Building the Footer in Elementor
A look at what we created with Elementor Free
Launching Your Website
Test on Mobile (Again, on a real phone)
Get the WordPress Settings Right
BONUS SECTION: Thank you & Next Steps for Ongoing Learning (ALWAYS UPDATED)
Bonus Lecture
Reviews
This course has really helped me. I will love to learn how to build a multiple page website on WordPress
Clear and concise explanation of Elementor. The instructor starts from the beginning and only shows what you need to know when first starting with Wordpess and Elementor. Many other related courses start to specific, I like this course instead. Everything tool the instructor uses is free, only hosting is paid. Instead, I used Xampp local server to work and host my website locally on my own computer.
Did not explain a lot of things and did not give in-depth knowledge. After the course I was confident to see another video but definitely not confident enough to make a whole website.
It is totally a great match and the tutorial is very much helpful and simplified that a novice could understand
So many added videos which are not actually part of the main lecture, it turnd me off even before the lessons start.
A Very informative session, easy to understand. I am using Elementor for the last 3 years, and there is a lot to learn with this course. Thank You so much for this awesome learning oppurtunity.
Great course! Easy to follow, clear and concise explanations for each action. I would recommend to any beginner.
I want to create my own website and sell yoyos and after what Nathan had taught I kinda have some good fudamentals as to what he taught in the lecturers of corurse will review it again when practice but still thank you so much Nathan and I hope my website can sell my yoyo products
Great course! The tutor has a great teaching style, very fluid which made it easy to follow along step by step for a complete beginner like myself. Nathan made it easy to not only understand the basic concepts required to design & build a WordPress & Elementor website but all within a matter of hours - honestly! I really appreciated the 'practical-based approach' - Truly Awesome & Impressive! His training style gave me the confidence to follow along and to keep on learning!
great explanation make me understand better the Elementor and it's active tutor, give you best answer on Q&A
Great course for me as a "rookie". Now it is up to me and really practice at Elementor which is an amazing tool.
Very clear and easy to understand. I have absolutely no problem following along and the information offered in this course so far has been excellent. I am a beginner and this is exactly the kind of material I needed! Thanks!
Nathan's course is informative, easy to understand, and perfect for beginners like myself! I am new to Elementor and Wordpress but thanks to this course, I feel confident and knowledgable in navigating site-builders.
I really love everything about the course. The Tutor was very excellent in his delivery and his explanations are just too massive. Very good course.
This is one of the best courses I've seen. The instructor explains things clearly and succinctly without any fluff, and the content is thurough and engaging. Well worth the time!
Coupons
| Submit by | Date | Coupon Code | Discount | Emitted/Used | Status |
| --- | --- | --- | --- | --- | --- |
| - | 8/5/2021 | 3-DAY-AUGUST-3 | 100% OFF | 40000/7525 | expired |
| - | 2/7/2022 | FREE-UNTIL-FEB-11 | 100% OFF | 1000/838 | expired |
| - | 2/7/2022 | FREE-UNTIL-FEB-12 | 100% OFF | 1000/996 | expired |
| Ignacio Castro | 2/18/2022 | 6E906502935664290CEA | 100% OFF | 1000/933 | expired |
| Ignacio Castro | 3/8/2022 | 513BD92E1E2DD69FFBB7 | 100% OFF | 1000/978 | expired |
| Mauricio | 3/18/2022 | 113ECA4B9DC1E4C8A6D5 | 100% OFF | 1000/992 | expired |
| - | 4/1/2022 | 7D98E138FEC2CBBC52FC | 100% OFF | 1000/979 | expired |
| Angelcrc Seven | 4/15/2022 | 56418EC5A3B98170664D | 100% OFF | 1000/992 | expired |
| Ignacio Castro | 4/19/2022 | 14DFF0E09F2B48EE37B7 | 100% OFF | 1000/993 | expired |
| Angelcrc Seven | 4/20/2022 | 17D4239E77A837D41D0A | 100% OFF | 1000/961 | expired |
| Angelcrc Seven | 5/25/2022 | 9CA77B1C39723991D872 | 100% OFF | 1000/972 | expired |
| - | 5/25/2022 | 576ED0C5170622311575 | 100% OFF | 1000/797 | expired |
| - | 6/2/2022 | 13DFFEAEA2148DFC8299 | 100% OFF | 1000/980 | expired |
| - | 6/22/2022 | D59C8F4A8F982AB8071B | 100% OFF | 1000/952 | expired |
| - | 6/27/2022 | 7A5DCEE26B295E136173 | 100% OFF | 1000/884 | expired |
5/16/2021
course created date
8/5/2021
course indexed date