English for Beginners.
Learn english the way it really sounds.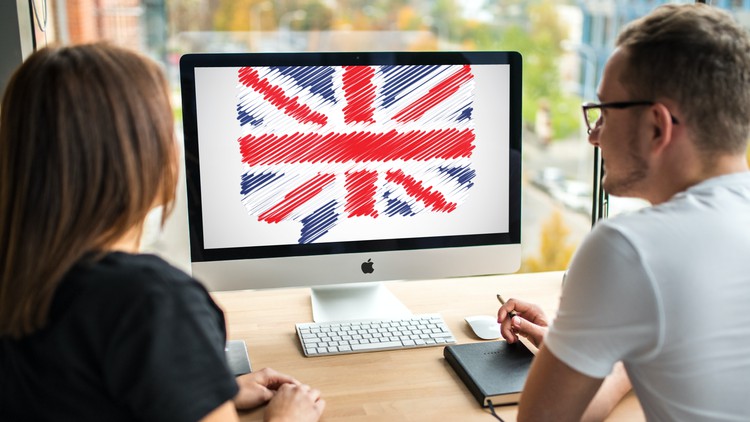 What you will learn
Beginner English Language, Start speaking straightaway, develop English fluency, simple and interactive method.
English Speaking, speak with confidence and a good level by practicing the stories of Benny and Sandy.
English Listening, Understand everyday expressions,
English Comprehension, Improve your listening skills with native English through sound perception and ear training and visual association, pdf materials.
English Vocabulary, learn new words to build new sentences and improve your communication skills.
Achieve your English language objectives today and tomorrow, increase your life opportunities by learning english.
Description
This course has been developed to help beginner English students to solve their comprehension issues, the live stories of Benny and Sandy are a real live situation of things you could encounter when you travel to an english speaking country, the videos are set at a natural pace so that the student gets used to Real life scenarios.
There are lots of examples to help you understand english speakers whether they speak fast or slow, the vocabulary section is very rich providing you the student with a lot of time to master the pronunciation of some very common everyday words which are used everywhere from a hotel scene to a setting at a restaurant.
The objective of developing this course is not to make money but to help people who have a very hard time in understanding english at its natural pace, a lot of courses slow down the pace of students to make them understand what is being said, but think about it, when you are abroad you will hear english at its natural pace.
Off course the training slows down at the vocabulary phase so you can go back and repeat and understand the pronunciation, but the stories of Benny and Sandy are at a slow to medium tempo, however you can go back as many times as necessary and listen to the videos over and over again to train your ear. This course is supposed to be fun and keep you interested on the way through, so enjoy yourself while you embark on this learning cycle with me.
Content
COURSE OVERVIEW
INTRODUCTION
COURSE GUIDELINES
UNIT 1 - How to introduce yourself to someone
Reading - Unit 1
Comprehension - Unit 1
Vocabulary - Unit 1
Explanation - Unit 1
Exercise - Unit 1
UNIT 2 - the famous Verb to be
Reading - Unit 2
Comprehension - Unit 2
Vocabulary - Unit 2
Explanation - Unit 2
Exercise - Unit 2
UNIT 3 - You will learn how to use articles in sentence constructions
Reading - Unit 3
Comprehension - Unit 3
Vocabulary - Unit 3
Explanation - Unit 3
Exercise Unit 3
UNIT 4 - Numbers in english
Reading - Unit 4
Comprehension - Unit 4
Vocabulary - Unit 4
Explanation - Unit 4
Exercise - Unit 4
UNIT 5 - How to say the time in english
Reading - Unit 5
Comprehension - Unit 5
Vocabulary - Unit 5
Explanation - Unit 5
Exercise - Unit 5
UNIT 6 - The Comparative and Superlative
Reading - Unit 6
Comprehension - Unit 6
Vocabulary - Unit 6
Explanation - Unit 6
Exercise - Unit 6
UNIT 7 - Possessive Pronouns and Reflexive pronouns
Reading - Unit 7
Comprehension - Unit 7
Vocabulary - Unit 7
Explanation - Unit 7
Exercise - Unit 7
UNIT 8 - English Culture
Reading - Unit 8
Comprehension - Unit 8
Vocabulary - Unit 8
Explanation - Unit 8
Exercise - Unit 8
UNIT 9 - WH Questions
Reading - Unit 9
Comprehension - Unit 9
Vocabulary - Unit 9
Explanation - Unit 9
Exercise - Unit 9
UNIT 10 - The Present Continuous tense
Reading - Unit 10
Comprehension - Unit 10
Vocabulary - Unit 10
Explanation - Unit 10
Exercise - Unit 10
UNIT 11 - Simple tenses
Reading - Unit 11
Comprehension - Unit 11
Vocabulary - Unit 11
Explanation - Unit 11
Exercise - Unit 11
UNIT 12 - Prepositions
Reading - Unit12
Comprehension - Unit 12
Vocabulary - Unit 12
Explanation - Unit 12
Exercise - Unit 12
Final Course Test
Final Course Test
Charts
Price
Rating
Enrollment distribution
12/8/2019
course created date
12/14/2019
course indexed date