Beginner English: Practical Foundational English Training
Simply English. A simple, elegant approach to English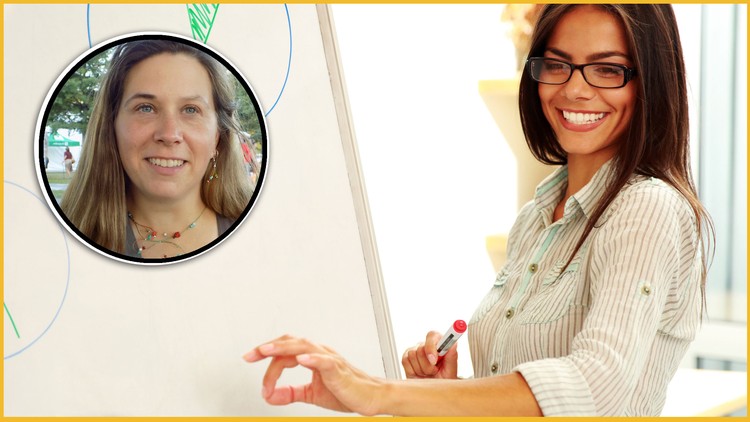 What you will learn
To speak English like an American and write like the British
Improve your pronunciation via a variety of visual and audio speech exercises
Build your vocabulary and English expressions
Bridge the gap between your reading ability and your comprehension of what you read
Improved grammar
Improved comprehension
Improved speaking and reading
Description
This course is a beginner level English course (A1-A2). The student understands basic phrases and instructions. He/she can interact in a very simple way and uses incomplete sentences, without real grammatical content. He/she may be able to participate in a dialogue giving personal information but in a limited way using minimal vocabulary. 
This course is designed to improve your English at its foundation. You will have a basic understanding of English and be able to speak it immediately. You will be able to introduce yourself in various social interactions. Use the verb 'to be' correctly in positive, negative and question sentences. Understanding when to use the verb 'to be'. Talk about yourself and give personal information. 
Using the WH-question words correctly and immediately employ them in your language. Express yourself and ask the proper questions to get the answers you need.
You will learn:
How to Meet and Greet

Greetings and Farewells

Subject Pronouns

How to Use the Verb 'To Be' Properly

How to Talk About Jobs, Countries

How to Use Wh Questions (What, Where, Who, When)

And much more!
This course is taught using the four pillars of learning; both active parts of speaking and writing  and both passive parts of reading and listening. You will acquire new vocabulary from real life scenarios and while reading excerpts of paragraphs and poems written by well-known authors. 

The course will be paired with a PDF leaflet that you can download and print which will follow the order of each section and lecture offering you an active part in your learning.
This course also includes:
Clear lessons that are built upon each other

Skits that subtly foreshadow upcoming lessons

Integrative approach to English expressions, idioms, similes and metaphors

Many PDF worksheets that mirror each part of the lessons

Original flashcards to develop vocabulary

Teacher that speaks American English
About your teacher
Native speaker from Canada

Taught ESL to adults and children for 5 years, privately and in a classroom

Fluent in English and French

Taught in a Montessori preschool 

Homeschooled her children for 14 years employing the Waldorf pedagogy
As the name intends, Simply English is a course designed for A1 students who desire a simple approach to English. Through the 4 language pillars of speaking, reading, writing and listening, each lesson provides a weave of active and passive activities. Simply English employs many images courtesy of Freepik to further the understanding of the lesson, as well as unique and engaging video skits. Which add a playful appeal to the overall learning experience.
Content
Let's Keep in Touch
Asking personal information
Spelling
Understanding subject pronouns
Verb to be and contractions
[Practice Activity] Let's Keep in Touch
Let's Meet and Greet
Greetings, introductions and farewells
Formal and personal titles
Possessive adjectives
Three basic forms of the verb to be
[Practice Activity] Let's Meet and Greet
It's all Greek to me!
Occupations and articles "a/ an"
Wh-questions
Countries and Nationalities
[Practice Activity] It's all Greek to Me
Wrap Up
Help your fellow students
Reviews
It was a great match for me. I got to relearn so many things that I once learned and forgot. of course i got to learn many new things too.
This course is really really good and informative for those who guinuinely want to improve their english communication skills, for beginners especially so go for it....???
It's easy to take this course. We can learn the use of articles, synonyms, what questions and something like that. So, I believe that it is convenient for the beginners.
Beautiful course, condensed, interactive and full of hands-on activities. Although it is a course of a few minutes, it has many didactic exercises. The teacher is a professional in her field
First name: Khaled Last name: Muhammad Address: Ahmed Oraby , zagazig, Egypt Postal code: 02151 Profession: Student Nationality: Egyptian phone: (20)01009843715 Birthdate: 1999/20/3 Signature: khaled
It's absolutely good and I like the way of teaching. The teacher is patient and kind. I like this course.
I was not so confident about English but after joining this course i got my confidence back and now i can speak English All thanks to Mrs. Stephanie Hamilton
It is really helpfull for me and i will highly recommended to those who wants to improve theirs basics of English Grammar
Me gusta el curso, ya tengo algo de conocimiento y el que hablen en ingles con subtitulos en ingles es de mi agrado asi comprendo un poco como se escriben las palabras mencionadas.
For beginners, it's a great course to have the most basic knowledge but for others, it's a good course to brush up your existing knowledge. Overall, it was a great experience to learn this course. NICE EFFORT :)
It was a wonderful experience in udemy with this course. Hope I can do better hereafter... Thanks for the Instructor
it is a good experience for me because i am learning the basics of english, speaking, writing and talking and will use it in my workplace
Hello everyone! Lets join this course, you will get everthing foundation in english! I am very happy about it and hope you all can learn english in this easy way and very friendly in time. God bless you all
Ce cours m' a remise dans la mélodie de la langue ; j'ai apprécié le côte didactique et pédagogique. J'attends la suite sur un anglais plus avancé. Apprendre de la sorte c'est cool et facile
Add more content that commonly used in conversation among different people. For example The conversation related to any topic like hobby, common discussion between friends, common discussion between students and teacher, common discussion between parents and child, common discussion on general knowledge etc.
Coupons
| Submit by | Date | Coupon Code | Discount | Emitted/Used | Status |
| --- | --- | --- | --- | --- | --- |
| - | 1/13/2020 | 08642049D9B7AC4C5744 | 100% OFF | | expired |
| Lee Jia Cheng | 3/26/2020 | EXPIRESMAR28 | 100% OFF | 40000/1033 | expired |
| - | 7/13/2020 | BEPFETEXPJULY162020 | 100% OFF | 40000/8200 | expired |
| Angelcrc Seven | 11/3/2020 | BEPFETNOV62020 | 100% OFF | 40000/848 | expired |
| Angelcrc Seven | 2/12/2021 | BEPFEEXPFEB142021 | 100% OFF | 40000/3874 | expired |
| - | 5/22/2021 | BEPFEEXPMAY242021 | 100% OFF | 40000/3112 | expired |
| Angelcrc Seven | 6/22/2021 | BEPFEEXPJUNE242021 | 100% OFF | 40000/5824 | expired |
| Angelcrc Seven | 7/28/2021 | BEPFEJUL302021 | 100% OFF | 40000/12294 | expired |
| Angelcrc Seven | 10/5/2021 | BEPFEEXPOCT72021 | 100% OFF | 40000/3320 | expired |
| Angelcrc Seven | 12/7/2021 | BEPFEEXPDEC112021 | 100% OFF | 1000/889 | expired |
3/3/2018
course created date
11/20/2019
course indexed date