Influencer Marketing & Instagram Marketing: Be Famous in 2mo
Instagram Marketing & Social Media Marketing Influencer: The New Science of Fame! How to Become an Influencer in 2023
Social Media Marketing
category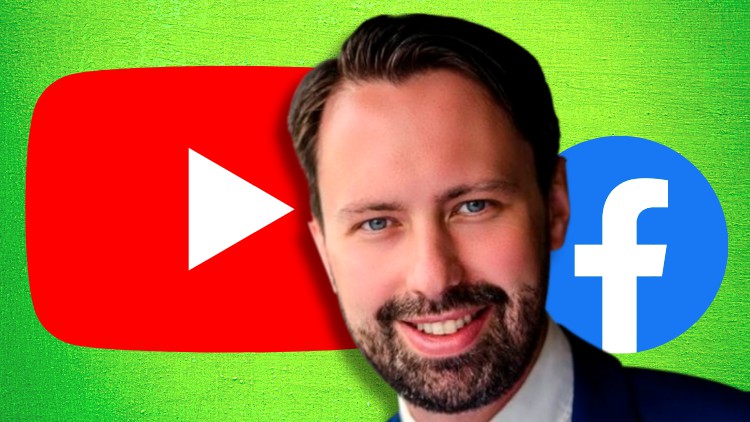 What you will learn
Influencer Marketing
Personal Branding
Social Media Marketing
How to Become Famous
Video Marketing
Description
Becoming famous does not require luck or patience. It's science.
Learn the secrets of fame from marketing superstar Dekker Fraser. He has over 1/2 million enrollments. His brands were reviewed by top influencers including the #1 YouTuber PewDiePie. His colleagues include a YouTuber who suddenly hit 8,000,000 subscribers. Dekker is regularly solicited for brand partnership deals, partnerships, and more.
Dekker was a former global brand manager for Sony PlayStation, author of numerous marketing books, college marketing instructor, and VP of marketing for a Google accelerator startup. He has an MBA from the #1-ranked business school for marketing, Philip Kotler's Kellogg School of Management.
Fame requires that you focus on a few key activities that will generate the widest reach. It also requires content that is designed to make people remember you for the long-term. The following course presents evidence-based advice on how you too can become famous through Instagram marketing and other techniques.
Learn how to become a famous influencer through YouTube, books, Instagram marketing, TikTok, and more in this groundbreaking course on the science of fame!
Learn from a former Fortune 500 brand manager & influencer with over 1/2 million enrollments. Dekker Fraser is regularly solicited for brand sponsorships and had brands he managed reviewed by top influencers including PewDiePie.

Learn...
Why the Mona Lisa became famous (hint: it's not because it's a great painting)

How to get a lot of followers quickly

How Jordan Peterson reached $100,000/month in just 18 months

The secrets of successful social media superstars

What the most robust research says about getting famous

Best practices with influencer marketing

How to build a famous personal brand on Instagram, YouTube & other channels

How to generate word-of-mouth

Why most advice on getting famous is wrong: e.g., "create lots of content" or "go viral"

How viral marketing really works

YouTube marketing

Video marketing

How to become an influencer!
Buy this course today and become famous soon!

Sincerely,
Dekker Fraser, MBA

Key marketing topics...

Social media influencer

Blogging and influencer marketing

Influencer marketing for becoming famous

Instagram influencer

Instagram marketing

TikTok influencer

Social media influencer

Influencers

Social media marketing

Social media management

Social media content creation (for maximum reach)
Content
Reach - #1 Most Important Factor in Becoming a Famous Influencer
Reach 1 - Influencer marketing should reach for the stars!
Reach 1
Reach 2
Reach 2
Reach 3
Reach 3
Reach 4
Reach 4
Reach 5
Reach 5
Collaborators - Catapult Your Fame by Piggybacking
Collaborators 1 - Jordan Peterson Influencer Marketing Case Study
Collaborators 2
Collaborators 3
Collaborators 4
Collaborators 5
Notes from Hit Makers
Hit Makers 1 - Influencer Marketing Tips
Hit Makers 2
Lessons from Blockbusters
Blockbusters 1
Blockbusters 2
How Brands Grow - What the Research Says
Notes from Byron Sharp
How Brands Grow - Part 1
7 Rules for Brand Growth
Marketing Laws
Personal Branding for Fame
Rule #1 of Personal Branding
Assignment
What LinkedIn Teaches Us about Branding
LinkedIn Branding
More on Personal Branding
Personal Branding
Assignment
Personal Branding 3
Fashion Matters!
Iconic Fashion for Building a Personal Brand
Assignment
When Branding Matters More
Branding Matters
Life Coach Case Study + Psychology & Influence
Your Comprehensive Personal Branding Plan
Personal Branding Plan
Personal Branding CASE STUDY
Case Study
Assignment
Influencer Outreach
Strong Point of View
BLOCKBUSTERS!
Being the Best Does Not Matter
The FASTEST Way to Raise Your Brand Awareness
Assignment
How to Be More Likeable
Likeability
Shark Tank
Assignment
11 Ways to Build Your Personal Brand [Harvard Business Review]
Professional Service Personal Branding
Professional Service Personal Branding
Assignment
Dan Lok
Appendix
Reviews
This course was excellent! The course talks a lot about branding awareness, and how easy it can be to reach many people. The section on how Facebook helps with that opened my eyes. Great course and I definitely recommend it.
Very informative thus far. Gives me a broader perspective of my target audience and my area of expertise primarily. So many fundamental tools to gain that audience. Lovit !
Coupons
| Submit by | Date | Coupon Code | Discount | Emitted/Used | Status |
| --- | --- | --- | --- | --- | --- |
| - | 12/22/2022 | 668A4A9DEE82AB81DB3B | 100% OFF | 1000/860 | expired |
| - | 12/26/2022 | 362F2C45750C2D5E5B29 | 100% OFF | 1000/590 | expired |
| - | 1/4/2023 | CCD982D1A4FEBC742000 | 100% OFF | 1000/825 | expired |
| - | 1/14/2023 | DC8030352194539213E8 | 100% OFF | 1000/916 | expired |
| - | 1/19/2023 | C78CE6E9849AF9B24CD0 | 100% OFF | 1000/892 | expired |
| - | 2/2/2023 | 63A1F4C344DD77F9D1A9 | 100% OFF | 1000/948 | expired |
| - | 2/20/2023 | C9DFA2E49DFFCE5B8E30 | 100% OFF | 1000/984 | expired |
| - | 3/8/2023 | AFC5FF850DD9643E9465 | 100% OFF | 1000/961 | expired |
| - | 3/11/2023 | E2DC7E5B1C06683D5CF2 | 100% OFF | 1000/930 | expired |
| - | 4/20/2023 | F579F7EC55DEA0BD7277 | 100% OFF | 1000/910 | expired |
| - | 5/24/2023 | 6111DDDB5D9D0499AFE6 | 100% OFF | 1000/952 | expired |
| - | 5/25/2023 | C54C0085E31906D67ED3 | 100% OFF | 1000/575 | expired |
Charts
Price
Rating
Enrollment distribution
12/18/2022
course created date
12/22/2022
course indexed date