Become an Instagram Manager and Work with Paying Clients
Start your freelancing online business as an Instagram Manager and learn how to attract Clients
Social Media Marketing
category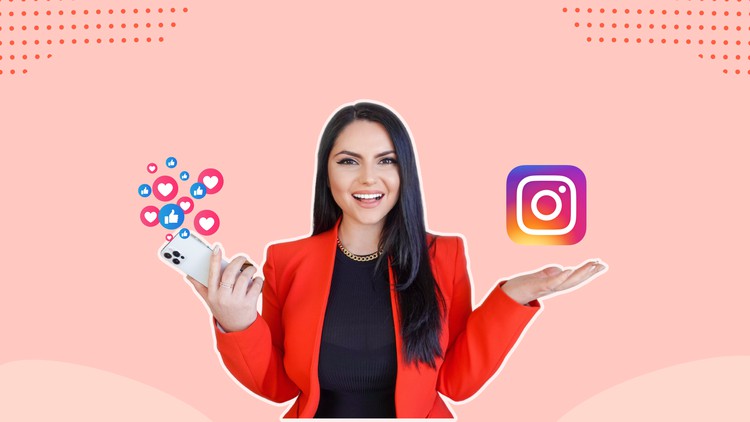 What you will learn
Create a profitable Instagram Management business
Instagram Marketing Strategy
Content Planing / Content Strategy
Choose a Profitable Niche
Attract clients you'd love to work with
"Social selling", landing clients through DM-s + Discovery Calls
Register your business, send contracts, invoices
Offer the right services & how to price them
Successfully manage clients using the best tools and strategies
Enjoy the freedom and flexibility of Self-employment
Description
Monetize your Instagram and start your entrepreneurial journey as an Instagram Manager.
This course provides you with my proven Roadmap to start your own business online (from home, or anywhere), to start making money with social media, and offer your skills as a freelancer. This is the same path I have taken to start my own Freelance Social Media Marketing business, which is now transforming into a Marketing Agency. It was the best decision of my life and I am so happy to have created this course to help you start your own entrepreneurial journey.
If you are a creator, aspiring entrepreneur, stay at home parent, or just want to start a side-hustle, this course is for you. You will get constant support through step-by-step video lessons, workbooks, checklists, templates, and a private Facebook Group community.
Here is what you will learn with this course:
How to start and maintain your and your clients Instagram accounts

Getting Clients even with a small following

Instagram Marketing Strategy

Content Strategy & Content Pillars

Instagram Metrics & Analytics

Choosing a Profitable Niche

Attracting and start working with Clients

How to price your services and create Packages

How to handle calls with potential clients

Workflows, send Contracts, Invoicing & receive Payments

The Legal side of being your own boss
The resources included in this course:
30-Day Content Calendar

Content templates on Canva

300 Caption Templates - done for you to fill in the blanks

Hashtag Research Guide

Hashtag Bank for each niche - copy and paste

Instagram Manager Workbook

Account setup for success

Ideal Client Avatar Workbook

Daily Instagram Checklist for engagement boost

Weekly Instagram tasks for Client work

Discovery Call Strategy + Script

Pricing Orientation + Packages

Invoice Templates

Contract Template

Resources + tech checklist
✅BONUS: Instagram Growth e-Book by Ina
✅BONUS: Private Facebook Group support
This is a hands-on course, full of real life examples, where I have shared the latest, the most updated Instagram Marketing Strategies that I still use to grow my personal brand and business & my clients businesses. These strategies will also work for you and your new clients. I have shared the latest, the most updated Instagram Marketing Strategies that I still use to grow my personal brand and business (Ina Media) & my clients businesses. These strategies will also work for you and your new clients.
Invest in your knowledge by getting a proven system to get you from Beginner to Superstar Instagram Manager, ready to start working with paying clients.
I would love to take you on this journey with me.
ENROLL NOW AND LET'S START TODAY!
Content
Introduction
Welcome to the course
Job Description
What are you expected to do as an Instagram Manager
Instagram Marketing Strategy
Instagram Bio & Highlights Strategy
Instagram Stories Strategy
Instagram Captions Strategy
Instagram Reels
Hashtag Strategy
Account Setup
Setup your account for success
Choose Your Niche
Choosing a Profitable Niche
Content Strategy
Content that converts
Content Research & Content Pillars
Metrics & Analytics Explained
Posts and Story metrics
Reels, Videos and Live metrics
Real life example and Exercises
Working with Clients
Working With Clients - Pricing and Packages
DM Conversion Strategy
Outbound DM Strategy
Reach Your Income Goals - Pricing Formula
Discovery Call Strategy & Script
Contracts, Invoicing & Payments
Handling the Nr. 1 Objection on Calls
The Legal Side
The Legal Side
Reviews
Very fantastic. Short, precise and insightful. This has helped me to become a better social media manager. I say a big thank you to the course creator.
Buenísimo este curso para principiantes, en especial para los que quieren emprender en las redes sociales para negocios. Bien explicado paso a paso, pero aún así siento que falta más contenido. Pero como digo es especisl para principiantes.
very informative, and detailed explanation regarding the Instagram manager, the skills need acquire and how to reach many people for potential market of the business/client.
This course was amazing especially with all the resources it offers. Loved how responsive the instructor was. This course is a must take!
If you're serious about being an Instagram manager, this course is a must. Across detailed video lessons and resources, Lisa walks through everything needed to transform an Instagram account and become an Instagram manager for brands. Her practical yet inspiring teaching style kept me engaged from start to finish. This is one course where you can feel confident applying every principle immediately to real clients. Whether you're a freelancer looking to get Instagram certified, or just starting, the step-by-step blueprints, bonus resources and Facebook group support make you feel empowered and ready for success. If helping cutting-edge businesses thrive through social media appeals to you, Ina's Instagram Manager course is an investment in your future that will pay off.
Ina's course is packed with valuable information and resources that answer all of my questions about starting and managing an Instagram account. I'm learning a lot from her.
Didn't know the world of an instagram manager, something completly out of my day to day activities. It gave me insight. Ina has a pleasant, optimistic voice which kept me listening and complete this course.
The lesson is informative and helps me with finding which niche suitable as I transition to freelancing
This course is easy to understand and implement. The teacher is engaging and ensures I understood the course by providing added resources.
I really had an amazing time throughout this course. It's obvious, Ina knows her thing well. She also shared tons of practical and useful resources which you'd hardly come across in most courses. I'm somewhat confident (hope to become fully confident soon lol) to get started as a new Instagram Manager!
This is amazing. A very details course on how to become an Instagram Manager. I believe it covered everything needed to become a successful Manager in Instagram.
Gute Übersicht und Wiederholung/Aktualisierung dessen, was ich in meiner Ausbildung zum Social Media manager eh gelernt habe. To be fair: Für mich sind es olle Kamellen, aber für Anfänger ist der Kurs richtig gut geeignet.
I'm happy to learn new things about social media specially Instagram so I can grow and implement thing that taught in this course.
This woman knows what she is talking about and that is great thing to hear. I would like to say thanks a lot.
Loved it! The lessons are very insightful and concise. I learned so much from this course. There were also free resources like guides, templates and etc. which I could definitely use. Thank you Ina!
Coupons
| Submit by | Date | Coupon Code | Discount | Emitted/Used | Status |
| --- | --- | --- | --- | --- | --- |
| Mauricio | 4/4/2022 | INAMEDIA2022 | 100% OFF | 1000/845 | expired |
| - | 5/3/2022 | INAMEDIA002 | 100% OFF | 1000/582 | expired |
| - | 5/7/2022 | INAMEDIA003 | 100% OFF | 1000/995 | expired |
| - | 5/10/2022 | INAMEDIA004 | 100% OFF | 1000/988 | expired |
| - | 6/2/2022 | INAMEDIA005 | 100% OFF | 1000/958 | expired |
| - | 6/5/2022 | INAMEDIA006 | 100% OFF | 1000/872 | expired |
| - | 6/23/2022 | INAMEDIA007 | 100% OFF | 1000/921 | expired |
| - | 8/8/2022 | INAMEDIA101 | 100% OFF | 100/82 | expired |
| - | 8/10/2022 | INAMEDIA008 | 100% OFF | 1000/976 | expired |
| - | 8/15/2022 | INAMEDIA009 | 100% OFF | 1000/897 | expired |
| - | 10/14/2022 | INAMEDIA010 | 100% OFF | 1000/943 | expired |
| - | 10/20/2022 | INAMEDIA011 | 100% OFF | 1000/853 | expired |
| - | 11/8/2022 | INAMEDIA012 | 100% OFF | 1000/703 | expired |
| - | 11/11/2022 | INAMEDIA112 | 100% OFF | 1000/939 | expired |
| - | 11/20/2022 | INAMEDIA113 | 100% OFF | 1000/707 | expired |
| - | 12/29/2022 | INAMEDIA114 | 100% OFF | 1000/993 | expired |
| - | 1/7/2023 | INAMEDIA115 | 100% OFF | 1000/837 | expired |
| - | 1/14/2023 | INAMEDIA116 | 100% OFF | 1000/988 | expired |
| - | 2/4/2023 | INAMEDIA117 | 100% OFF | 1000/991 | expired |
| - | 2/19/2023 | INAMEDIA119 | 100% OFF | 1000/808 | expired |
| - | 3/2/2023 | INAMEDIA120 | 100% OFF | 1000/904 | expired |
| - | 4/11/2023 | 32ED7A73EEAB6AC24E4A | 100% OFF | 1000/818 | expired |
| - | 4/20/2023 | INAMEDIA121 | 100% OFF | 1000/968 | expired |
| - | 4/24/2023 | INAMEDIA122 | 100% OFF | 1000/924 | expired |
| - | 5/7/2023 | INAMEDIA123 | 100% OFF | 1000/793 | expired |
| - | 5/17/2023 | INAMEDIA124 | 100% OFF | 1000/925 | expired |
| - | 5/25/2023 | INAMEDIA125 | 100% OFF | 1000/770 | expired |
| - | 6/2/2023 | INAMEDIA127 | 100% OFF | 1000/935 | expired |
| - | 6/12/2023 | INAMEDIA129 | 100% OFF | 1000/836 | expired |
| - | 6/23/2023 | INAMEDIA131 | 100% OFF | 1000/790 | expired |
| - | 7/2/2023 | INAMEDIA133 | 100% OFF | 1000/414 | expired |
| - | 7/21/2023 | 2A004DF6A49B1360FF8F | 100% OFF | 1000/886 | expired |
| - | 8/5/2023 | INAMEDIA137 | 100% OFF | 1000/967 | expired |
| - | 8/21/2023 | INAMEDIA139 | 100% OFF | 1000/916 | expired |
| - | 8/28/2023 | INAMEDIA141 | 100% OFF | 1000/944 | expired |
| - | 9/5/2023 | INAMEDIA143 | 100% OFF | 1000/929 | expired |
| - | 9/17/2023 | INAMEDIA145 | 100% OFF | 1000/997 | expired |
| - | 9/25/2023 | INAMEDIA147 | 80% OFF | | expired |
| - | 10/9/2023 | INAMEDIA149 | 100% OFF | 1000/990 | expired |
| - | 10/16/2023 | INAMEDIA151 | 100% OFF | 1000/996 | expired |
Charts
Price
Rating
Enrollment distribution
3/21/2022
course created date
3/24/2022
course indexed date