Basic Interviewing Skills - Master Basic Interviewing Skills
Mastering the Interview - You Can Ace the Job Interview - Never Be Nervous Again - Get the Job
Career Development
category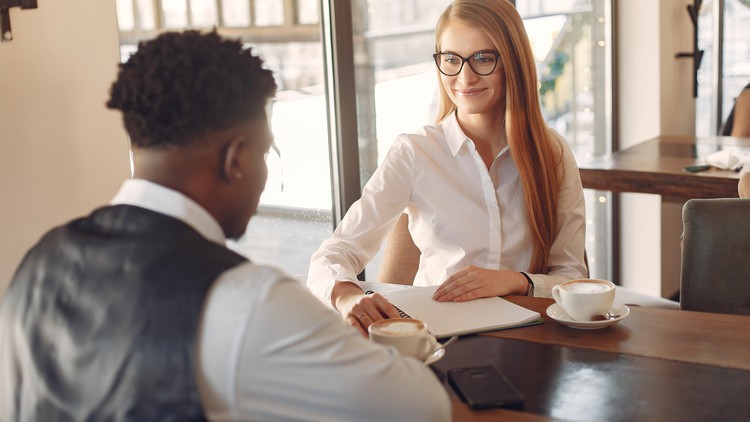 What you will learn
End-To-End Understanding of The Interview Process. the Goal Is the Perfect Your Interviewing Skills in An Effort to Secure a New Job.
Learn how To Sell Your Knowledge, Skills, Experience, and Character to Demonstrate that You Are the Right Person for The Job.
Soft-Skills that Will Help Them Stand out In an Interview. You Will Learn how To Create a Narrative that Will Help Sell Yourself for The Job.
A Mastery of All Basis Interviewing Skills Including how To Develop a Power Presence for Your Interview.
No Experience Necessary. This Course Is for Anyone at All Levels Who Is Seeking a Better Job.
Description
Basic Interviewing Skills - Master Basic Interviewing Skills:
Mastering the Interview - You Can Ace the Job Interview - Never Be Nervous Again - Get the Job
Nothing is more important in gaining new employment than the job interview. It is an opportunity to demonstrate your command of your field, a vision for the future, why your experience, education, and knowledge are ideal for the position you are going for.
You will also learn how to answer tricky interview questions as well as what questions you should post to the person who is interrogating you. Sometimes the easiest questions can be difficult if you don't know how to answer them. This course will give you the key to selling yourself in every answer you give. One important tip is to make sure that no matter what you are asked, you come up with convincing reasons why you are the ideal candidate for their company.
This course is perfect for any job interview whether it's in person or digital. You will learn to master all Basic Interviewing Skills.
This course is ideal if you are at the beginning of your career but there are tips that will help any career achiever no matter where they are in their journey for a better job.
You will learn invaluable insights into the interview process, a framework for answering questions, and the soft skills that will help you stand out.
By taking this Basic Interviewing Skills - Master Basic Interviewing Skills you will be able to:
Understanding end-to-end of the interview process. The goal is the perfect your interviewing skills in an effort to secure a new job

Sell your knowledge, skills, experience, and character to demonstrate that you are the right person for the job

Soft-skills that will help them stand out in an interview. Create a narrative that will help sell yourself for the job

A mastery of all basis interviewing skills including how to develop a power presence for your interview
Enroll in this Basic Interviewing Skills Today!
This Interviewing Skills course is ideal for anyone searching for more info on the following: job interview - interview - mastering the interview - LinkedIn - resume. Plus, this course will be a great addition to anyone trying to build out their knowledge in the following areas: Smart Interview Question - Resume - LinkedIn - Post Interview.
Content
What you must do before your job interview
Do your homework about the company that you want to work for
Why is it important to to your homework about the company you want to work for?
Do a deep dive about the person who is going to interview you
Practice doing the interview. A lot.
Play the part of the interviewer in a practice session
Smart questions you'll be asked in your interview
Why do you want this job?
Tell me something about yourself
What are your weaknesses?
Why were you fired from your last job?
What did you innovate in your most recent position?
Do you have any questions for me?
Questions they can't ask you
What to do and not to do to be great in your interview
Introduction to power presence
Power presence in an interview
How to have high self confidence in a job interview
How to succeed in a Zoom interview
Should you ever bad mouth your current employer?
Bring up the bad news about yourself before your interviewer does
About your references...
The power of your voice
Don't be a prisoner of perfectionism
Don't be a slave to the question
You are what you wear
How older workers can succeed in job interviews
What if your interviewer makes a mistake?
Be aware of the distracted interviewer
Be a trends forecaster in your field
Do people like in job interviews?
Create your own personal board of directors
What to do after the interview
How to relieve anxiety waiting for the results of the interview
Should you pursue other job leads while waiting to hear?
Customize your thank-you note
Resumes and Linkedin
Will a robot judge your resume?
Should you list your vaccination status on your resume?
Why is It important to tell a potential employer about your vaccination status?
Make your LinkedIn profile shine
Post an essay every week on LinkedIn
Be smart about your resume
Bonus videos
Time is your biggest enemy
Bad communications can kill a career and a company
What happens when the stuff hits the fan?
How to persuade anyone.
How to achieve your hardest goals
The best business advice you can ever get.
How to get start up money for your new business.
Great coaches help clients to be great listeners
Reviews
Sucharita
November 26, 2022
It's was extremely amezing. I learnt so many new things to add in my life Thanks to the platform for creating such a wonderful course
Thank you for this excellent course. Some of the materials I learned while undertaking this course helped me with an interview which I have done recently. It made me really comfortable answering general questions such as "Why do you want to work for us?" among others.
Thank you for a great course. Some of the information was review for me but served as great reinforcement for what I thought I knew. I can tell the course is regularly updated and appreciated that very much -- COVID information, for example. It made me feel as though I was getting the most recent/relevant/researched information. It provided me additional comfort in the content and helped me to know this effort was worth my time. Lastly, as a 56 year old with interest in moving forward to obtain a license in a field where I have confirmed I have great passion, the information shared for "older workers" was great to hear. Thank you, again, for a well-delivered, engaging course broken into manageable segments. I feel better equipped for an interview tomorrow morning! Warmest regards!
Absolutely loved It ! Happy to hear more in upcoming revised videos... Very well explained and loaded with practical examples too.. Need sessions on Resume Building / Guidelines that can help us to get selected via AI tools , as well .. Ha Ha ..
I'm really happy with the course. It gives me new perspective on how i see interview not only from employee point of view, but how the interviewer will think and what will they do to know their future employee actually is. The way the course is delivered was short and straight to the main point which is very convenient for me. Short course but i managed to wrote 5 pages of all the important points from this course. Just a little feedback, video number 46 is the same video like the previous one. Thank you so much
My name is Ashok Sitaram Mane. I was born and brought up in India. I have completed my 10th and 12th from Maharashtra State board and higher secondary education. And I have completed BTech and session was 2016 -2020 with distinction.
Coupons
| Submit by | Date | Coupon Code | Discount | Emitted/Used | Status |
| --- | --- | --- | --- | --- | --- |
| - | 10/7/2021 | 4C91CED16707BF0052CF | 100% OFF | 40000/4343 | expired |
| - | 2/4/2022 | 6B84AA840690C921E9CA | 100% OFF | 1000/886 | expired |
| Angelcrc Seven | 4/15/2022 | EFE8F7D181527E5F7119 | 100% OFF | 1000/959 | expired |
| - | 5/16/2022 | DF89EE2260C1FDB166F4 | 100% OFF | 1000/847 | expired |
| - | 8/7/2022 | CFCBD0C8D7112A2C9370 | 100% OFF | 1000/790 | expired |
| - | 11/13/2022 | 98704B4571B3323E08D0 | 100% OFF | 1000/552 | expired |
| - | 12/3/2022 | FC620357D197D3A9D5CD | 100% OFF | 1000/852 | expired |
| - | 12/14/2022 | 91823F234F49278172AC | 100% OFF | 1000/944 | expired |
| - | 1/2/2023 | 700C5CF1640BA6797D50 | 100% OFF | 1000/957 | expired |
| - | 1/13/2023 | 3FDCABB9AF0AFD5217B2 | 100% OFF | 1000/889 | expired |
| - | 2/27/2023 | 6E10B81127744866C288 | 100% OFF | 1000/880 | expired |
| - | 3/18/2023 | FF67F5B678BA03D41E51 | 100% OFF | 1000/903 | expired |
Charts
Price
Rating
Enrollment distribution
9/22/2021
course created date
10/7/2021
course indexed date