Basic Certificate in Health Safety & Environment-HSE Level 2
A comprehensive course for Safety Officers, Supervisors, Managers and Aspiring Safety Professionals
Career Development
category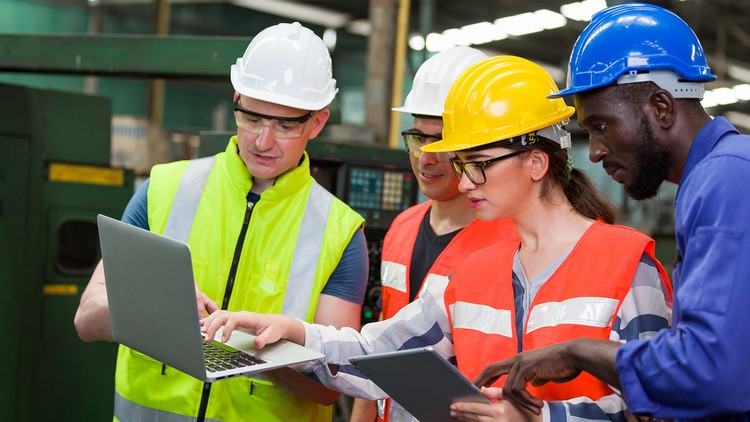 What you will learn
Understand the principles of health and safety management including the legal framework guiding the management of HSE at work
Learn how to create and implement a safety program from the scratch for your organisation
Understand the structure, elements and principles of a Health and Safety Management Systems
Identify and understand how to deploy the various program elements that form a safety management system
Learn the safety roles and responsibilities in the workplace from top management to the worker.
Learn how to conduct safety inspections on site, in the office or for projects.
Learn how to carry of job safety analysis and create correct work procedures
Learn the techniques and approach to accident investigation and reporting including accident causation models.
Learn how to conduct risk assessment including hazard identification, analysis, evaluation and control. Learn about the use of risk matrix for hazard analysis.
Understand the hierarchy of controls and how to apply it to ensure a safe workplace.
Understand the deployment of safety controls in the workplace including elimination, substitution, engineering controls, administrative controls and PPEs
Gain insight into behaviour based safety and stakeholder engagement for safety promotion.
Understand HSE policy and the the principles, structure and application of OSH management systems like the ISO 45001 and ILO;OSH 2001
Description
The Basic Certificate in Health Safety & Environment (HSE Level 2) covers the key concepts, theories and practices that an EHS practitioner requires to understand and be able to supervise and manage safety in any workplace, facility or project.
This course discusses in details the planning, implementation, review and improvement processes for an EHS program in any organisation. The ISO, ILO and HSG frameworks for safety management are discussed in this course. The course also examines how to develop a safety policy and the programs and procedures that are required in a safety program for it to be effective.
This HSE Level 2 course teaches the topics of safety inspection, accident investigation and reporting as well as risk assessment in great detail with illustrative videos, resources, assignments and quizzes included.
This is the most effective way to jump start your career in Health, Safety and Environment – HSE while going through a curriculum that compares with other recognized certifications around the world.
The course includes 26 course instructional modules, 1 pre-course test, over 12 post module quizzes, several illustration videos, 4 assignments and several downloadable resource materials and templates for your use.
Some of the topics covered in the course include;
Health and Safety Management Systems
The elements and principles of a health and safety management system
Policy; Organising; Planning and implementing; Measuring performance; Auditing; Reviewing performance
The principles of OHSAS 18001 and ILO;OSH 2001
Preventing Accidents
The importance of and relationship between incidents and accidents, Definitions/interpretations of incidents and accidents
Accident causation
Immediate causes
Underlying causes
Multi-causation
The reasons for preventing accidents
Moral, Legal and Economic
Risk Assessment
The risk assessment process in the context of a health and safety management System
How to conduct a suitable and sufficient risk assessment
HSE's Five Steps to Risk Assessment
- methods and techniques
- practical application, e.g. fire
Measures for controlling risks
Hierarchical approach to risk control
Personal Protective Equipment
The main types of personal protective equipment
Assessing the suitability of personal protective equipment
The requirements relating to the inspection, testing and maintenance of personal protective equipment
The requirements relating to the provision of information, instruction and training on the use of personal protective equipment
and many more...
Content
HSE 1 Recap
HSE 1 Recap Part A
HSE 1 Recap Part B
Pre Course Quiz
Management of Safety and Health
Introduction
What is a Safety and Health Program
Plan - Do - Check - Act Cycle
Occupational Safety and Health Management System (OSHMS)
OSHMS Quiz
HSE Program Elements
The Policy
HSE Roles and Responsibilities
OSH Roles and Responsibilities Quiz
Safety Rules and Correct Work Procedures
Safety Rules and Correct Work Procedures Quiz
Training,, Orientation and Employee Involvement
Training, Orientation and Employee Involvement Quiz
Safety Inspection Part A
Safety Inspection Part B
AI&R Part 1 - Introduction and Definitions
AI&R 1 Quiz
AI&R Part 2 - Accident Causation Models
AI&R 2 Quiz
AI&R Part 3 - Steps to Investigating Accidents
AI&R 3 Quiz
AI&R Part 4 - Accident Investigation Analysis, Conclusion and Recommendation
AI&R Part 5 - Accident Investigation Reporting
AI&R 4&5 Quiz
AI&R Part 6 - Accident Statistics
Emergency Response
Program Elements - Workplace Specific Items
Risk Assessment
Introduction
Risk Assessment Introduction
RA Introduction Quiz
Hazard Identification and Analysis
Hazard Identification and Analysis Quiz
Control, Monitoring and Reporting
Control, Monitoring and Reporting Quiz
Hierarchy of Controls Part 1
HofC 1 Quiz
Hierarchy of Controls Part 2A
Hierarchy of Controls Part 2B
HofC 2 Quiz
Hierarchy of Controls Part 3
HofC 3 Quiz
Introduction to HSE Level 3
HSE Level 3 Intro
Reviews
I cannot say much about the content yet, however, the pronunciation, though understandable overall, was confusing sometimes. I could not understand some words at once, like 'worker' or 'shortcut', cz they sounded pretty different from how they are usually pronounced. I will update the rating and the review at the end of the course. In addition, in the test where the answer is a choice of 'true' or 'false', it would be good to have the correct answer explained in case it is 'false'. Also, the sound while clear kinda sounds as if out of an empty room. Hope the instructor got better sound equipment since then... Update: starting from section 2 the sound becomes even worse. You may say that content is what is important but in fact, all small details are important too cz it shows if an instructor cares about their students.
There is a humming noise at the background of the speaker voice, that is kind of irritating while focusing to lecture. The noise improves after 25% completion of course.
The implementation of these concepts, in practice, is very useful, because work accidents can be avoided, as well as save lives, with this knowledge, put into practice in our work, they become the first means to protect workers. injury workers.
-the modules are well title and explain in clear terms -student engagement in forms of the assignment and quiz -clear sounds.
Very educative, Clear and straight to the point principles that will enable one to effectively Manage Health and Safety..
The course is very informative and easily understood. The course is very good for freshers and there is a lot to learn in HSE.
Excellent teacher and great presentation! I can tell he really knowledgeable teacher.It has great results for my life.
This has been an excellent course! It was a great refresher training and it reminded me of the importance of conducting adequate risk assessments.
This course if full with information, and the way of teaching is very good touching every concept of basic health and safety.
Coupons
| Submit by | Date | Coupon Code | Discount | Emitted/Used | Status |
| --- | --- | --- | --- | --- | --- |
| - | 8/11/2022 | 4E1B19EE304C8022E65C | 100% OFF | 1000/964 | expired |
Charts
Price
Rating
Enrollment distribution
7/15/2022
course created date
8/11/2022
course indexed date