Basic Bookkeeping Hacks
How to easily get your accounting and bookkeeping done fast
Accounting & Bookkeeping
category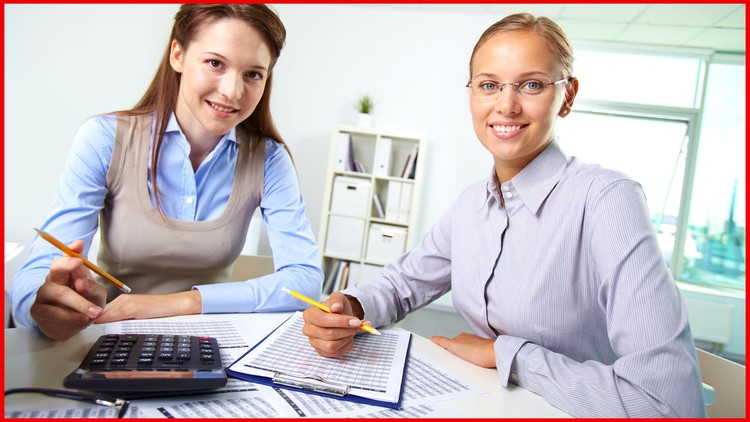 What you will learn
Keep better track of their revenues and expenses
Understand the difference between Bookkeeping and Accounting
Description
Learn the difference between Accounting and Bookkeeping. Discover how a good bookkeeping system can save you wasted hours and dollars. How to have a conversation with your banker and accountant.
You will learn:

Ethics and Rules
Types of business organizations: proprietorship, partnership, corporation, C-corp, S-corp, LLC.
Basic terminology
Accounting concepts and principles
In this course, we share how you can make your bookkeeping tasks easier. 
Set up a separate business bank account
How to separate your personal and  business transactions
Basic software that can save you time and money
What to do with your receipts
Furthermore you will learn some basic accounting terminology to help you organize your accounting information, including:
Assets – economic resources owned by the business
Liabilities – creditor's claim to the asset
Owner's Equity – owner's claim to the assets
Content
Introduction
Introduction
Talking With Your Accountant or Banker
Difference between accounting and bookkeeping
Introduce Yourself
Bookkeeping vs. Accounting
Introduction
Ethics and Rules
Types of Business Organizations
Basic Terminology
Accounting Concepts and Principles
Accounting Equation – Assets – Liabilities = Owner's Equity
Introduction
Assets
Liabilities
Owner's Equity
Types of Statements
Introduction
Balance Sheet
Income Statement
Cash Flow Statement
Summary
Bookkeeping Secrets Revealed
Introduction
Separate Business and Personal Bank Accounts
Business Credit Cards
Basic Software Hacks
Organizing vs Procrastinating
Sample Transactions
Introduction
Sample Transactions
Wrap Up
Next Steps
Help Your Fellow Students
Canadian Bonus Strategy
HST
Reviews
I have a better understanding of the Core Statements, which is great, although I was hoping for more actual bookkeeping being shown.
VERY EFFECTIVE, INFORMATIVE, AND BEST FOR BEGINNER TO GAIN KNOWLEDGE OF BASIC ACCOUNTING, RULES, TERMINOLOGIES, KEY FACTORS AND MANY MORE CONCEPTS OF ACCOUNTING.
Amazing course, I have gained more skill and knowledge regarding book keeping and accounting. Thank you very much for the effort and dedication you have put in the course
It's seems to be a good basic for a fresh accounting student, it touches the foundation of ever relevant accounting topic
The sample transactions lesson is empty, the rest is fine as a theoretical introduction to bookkeeping.
If like me, you are trying to do the balance sheet and financial statements for your small business at the end of the year, this course is definitely NOT for you. The first half is just talking about vague terms and concepts without any slides or real-world examples, so skip all the intro stuff up to at least lesson 12/28. If a slide is used, after about lesson 12, it is up for less that two seconds & not explained adequately. This is below basic. It does not tell you where to put an entry like a sale or directors loan, why it needs to go there & doesn't explain why that's a debit, credit, +, -, liability or how to handle the T account for that. In fact the T accounts are not even mentioned. Lesson 25 is supposed to contain sample transactions but the document is empty. Lacks details & examples. Ps. There are no actual hacks given. The authors' version of a 'hack' is naming three or four software is that you can look at and having a separate 'pocket' for your business expenses and keeping it separate from your personal expenses. That's it. So I feel the course title was very misleading as well.
Course needs more real work examples. The Sample Transactions section has no documents or examples attached. One thing to learn the basic terminology and glossary. Better to back it up with examples.
I am more of a visual learner and just looking at the instructor made it a bit boring. For a beginner explanations not that clear. PDF's were not provided. Very vague explanations.
Michael
September 16, 2016
Insightful, interesting and VERY useful. Good value. Plus the instructor clearly walks his talk. Thank you!
Coupons
| Submit by | Date | Coupon Code | Discount | Emitted/Used | Status |
| --- | --- | --- | --- | --- | --- |
| Lee Jia Cheng | 2/13/2020 | EAA7B1C697EC63217A3A | 100% OFF | | expired |
| Angelcrc Seven | 4/23/2020 | EXPIRESAPR25 | 100% OFF | 40000/955 | expired |
| - | 5/18/2020 | MAY2020 | 100% OFF | 40000/2640 | expired |
| Angelcrc Seven | 7/16/2020 | BBKHEXPJULY192020 | 100% OFF | 40000/1155 | expired |
| Angelcrc Seven | 1/18/2021 | BBKHEXPJAN212021 | 100% OFF | 40000/2254 | expired |
4/18/2016
course created date
8/3/2019
course indexed date