AWS Certified Solutions Architect Professional Exam
400 high-quality test questions for AWS Certified Solutions Architect Professional with detailed explanations! [NEW]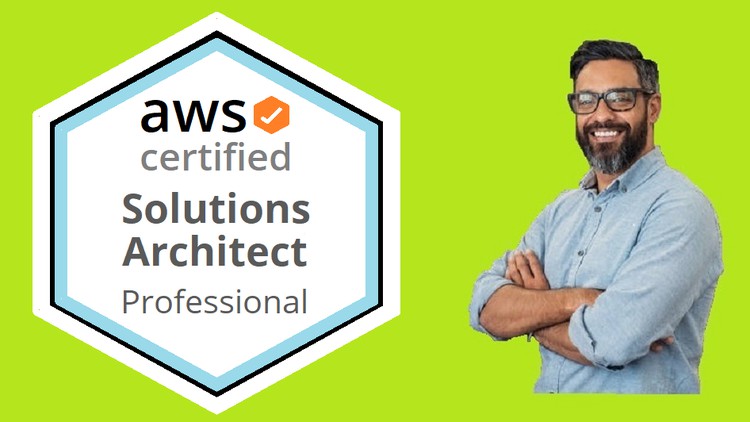 What you will learn
Planning and deploying dynamically scalable, highly available, and reliable applications on AWS
Choosing accurate AWS services for designing and deploying an application as per the given requirements
Migrating complex and multi-tier applications on AWS
Planning and deploying enterprise large scalable operations on AWS
Implementing cost-control strategies
Description
Thanks for taking your time out and looking out this exam .
Welcome to the best way to help you prepare for your AWS Certified Solutions Architect Professional exam .
Make sure you are ready to pass the AWS Certified Solutions Architect Professional exam by using these practice tests, written to mimic the kinds of questions you will see on the real exam. Click "Buy Now" and get on your way to becoming an AWS Certified Solutions Architect Professional today !
This course is for complete preparation of '' AWS Certified Solutions Architect Professional '' , It includes 6 sets of Practice Exams contain 400 unique high-quality questions (70 Questions each) I have carefully hand-crafted each question to put you to the test. , All Practice are timed & scored (passing score is 72%) , so you'll know when you're taking more time than the official test allows mimicking the real exam environment . All questions have been designed based on real exam questions and have been tested by with many candidates. explanations is given for each question to ensure that you can memorize the concept and understand why the correct response is the best one to choose , to improve your knowledge and make you more prepared to pass the actual '' AWS Certified Solutions Architect Professional '' .
Our practice questions are set up to cover all the topics you will be tested on during your exam. The questions are prepared to keep in mind the exam blueprint provided by Amazon Web Services for the '' AWS Certified Solutions Architect Professional ''
Every question has a detailed explanation that explains why an option is correct and why the other options are wrong With deep dive reference link to help you understand the AWS concepts .
What's included ?
These practice questions have been designed after thoroughly reviewing the exam blueprint and analyzing exam expectations Across the 6 practice exams, we cover all core concepts related to :
Planning and deploying dynamically scalable, highly available, and reliable applications on AWS

Choosing accurate AWS services for designing and deploying an application as per the given requirements

Migrating complex and multi-tier applications on AWS

Planning and deploying enterprise large scalable operations on AWS

Implementing cost-control strategies
____________________
IMPORTANT NOTE :
We will continuously update these practice exams with new questions so you will never have to worry about missing out or failing the AWS certification exams because of new content , This is to ensure that our exams are always up-to-date with the latest changes from AWS. This is why our students ace this exam in their first attempt with an average exam score of over 85%.

These AWS Certified Solutions Architect Professional practice exams have a passing score of 72% but I highly encourage you to repeat taking these exams again and again until you consistently reach a score of 90% or higher on each exam .

These practice questions are free from typos and technical errors which makes your learning experience much more pleasant .



Purchasing this practice exam course is a no-brainer compared to the official AWS Practice Exam as this comes at a bargain price with almost 7X questions. Additionally, this practice exam course comes with a 30 DAY NO QUESTIONS ASKED MONEY BACK GUARANTEE .
Happy Learning and All the Best ! . . .
Joseph ♥️
Content
50Q AWS Certified Solutions Architect Professional Practice Test 04
Reviews
Fantastic material. I really like the explanation which is coming after each question. I would recommend to anyone
Coupons
| Submit by | Date | Coupon Code | Discount | Emitted/Used | Status |
| --- | --- | --- | --- | --- | --- |
| - | 2/8/2022 | DD1E8AF510506AEA5D83 | 100% OFF | 1000/670 | expired |
1/22/2022
course created date
2/8/2022
course indexed date